Today's pattern round up is a follow up to last weeks Practice your C2C Crochet Skills round up. Last week I posted a round up of patterns that allowed you to practice your skills without worrying about color changes. But, today, you get to step up the challenge and begin working on graph with fun color changes-yippee!
As a reminder these round up are in response to a C2C lesson we had in my facebook group. Below is the explanation in my last blog post:
This year, I have been focusing on learning new crochet skills. Even as a designer, who has over 30 years of crochet experience, I have so many things to learn. This past month, I had a guest speaker come and talk to my facebook group (SP3 Crochet & Conversations) about Corner to Corner crochet, also know as C2C.

Malena from, Straight Hooked, taught the course and went over everything from reading graphs, how to build the crochet blocks, how the stitches increase/decrease, color changes and any other info we wanted to know. She did an amazing job and there is a replay available if your interested in watching, click HERE.

https://sweetpotato3.com/practice-your-c2c-crochet-skills-pattern-round-up/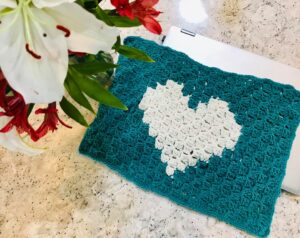 As part of the lesson, Straight Hooked, designed a FREE laptop cover pattern for everyone. It was a fun project for us to practice our skills on. Here is my practice swatch, I still need to make the back and seam them together. Find your copy of the laptop cover pattern for FREE by clicking HERE.
Start Practicing Your Color Changes in a C2C Graph Pattern
Changing colors in a Corner to Corner pattern add a slightly new challenge after you master the stitch. However, this is what makes the technique so much fun. I have gathered some of the cutest C2C projects that use color changes but won't be overwhelming to you.
I would love to see any what you end up crocheting to practice your corner to corner (C2C) skills. Join my facebook group (info is below) to share your creations and inspire others with your finished crochet pieces.
More Round Ups You Will Love
More Crochet Fun
Follow Sweet Potato 3 on Facebook to see more pattern releases, sales and crochet fun, just click HERE.
However, if you would enjoy a more interactive group experience, you need to join my Crochet & Conversations facebook group, click HERE. It is a ton of fun and I encourage everyone to share their projects, WIPS (works in progress) and inspirations. Plus you get exclusive deals, are the first to see new releases, give input on designs and have opportunities to win patterns. Join now and get to know others who also enjoy the art of crochet.