With the holidays quickly approaching so many of us are thinking of what to crochet to make this year stand out. A few years ago I designed a tree skirt pattern and now it is my favorite thing to put out at Christmas. It sets the mood before the gifts are piled under the tree and is there with happy memories once they are all opened.
A handmade Tree Skirt is something that I know will be handed down in my family and will bring back so many memories. I know this, because I still love seeing the one I grew up with under my parents tree when I visit each year. I know when my kids grow up and leave my home (sniff, sniff, it will be here before I'm ready), I will make one for them their first year in their own home… because I am keeping mine-LOL!
Christmas Tree Skirt Styles
Tree skirts can be all different designs, shapes and colors. But, they all set the mood for your holiday decor. I rounded up some of my favorite designs, even my daughter helped me pick these out.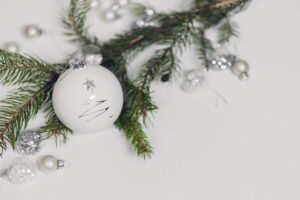 Some tree skirts remind me of older generations, some remind me of my own style and some reminds me of what young generations would adore. But, they all bring a smile to my face and a sense of jolly kindred spirits in whoever is lucky enough to receive one of these as a gift this year.
I hope you love them as much as I do and consider making one as a gift to give to someone you love or even to yourself. So, sit down and grab your favorite hook and decide which design will be your heart and soul in your next make.
Christmas Tree Skirt Crochet Patterns
Making a Tree Skirt is one of those handmade items that will be handed down through generations. Find the one that you love, there are so many different styles and looks you are sure to find one that is perfect for you home.
Check out these non-crochet Etsy Gift Guides for the Holidays
More Round Ups that are great for Gifts
More Crochet Fun
Follow Sweet Potato 3 on Facebook to see more pattern releases, sales and crochet fun, just click HERE.
However, if you would enjoy a more interactive group experience, you need to join my Crochet & Conversations facebook group, click HERE. It is a ton of fun and I encourage everyone to share their projects, WIPS (works in progress) and inspirations. Plus you get exclusive deals, are the first to see new releases, give input on designs and have opportunities to win patterns. Join now and get to know others who also enjoy the art of crochet.