This year, I have been focusing on learning new crochet skills. Even as a designer, who has over 30 years of crochet experience, I have so many things to learn. This past month, I had a guest speaker come and talk to my facebook group (SP3 Crochet & Conversations) about Corner to Corner crochet, also know as C2C.
Malena from, Straight Hooked, taught the course and went over everything from reading graphs, how to build the crochet blocks, how the stitches increase/decrease, color changes and any other info we wanted to know. She did an amazing job and there is a replay available if your interested in watching, click HERE.
As part of the lesson, Straight Hooked, designed a FREE laptop cover pattern for everyone. It was a fun project for us to practice our skills on. Here is my practice swatch, I still need to make the back and seam them together. Find your copy of the laptop cover pattern for FREE by clicking HERE.
Implementing your new C2C Skills
Learning a new skill can be really fun. I love to dive in and try new projects with the techniques I've learned. The most common C2C projects are with cute images crocheted from graphs. However, I wanted to focus on mastering the actual stitches first including increasing and decreasing.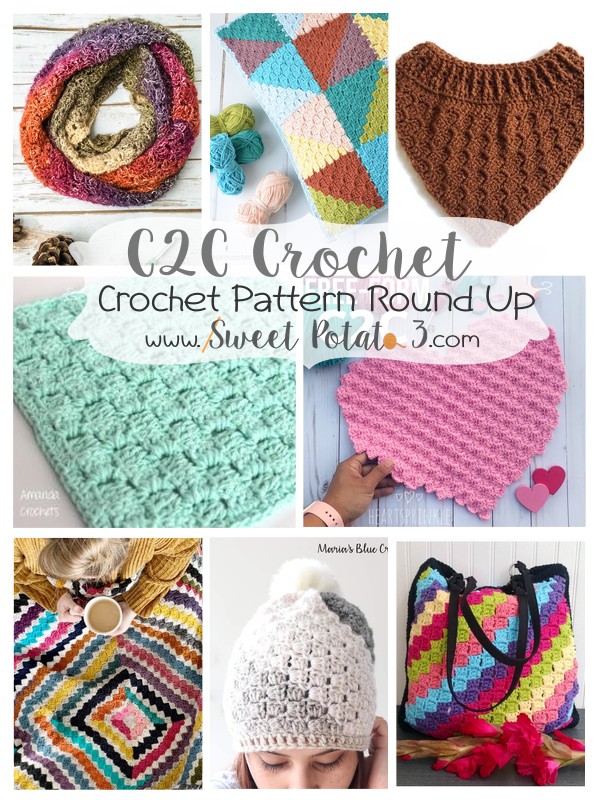 I searched for some fun projects that will allow you to practice your skills without worrying about the color changes in the chart. Most of these are quick, will allow you to play with the technique and create something fun and useful. One of the projects is larger, but it will allow you to use up your scrap yarn (yippee)!
Corner 2 Corner Crochet
So many people love the cute graphs that you can crochet into designs, but the stitches are lovely on their own and you can create to traditional crochet patterns with them. If you are just learning the C2C method, these are great patterns to practice the technique.
Photo Credit: www.leftinknots.com
Take advantage of the luxurious look of self striping yarn as you practice your stitches and crochet this gorgeous infinity scarf.
Photo Credit: www.lillabjorncrochet.com
Start working in a few easier color changes as you learn C2C to create this jaw dropping design. Plus, it is a "join-as-you-go" project, one of my favs!
Photo Credit: creationsbycourtney.com
Practice your new C2C crochet skills and turn it into a fabulous cowl. I love this unique design, it looks so warm and cozy. I think it will find its way into my closet soon.
Photo Credit: Amanda Crochets
This is an idea project to practice C2C crochet, plus you get a new dishcloth. We are all in need of new dishcloths! So, grab your stash, find some cotton and wip a few up!
Photo Credit: heartsprinkle.com
A fantastic tutorial on taking the traditional C2C crochet method and create free form shapes. You are going to love this.
Photo Credit: meghanmakesdo.com
Meghan Makes Do hosted a CAL that was a perfect Stash Buster and look at the results! Combine panels of C2C to get this amazing, colorful and eye catching blanket all while using up yarn you have had sitting around for years.
Photo Credit: mariasbluecrayon.com
Using the traditional C2C crochet, this darling hat looks like it works up quick and has a cute "twist" to it. This would be a great small project to practice your stitches on.
Photo Credit: The Purple Poncho
A fun tote bag! We all need another project bag and I love how she uses the C2C technique in this colorful design.
I would love to see any what you end up crocheting to practice your corner to corner (C2C) skills. Join my facebook group (info is below) to share your creations and inspire others with your finished crochet pieces.
More Round Ups You Will Love
More Crochet Fun
Follow Sweet Potato 3 on Facebook to see more pattern releases, sales and crochet fun, just click HERE.
However, if you would enjoy a more interactive group experience, you need to join my Crochet & Conversations facebook group, click HERE. It is a ton of fun and I encourage everyone to share their projects, WIPS (works in progress) and inspirations. Plus you get exclusive deals, are the first to see new releases, give input on designs and have opportunities to win patterns. Join now and get to know others who also enjoy the art of crochet.