Did you know that the month of March is officially, National Crochet Month? Well, this year, come along and celebrate all month long with me. It is going to be fun, each day I will post a new stitch tutorial for you to try out. Each tutorial will have a full photo AND video tutorial to help you learn.
I have asked some of my crochet design friends to join me, each stitch is unique, fun and perfect for different types of projects. Some of the stitches may be some you know, but I hope you will learn a few along the way.
---
Daily Email Notifications
If you want to make sure you don't miss anything this month, be sure to sign up for my newsletter. Typically, I only send one email a week, but for this blog hop I will make a point to send you a daily reminder to check out the new stitch! If you are not receiving my newsletter and would like to, just click the button below.
---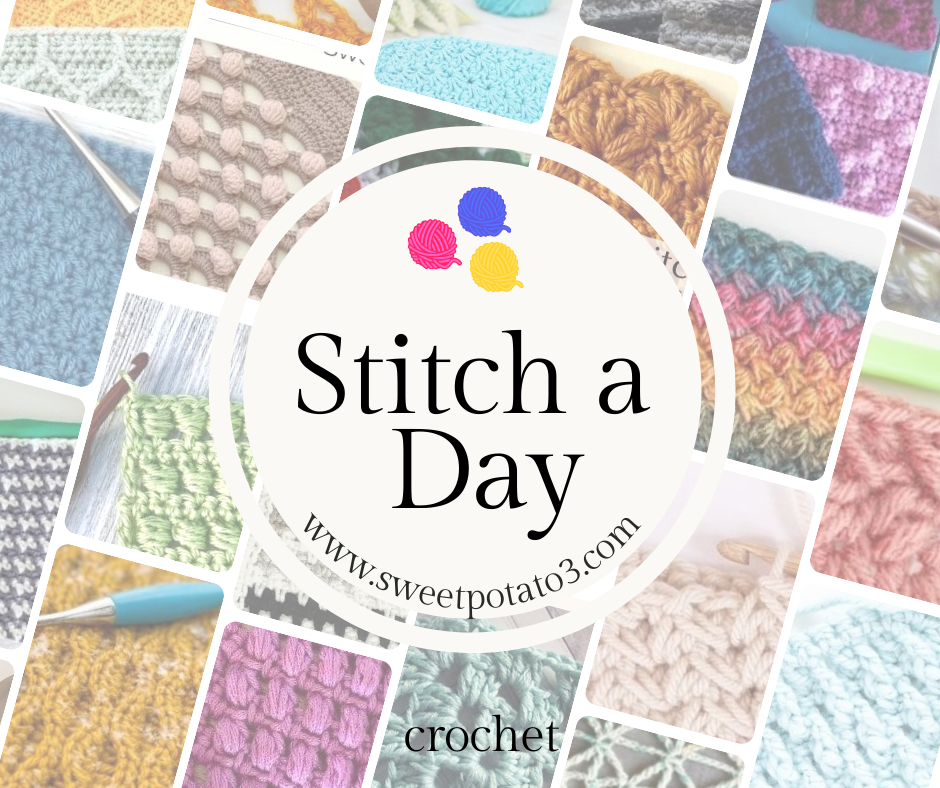 Stitch A Day Features
Well, let's jump right into it! This is where you will want to check each day to get the new stitch tutorial. These are meant to be a fun daily challenge to learn (if you like). Or, you can utilize it as a reference by bookmarking the page or pinning the different stitches to come back to at a later time.
---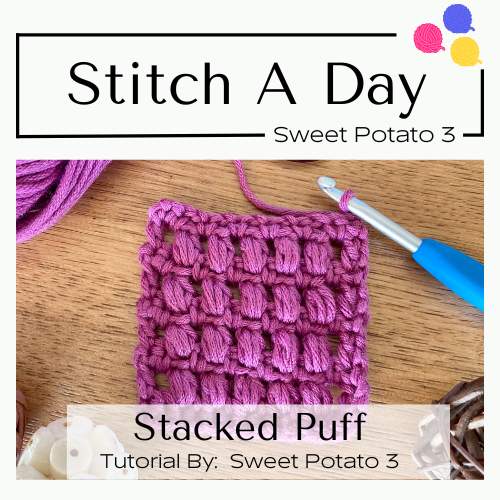 Stacked Puff Stitch
The tutorial for today is from me, Sweet Potato 3. I chose to feature the Stacked Puff Stitch because I love the unform look of the straight lines but the playfulness of the puff stitches. I have used this in a couple different blanket designs, each are linked in my stitch tutorial.
Remember to pin this, share it and if you try it to tag @sweetpotato3patterns on social media so I can see it. I hope you enjoy crocheting something cute with it.
---
Granny Square Tutorial
Trending now! The granny square can be seen everywhere right now whether it is in the handmade market or a commercial store. This is a fun and quick stitch pattern you must learn.
Find the full photo and video tutorial by EyeLoveKnots, if you don't have time to make it today, still check it out and Pin it for later.
---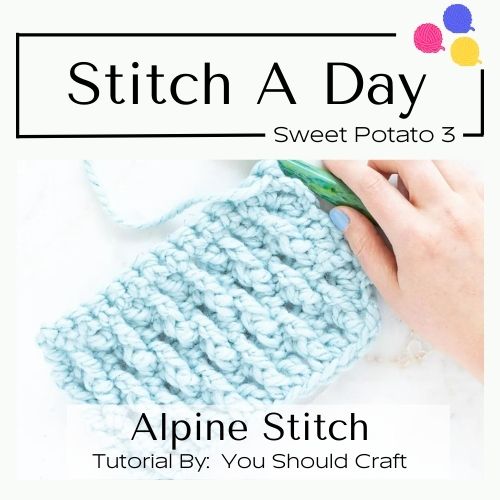 Alpine Stitch
This tutorial creates a crochet fabric that is chalked full of texture, it is one of my favorites and I know you'll love it too.
You Should Craft did an amazing job on her tutorial, I know you'll find it very helpful in learning this crochet stitch combination.
---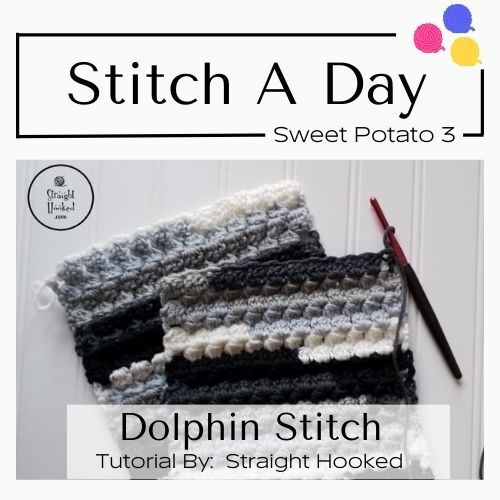 Dolphin Crochet Stitch
Oh my, this is such a pretty stitch with so much texture. You're going to love working up this new stitch combo, if you want to try it out in a pattern, Straight Hooked has many to choose from. Be sure to check out her stitch tutorial through the button below:
---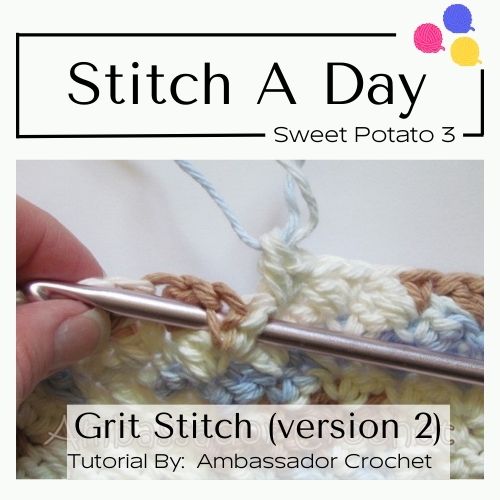 Grit Stitch (2 ways)
One of the things I love about crochet is that there are so many variations of stitches. This stitch tutorial by Ambassador Crochet will show you one way to work up the grit stitch, and if you check it out closely, click the link to see her first version as well.
---
---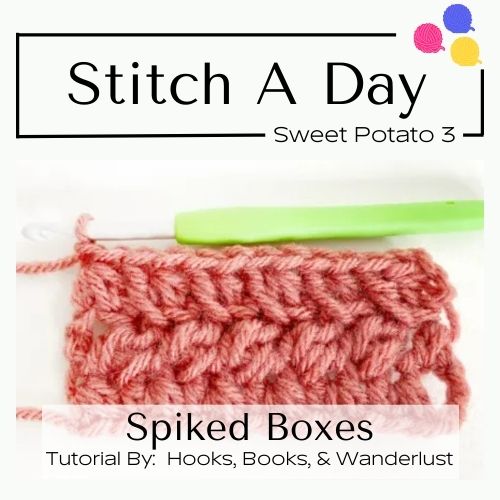 Spiked Boxes Crochet Stitch
I love the look of this stitch combination by Hooks, Books, & Wanderlust. It reminds me of the mini bean stitch but with a fun twist.
Be sure to check out her tutorial today and give it a try, the photos and video tutorial are sure to help. Post a picture and tag Hooks, Books, & Wanderlust so Kristen can see your work.
---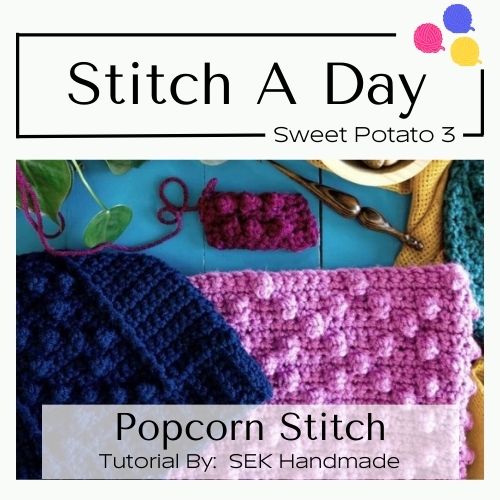 Popcorn Crochet Stitch
Yes, this stitch is just as fun as it sounds! I love a good popcorn stitch, it is the perfect name for a stitch that really pops with texture.
My good friend, Sarah, from SEK Handmade uses this stitch is some of her designs and has a great tutorial for you all, be sure to check it out:
---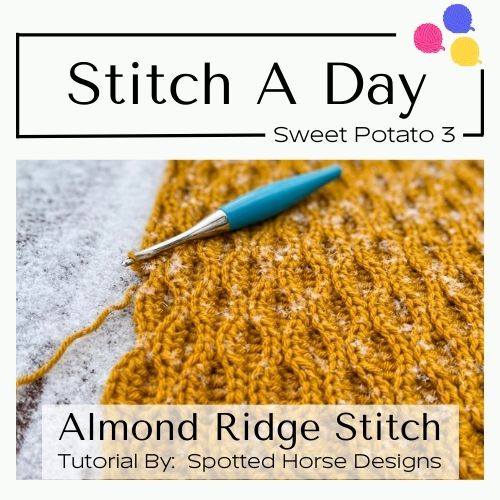 Almond Ridge (Wave) Stitch
This is such a lovely stitch combination. You will hear it called the Almond Ridge or the Wave stitch but either way, it is a very pretty combo that almost looks like knit.
The ridges wave in and out to create an almond shape. You will love how simple this one is. Check out the full tutorial through the button below:
---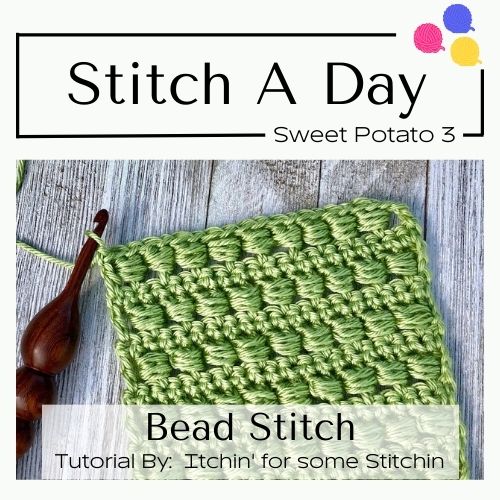 Bead Crochet Stitch
What a fun crochet stitch with a unique look. The bead stitch creates a sideways like cluster that is so uniform. If you haven't tried this combination you must!
Itchin' for some Stitchin' has a wonderful photo and video tutorial that will walk you through it step by step. Check it out below:
---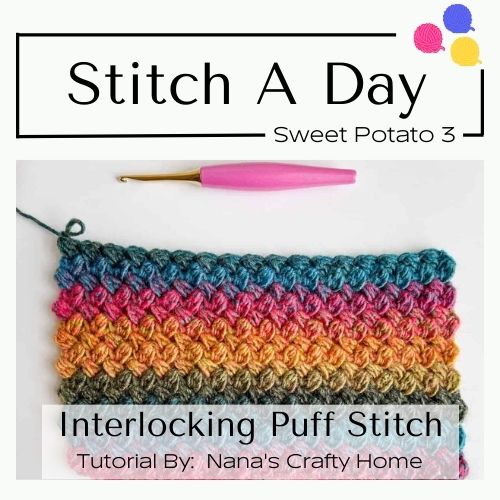 Interlocking Puff Stitch
This has to be one of my favorite crochet stitch combinations, I mean check out how gorgeous that texture is.
Nana's Crafty Home has a great tutorial on how to crochet these lovely combo.
---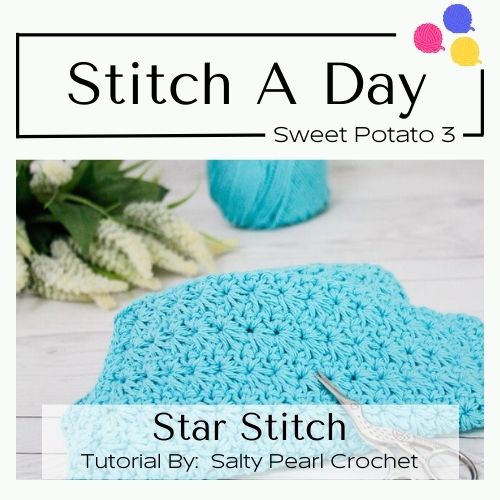 Star Crochet Stitch Tutorial
I have to admit that I adore the look of the star stitch! It is so fun and playful. I also love that once you crochet a few it is actually so much easier than it looks. However, I do not have this stitch in any of my designs because making a tutorial has always scared me off-LOL!
Thankfully, Salty Pearl Cochet put this tutorial together and I love it! Now I can use the stitch and link back to her, seriously, go check it out!
---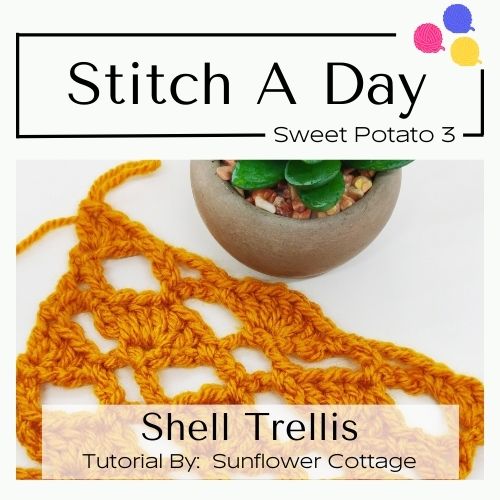 Shell Trellis Crochet Tutorial
As much as I like full stitches that create a rich texture, there is something elegant about open stitchwork. This shell trellis has an eye appeal that is cute and elegant all at the same time. I am sure this drape would be lovely in summer and spring crochet projects too.
Thank you, Sunflower Cottage Crochet for this fabulous tutorial:
---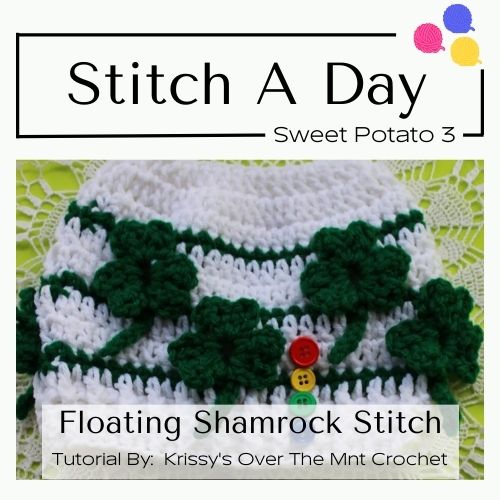 Floating Shamrock Stitch
Well, we had to celebrate St. Patrick's Day with a fun stitch combination for you and this is perfect.
Krissy's Over The Mountain Crochet has this cute tutorial that you can add to just about any project. Check it out for sure today!
---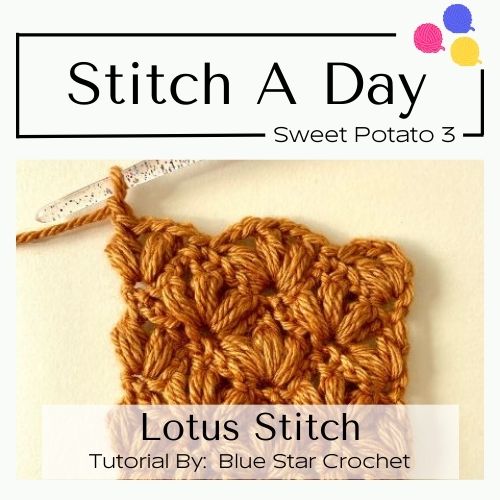 the lotus Stitch
Oh my, isn't this lovely?
Blue Star Crochet has this great tutorial for these amazing stitches to create a flirty and fun stitch. The look of this stitch is so fun and would be adorable in so many fun projects like: scarves, totes, sweaters, hats, blankets…. The possibilities are endless.
Tap the button below to find a photo and a video tutorial for the Lotus Stitch Crochet Pattern.
---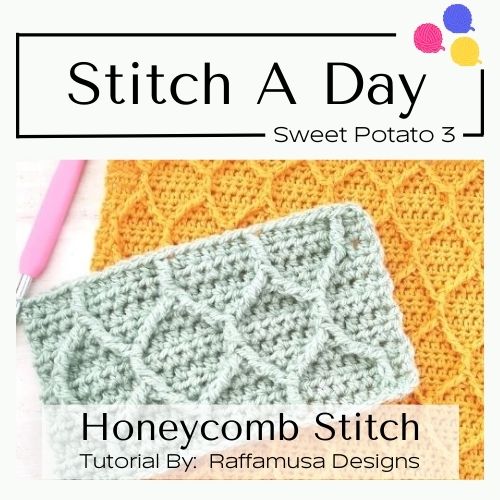 Honeycomb Crochet Stitch
The honeycomb pattern is a very trendy look right now. You see it in home decor, whether it is shelving, tiles, rugs or blankets.
You can create this honeycomb look with cable crochet and Raffamus Designs has a great tutorial to walk you through the steps.
---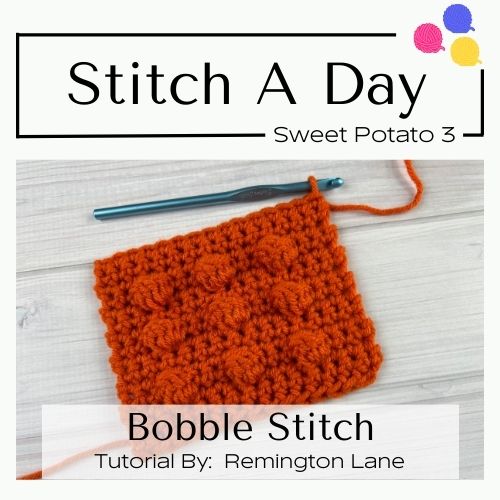 Bobble Crochet Stitch
If you are wanting a crochet stitch that "pops" and really stands out the bobble may be just what you need. This is a classic technique that is relatively common in many patterns. So, if you are not familiar with it, you must check this out and bookmark it as a great reference.
Remington Lane has put together a photo and video tutorial to help you understand it completely.
---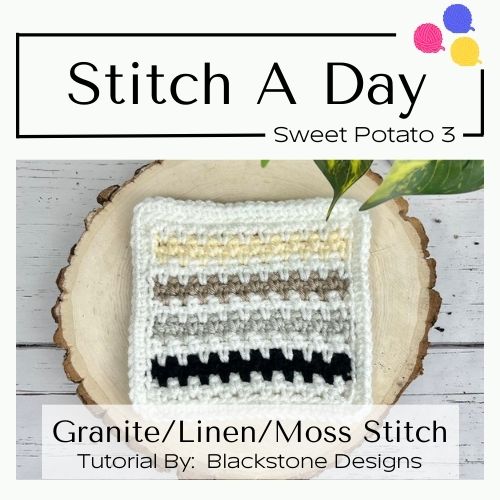 Granite, Linen or Moss Stitch
That is right, this stitch combination has many names in the world of crochet. They are worked the same and create a lovely fabric with a nice drape to it.
This stitch works up in practically all crochet projects from home decor, blankets, wearables and so much more.
Blackstone Designs put together a great tutorial just for our blog hop so I am so excited to share it with you all!
---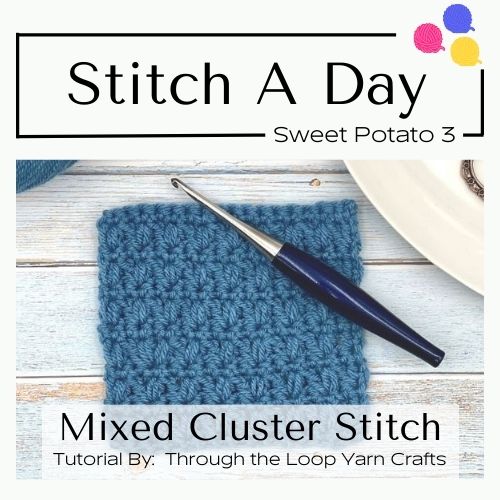 Mixed Cluster Stitch
I love finding crochet stitches that lay nice but have a subtle texture in them. the Mixed Cluster is just that. The look is nice and tidy but not boring at all. I can see this used in so many different types of projects like blankets, garments, home decor and so much more.
What would you love to make with it?
Find a great photo and video tutorial by Through the Loop Yarn Crafts on her blog linked below:
---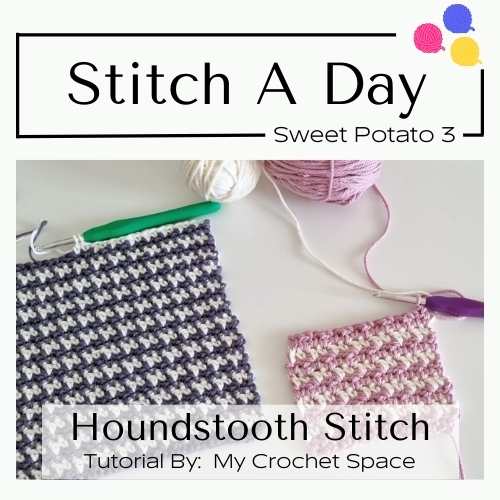 Houndstooth Crochet Stitch
I have always been drawn to the look of the Houndstooth pattern but have been so intimidated by it. I finally gave it a try a few years ago and it is SO EASY!
This is a must try stitch combo that you will quickly fall in love with. Check out this amazing tutorial done by My Crochet Space:
---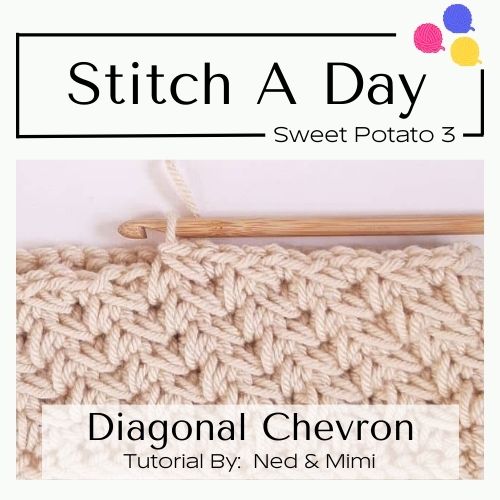 Diagonal Chevron Stitch Tutorial
This crochet stitch looks so warm and cozy. I am drawn to the angles in the pattern and the texture it creates.
Ned & Mimi show exactly how to crochet this stitch combination. Their tutorial is full of great photos and she even has a video tutorial showing exactly how to crochet the Diagonal Chevron Stitch. Check out her tutorial below:
---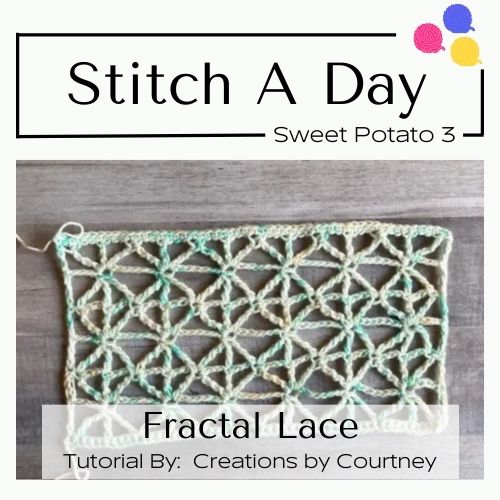 Fractal Lace
There is a time and place for lacey crochet stitches and that time is now! Summer and spring time are ideal for working up lightweight projects and this Fractal Lace stitch is ideal!
Creations by Courtney has a lovely tutorial that explains in detail how to create it, she uses photos and has a video to help you out:
---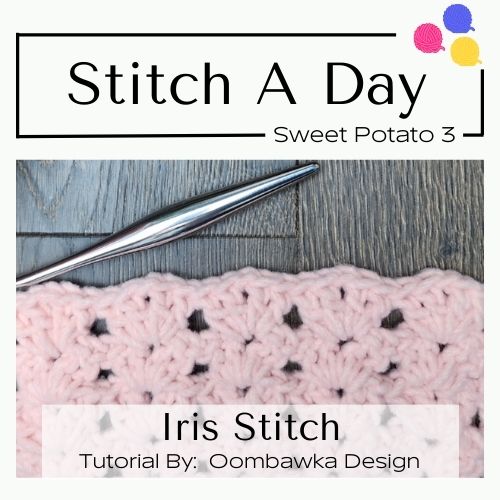 Iris Crochet Stitch
Sometimes easy 1 row repeats can create an intricate and eye catching stitch. The iris crochet stitch is just that. This lovely stitch combination works up quick and looks simply, pretty! Check out the great tutorial the Oombawka Designs has on her blog:
---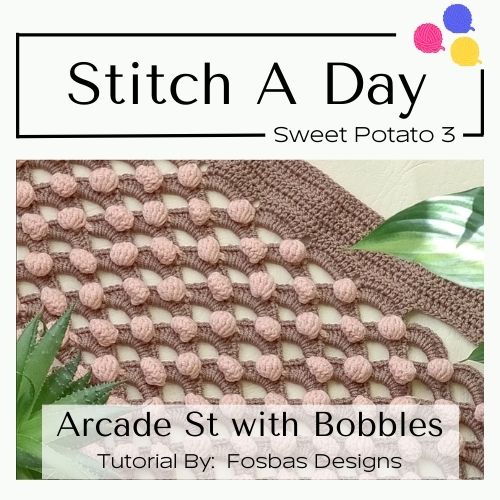 Arcade Stitch with Bobbles
Yes, you read that correct, this is such a fun combination of 2 popular stitches. The arcade is an eye-catching stitch, add a fun bobble to it and this is amazing!
Fosbas Designs really did an amazing job with this stitch tutorial, you've got to check it out today and be sure to bookmark it for later.
---
I hope you enjoyed the featured stitches and pin this round up for a great reference for future crochet projects. Be sure to follow me on social media (Facebook & Instagram) and join my newsletter so you don't miss any future designs or stitches!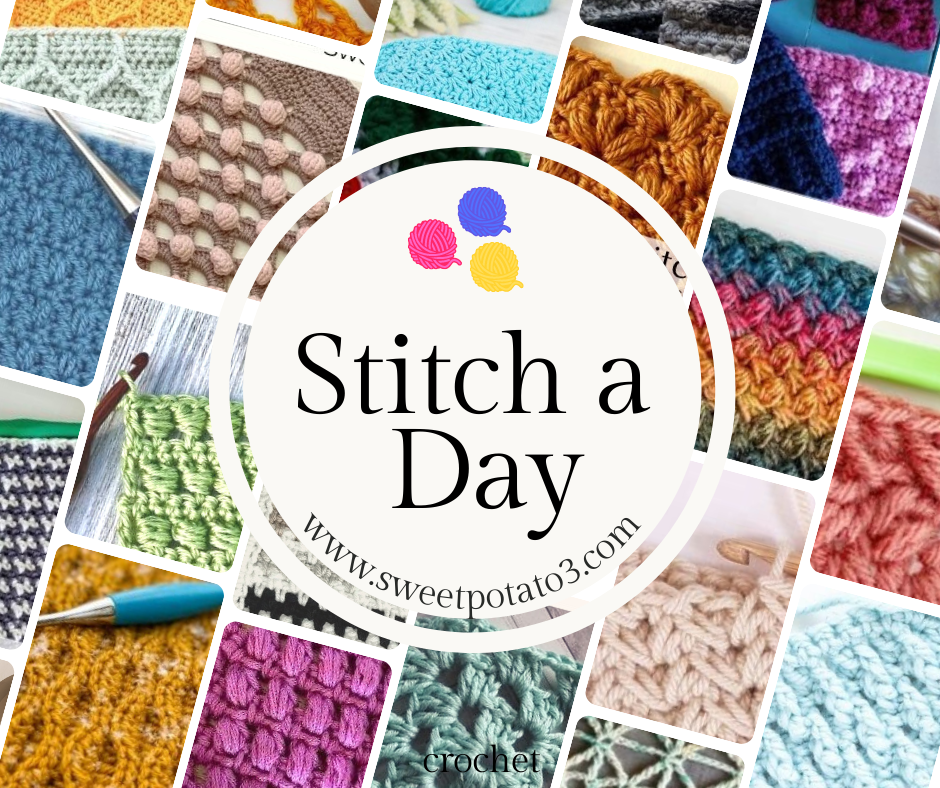 More Crochet Fun
Follow Sweet Potato 3 on Facebook to see more pattern releases, sales and crochet fun, just click HERE.
Want a more interactive group experience, you need to join my Crochet & Conversations facebook group. To join the group, click HERE. It is a ton of fun and I encourage everyone to share their projects, WIPS (works in progress) and inspirations. Plus get exclusive deals, be the first to see new releases, give input on designs and have opportunities to win patterns. Join now and get to know others who also enjoy the art of crochet.