Crochet puff stitches are very popular because they create a texture and provide a cozy look to your project. It is such a popular stitch that is found in numerous crochet patterns ranging from home decor, garments to wearables. Often, puff stitches are nestled between the puff stitches of the prior row that creates a thick texture. I personally love the look of straight lines so tend to like when things are aligned neatly, so I prefer the look of the vertically stacked puff stitch.
---
What is a Puff Stitch
The "official" definition of what a crochet puff stitch is, it is when you work a specified number of half double crochets together all in one stitch. The number of half double crochets can vary depending on the pattern, it could be 2, 3, 4, 5 or more. The more half double crochets (or yarn overs) will make the puff stitch thicker or puffier.
It is common to have stitches that are not puff stitches, be called a puff stitch in a pattern. This is why every pattern should have the puff stitch explained within their design, if it is not, I highly recommend you contact the designer to find out how they worked the stitch in their pattern.
I have an in-depth article that breaks down the difference between commonly misnamed stitches. If you're interested in diving into this more, check out my article by clicking HERE.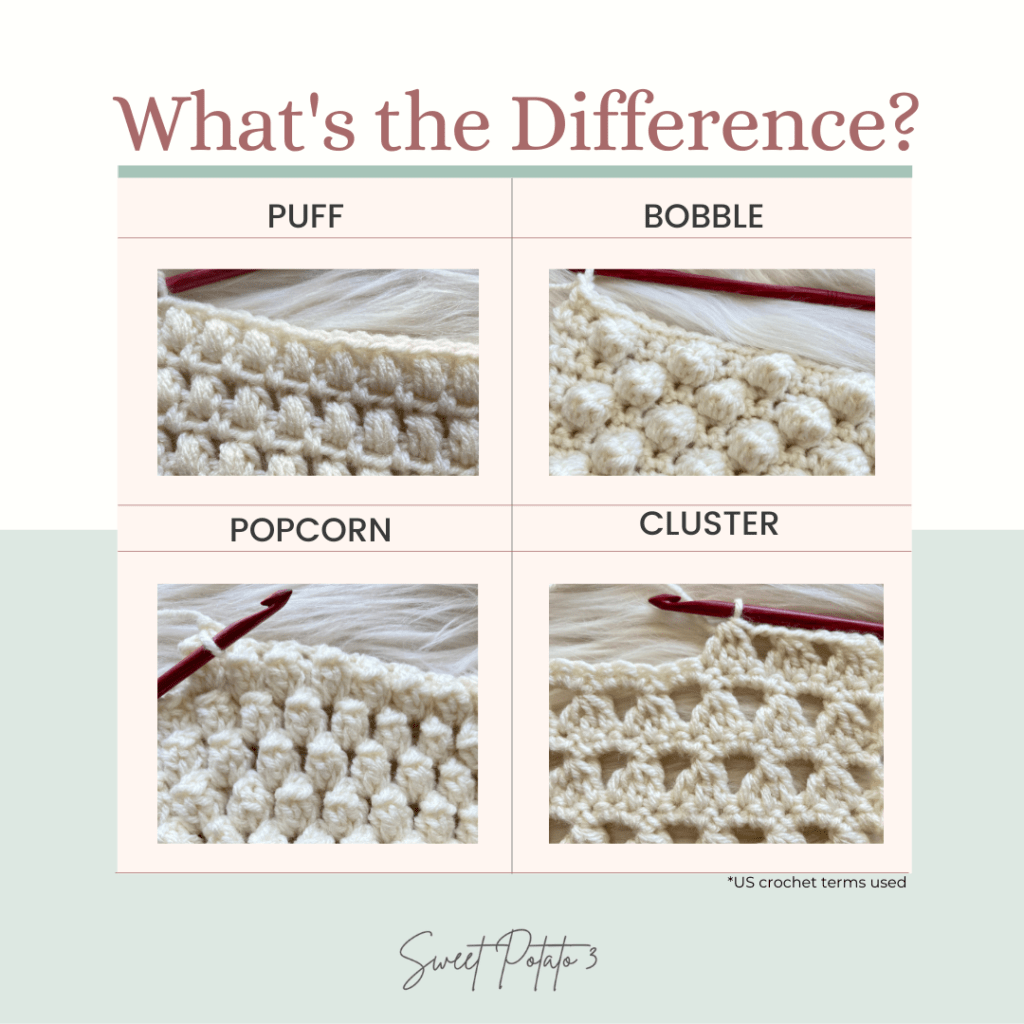 ---
How to Crochet the Vertically Aligned Puff Stitch
In this tutorial I will show you how to crochet a traditional puff stitch so that they are aligned perfectly on top of the puff stitches worked in prior rows.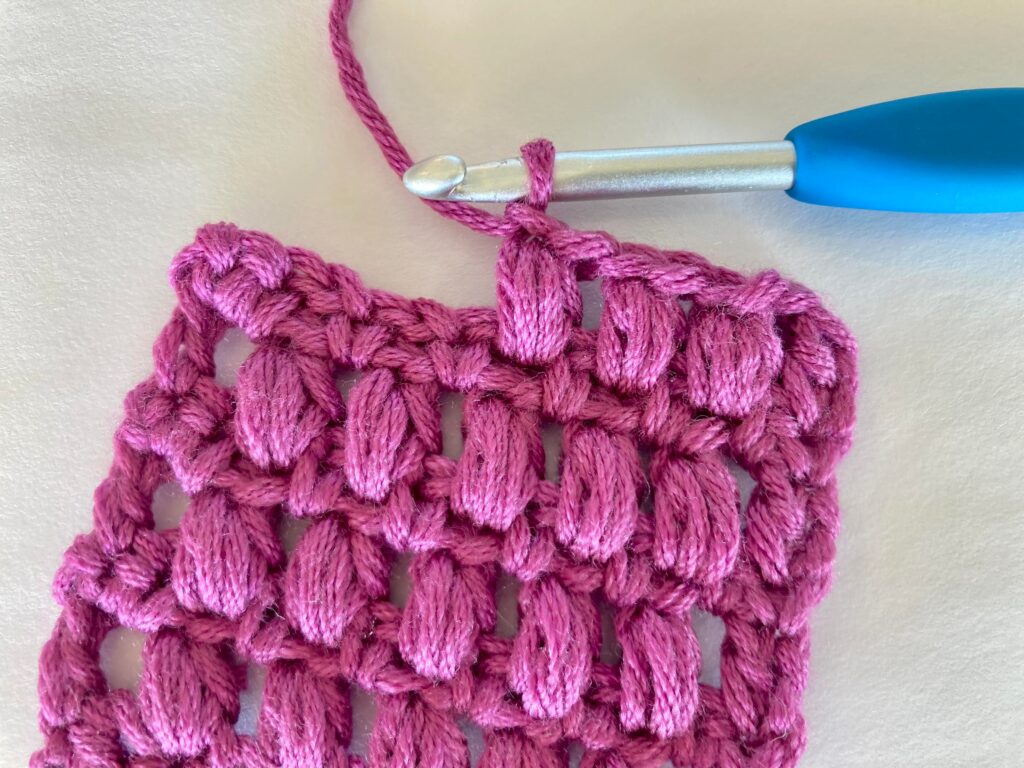 As mentioned above, all puff stitches may be worked slightly different. For the puff stitch in this tutorial work it as follows:
Puff = (yarn over, insert hook, pull up a loop), repeat () 2 more-time, yarn over, pull through all 7 loops on hook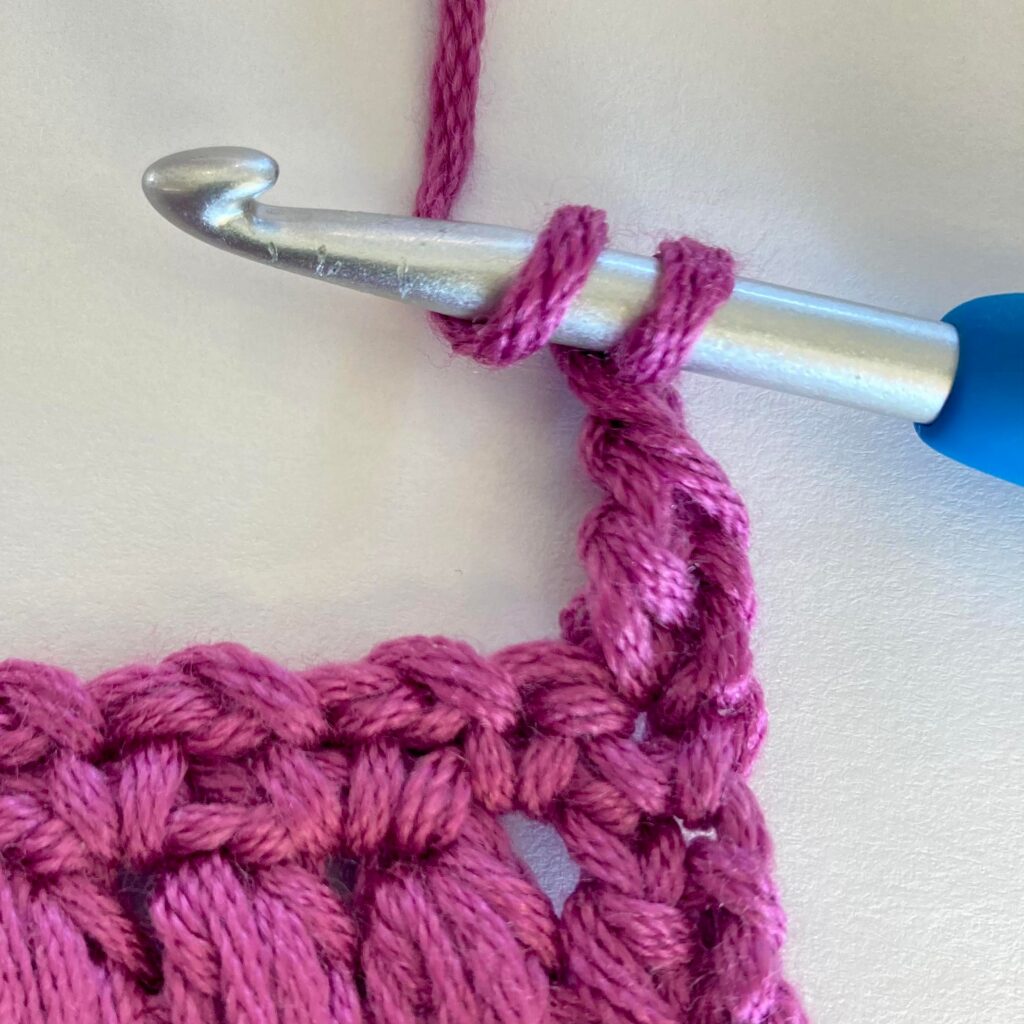 ---
To begin – crochet a foundation row
Begin with an odd number of stitches, to practice the stitch I would recommend beginning with a minimum of 13 stitch. I am a huge fan of beginning with a foundation row, shown is a foundation row of single crochets. If you are not familiar with how to work foundation rows, check out my YouTube tutorial HERE.
Row 2 Puff Stitch
Chain 1, double crochet in the 1st stitch, chain 1, skip next st, [puff in next stitch, chain 1, skip next stitch], repeat [ ] until 1 stitch remains, double crochet in last stitch and turn.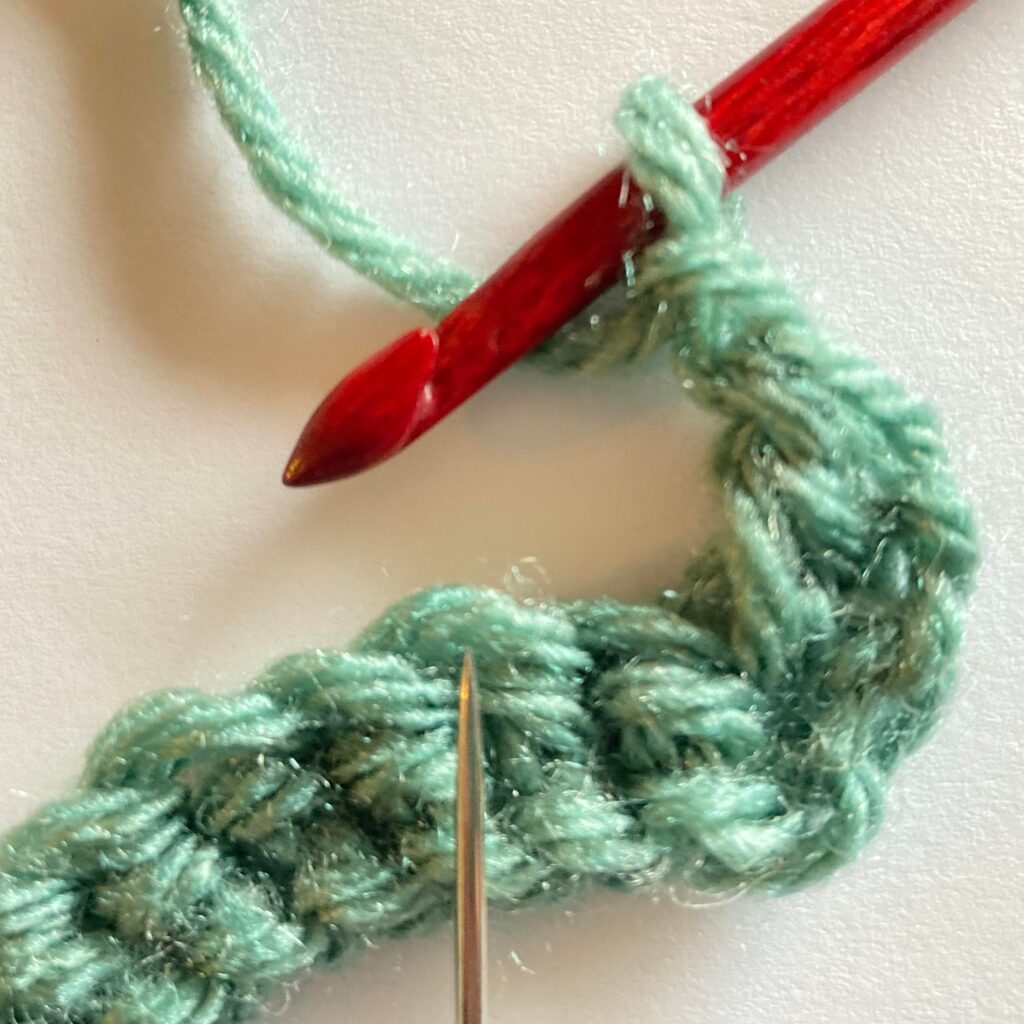 Row 3
Chain 1, single crochet in 1st stitch, single crochet in chain space, [chain 1, skip next stitch, single crochet in chain space], repeat [ ] until 1 stitch remains, single crochet in last stitch and turn.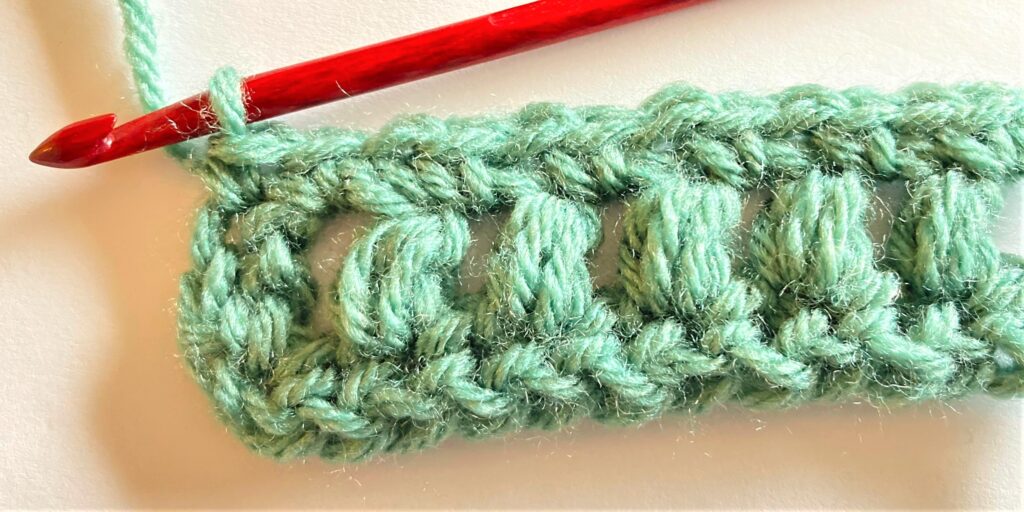 Row 4 – Another Row of Puff Stitches
Chain 1, double crochet in 1st stitch, chain 1, skip next stitch, [puff in chain space, chain 1, skip next stitch], repeat [ ] until 1 stitch remains, double crochet in last stitch and turn.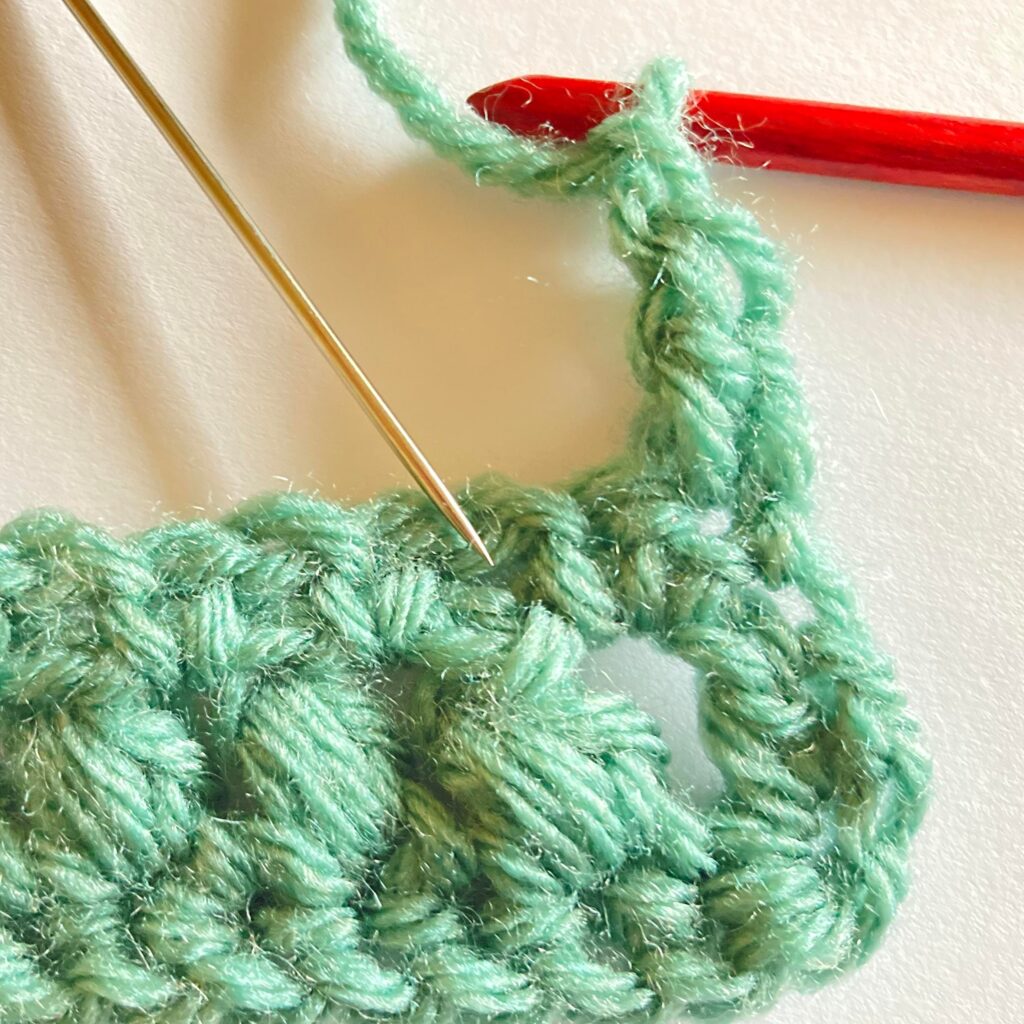 Repeats
Now you will basically repeat rows 3 and 4 to continue to crochet the puff stitches on top of one another. Make sure that you are working into the chain spaces, this is essential to getting the puff stitches to align correctly.
Video Tutorial
Seeing the stitch through photos can be very helpful, however, being able to watch it can sometimes clarify it a little bit more. So, I have a video tutorial on this stitch combination. Check it out on YouTube HERE.
Patterns that feature the Vertically Stacked Puff Stitch
This stitch combination is featured in one of my most popular crochet alongs, it was the Stitch Sampler Blanket and was featured in one of the 30 squares. So if you enjoyed this, you may fall in love with this design as well.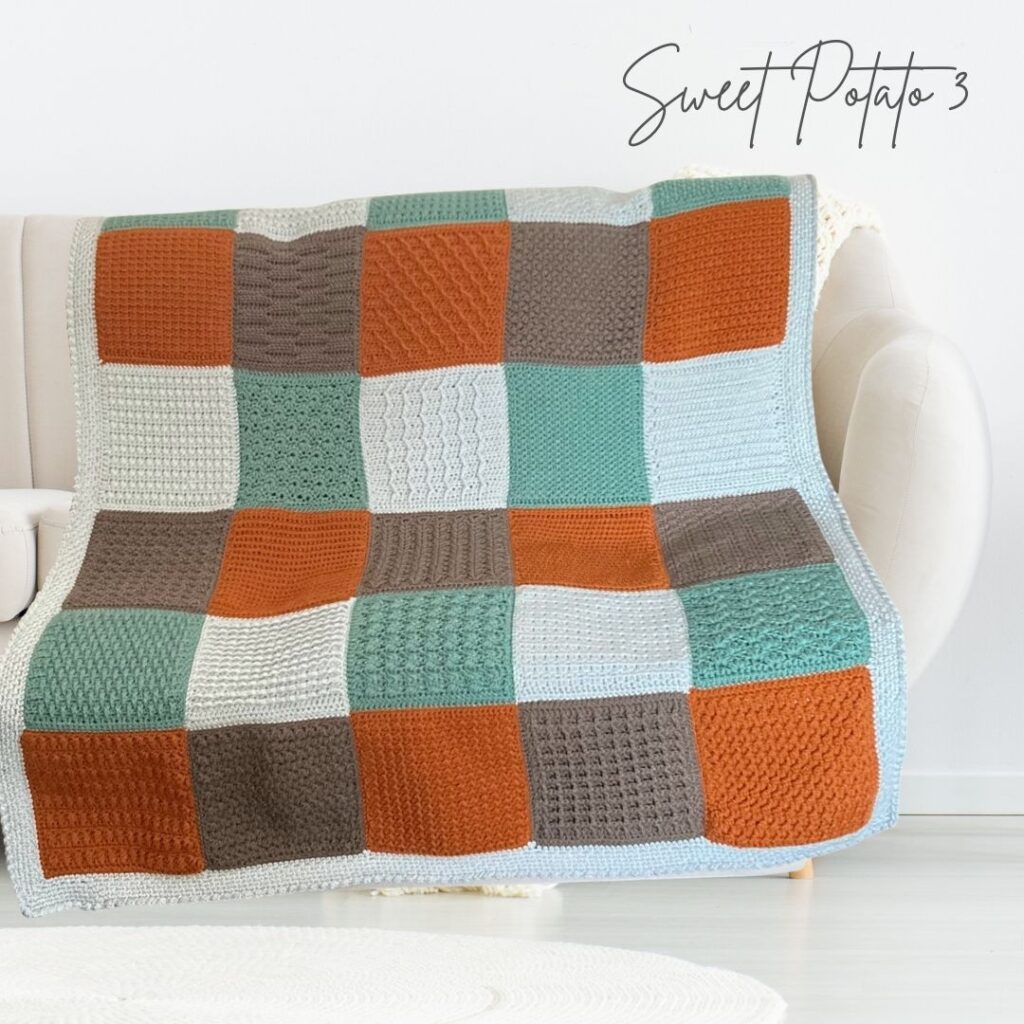 Another designs that shows off the stitch a little more is the Big & Comfy Tranquility Blanket. The cozy blanket is one of my favorites, one year I made about 6 to give away as graduation gifts. They were a huge hit!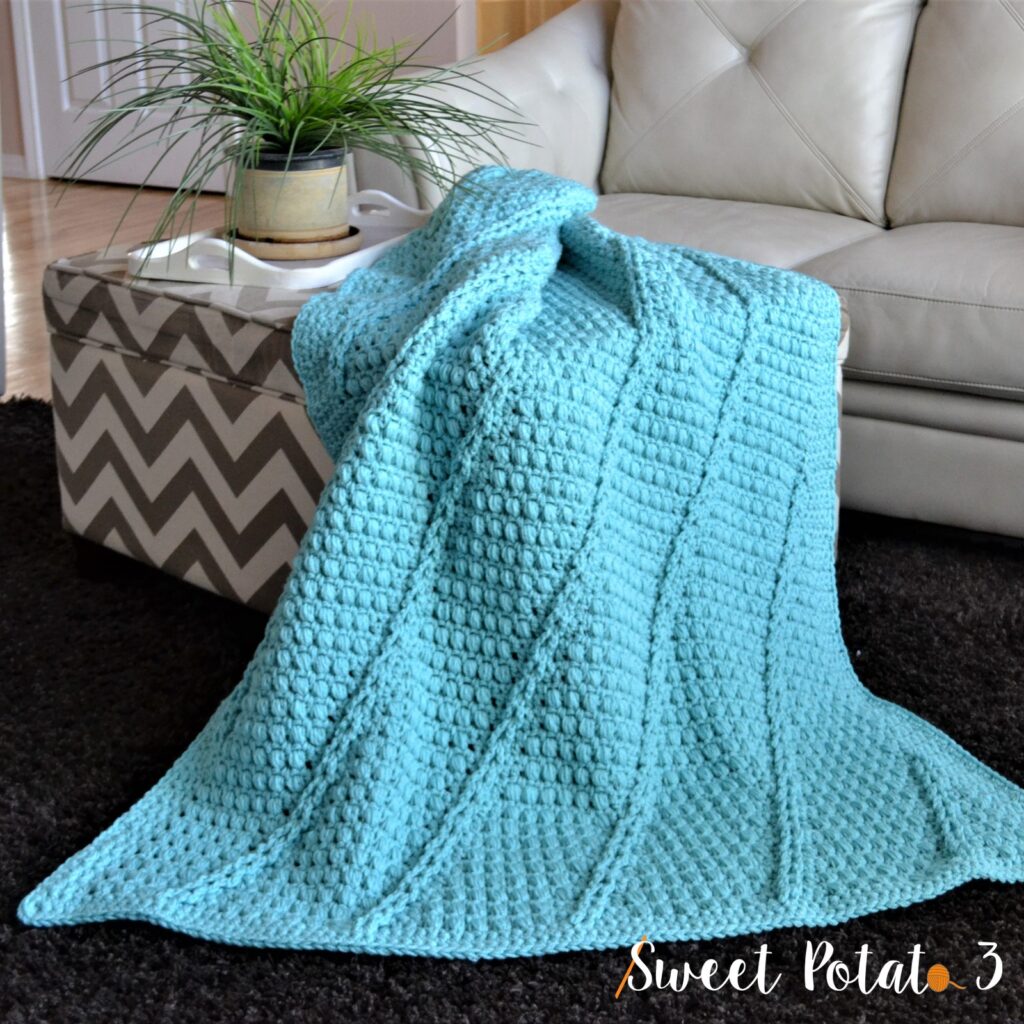 More Crochet Fun
Follow Sweet Potato 3 on Facebook to see more pattern releases, sales and crochet fun, just click HERE.
Want a more interactive group experience, you need to join my Crochet & Conversations facebook group. To join the group, click HERE. It is a ton of fun and I encourage everyone to share their projects, WIPS (works in progress) and inspirations. Plus get exclusive deals, be the first to see new releases, give input on designs and have opportunities to win patterns. Join now and get to know others who also enjoy the art of crochet.