Searching for a plush, warm and unique blanket pattern? I know a few young ladies who are graduating from High School this year and they all requested a plush blanket. I wanted to design one that fit each of their personalities so each blanket is super cozy and still has a unique texture to it.
These blankets took some time to design, a lot of trial and error. Hiccup after hiccup kept them from being published, but trust me, they were worth the wait! Check out all 3 blanket designs that are included in the Big & Comfy Set: The Tranquility Blanket, The Serenity Blanket and the Equanimity Blanket.
Well, all 3 designs are made with a simple technique that makes them extra bulky, chunky and plush! You know those super warm and cozy cowls everyone was wearing this past winter? Well, now you get that same warmth but in an entire blanket!
The blankets are all crocheted while working 2 strands of worsted weight yarn together. Not only is this a fun way to crochet, the blankets work up nearly twice as fast and it is a super easy way to double the eye catching texture in these blankets.
Tranquility Blanket Design
For the first blanket I wanted to get the look of diagonals running across full length of the blanket. Adding these angles along with clusters creates an eye catching design. If you could feel how plush and soft this blanket is you would want to wrap up into it.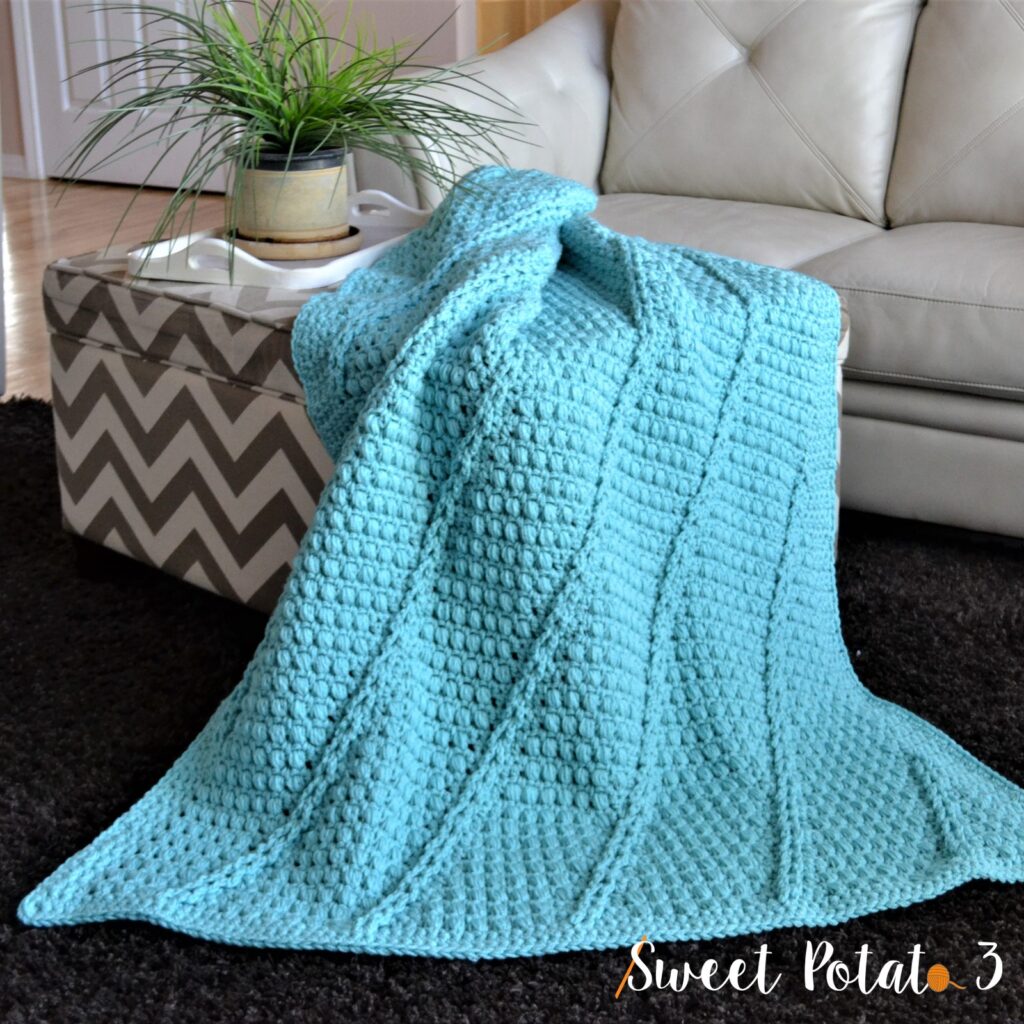 The yarn I used for this design was Red Heart Super Saver in the color Aruba. I typically stay away from RH for large projects but this specific color was so soft and the color popped perfectly for the design.
The pattern includes 3 sizes:
Square Lap Blanket Size (40X40) lays from upper waist to toes when sitting
Throw Blanket (50X60) – lays from chin to toes
Large Throw Blanket (60X80) – lays from chin and can wrap toes inside blanket-extra long
The Serenity Blanket
The Serenity Blanket was designed for a gal that loves to be around her horses, she loves all things western and especially cables. I used a color that reminded me of jeans (since that is what she wears at all time. The yarn I selected to use was Red Heart Comfort yarn in the color: Denim Heather.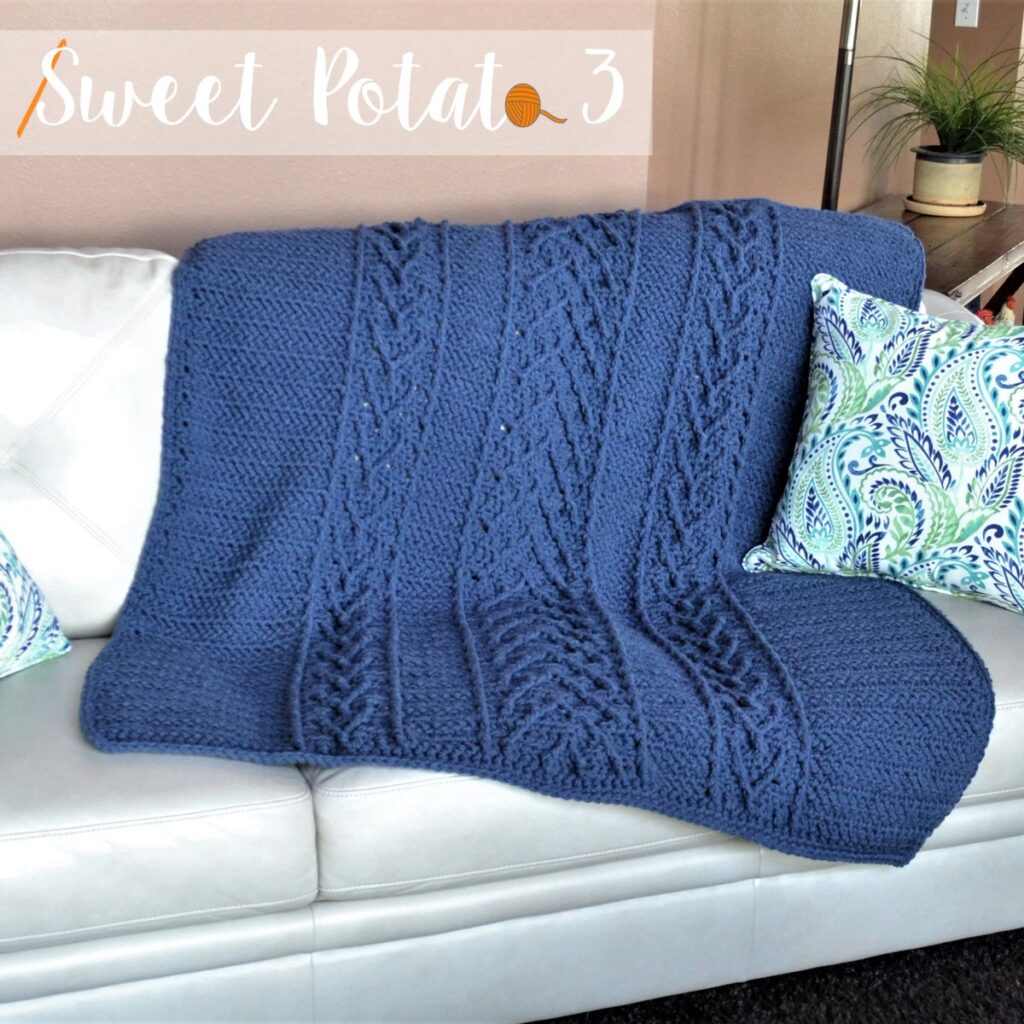 The Serenity Blanket is also made in the plush fashion by holding two strands of worsted weight yarn together. I love this technique because not only does it create a thick fabric but, it works up twice as fast as a typical blanket.
This crochet blanket also comes in the same 3 sizes as the Tranquility blanket: Lap, Throw and a Large size Throw (look above in the tranquilty blanket info for details on the sizes).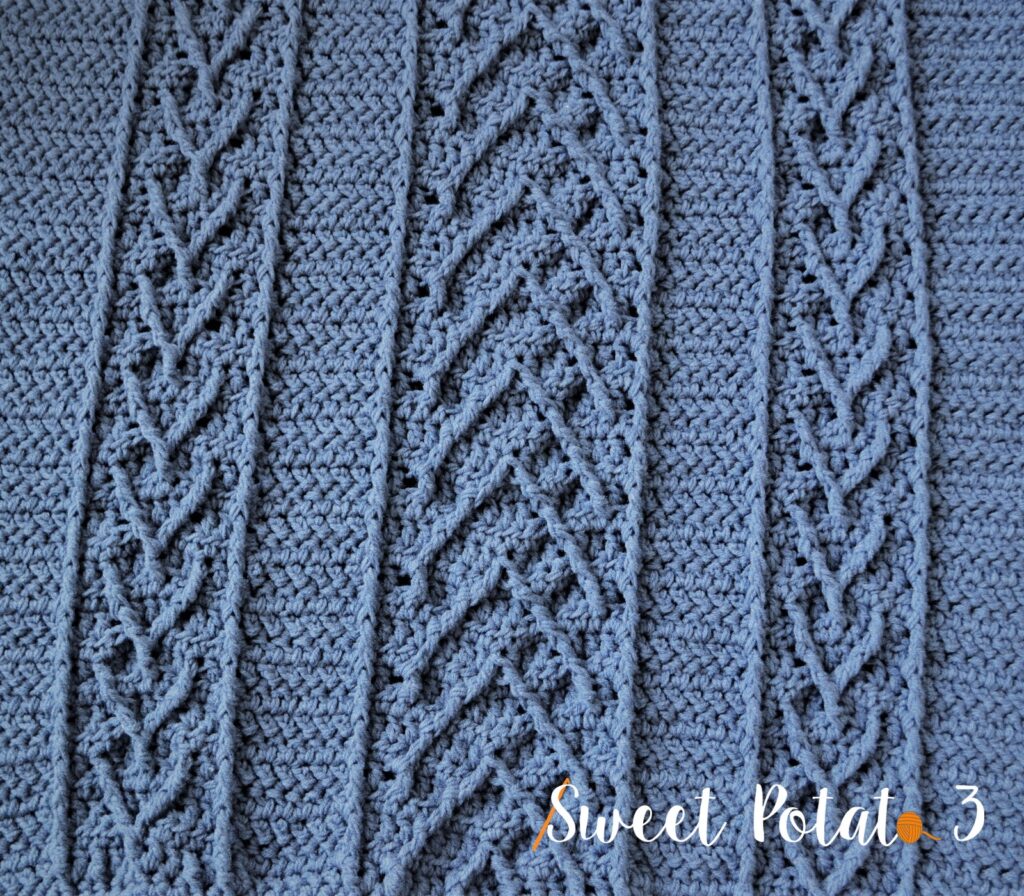 Equanimity Blanket
My personal favorite of the 3 Big & Comfy Blankets is the Equanimity Blanket. This design is made from side to side (instead of the traditional bottom up). It is also crocheted while holding two strands of yarn together at the same time which aides in creating a very plush blanket to wrap up in.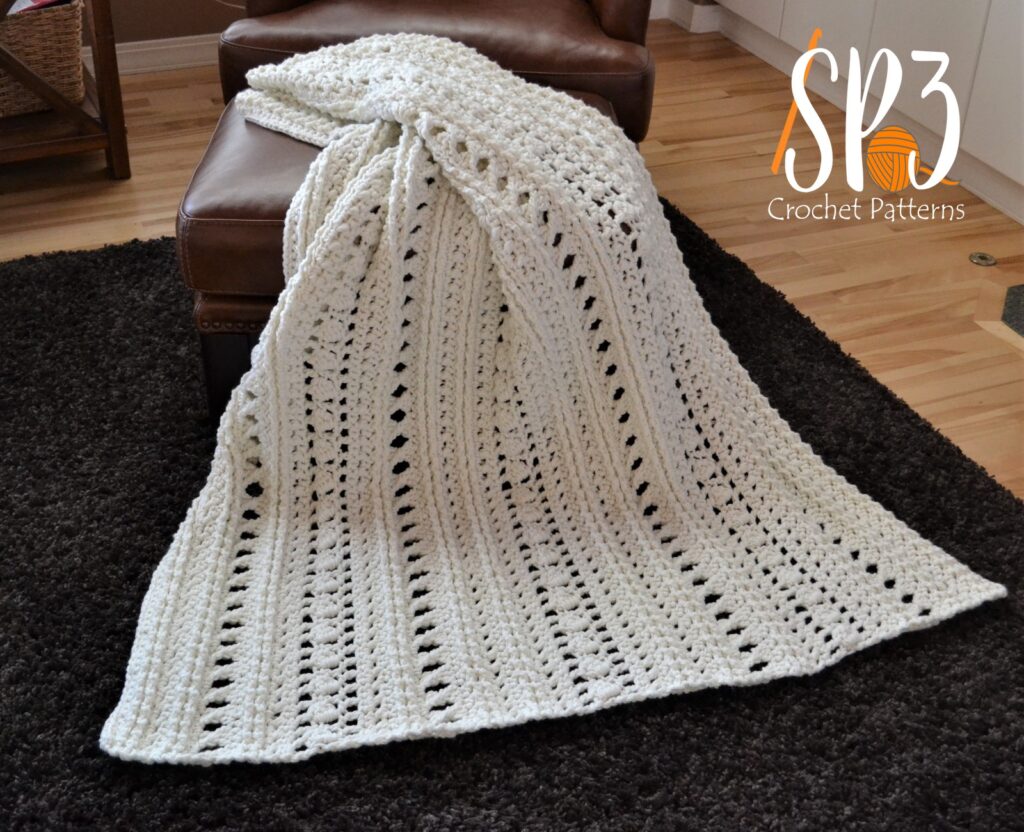 I used a nautral color and decided to use Red Heart with Love in the color Egg Shell. This design is full of unique stitches and techniques. It was originally released as a Crochet Along so there are lots of fun photos of it made in different colors on the Ravelry projects page that you can check out here.
As the other 2 designs in the Big & Comfy collection you have the option to make the Equanimity blanket in 3 sizes: Lap, Throw and a Large Throw Size.
The pattern has lots of photo tutorials to walk you through the pattern. I think you will learn something new with this design and fall in love with some new crochet techniques.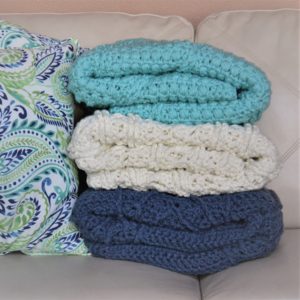 Where to Get The Big & Comfy Set
The Big & Comfy Collection includes all 3 blanket patterns at a discounted price. You can find them in the links below: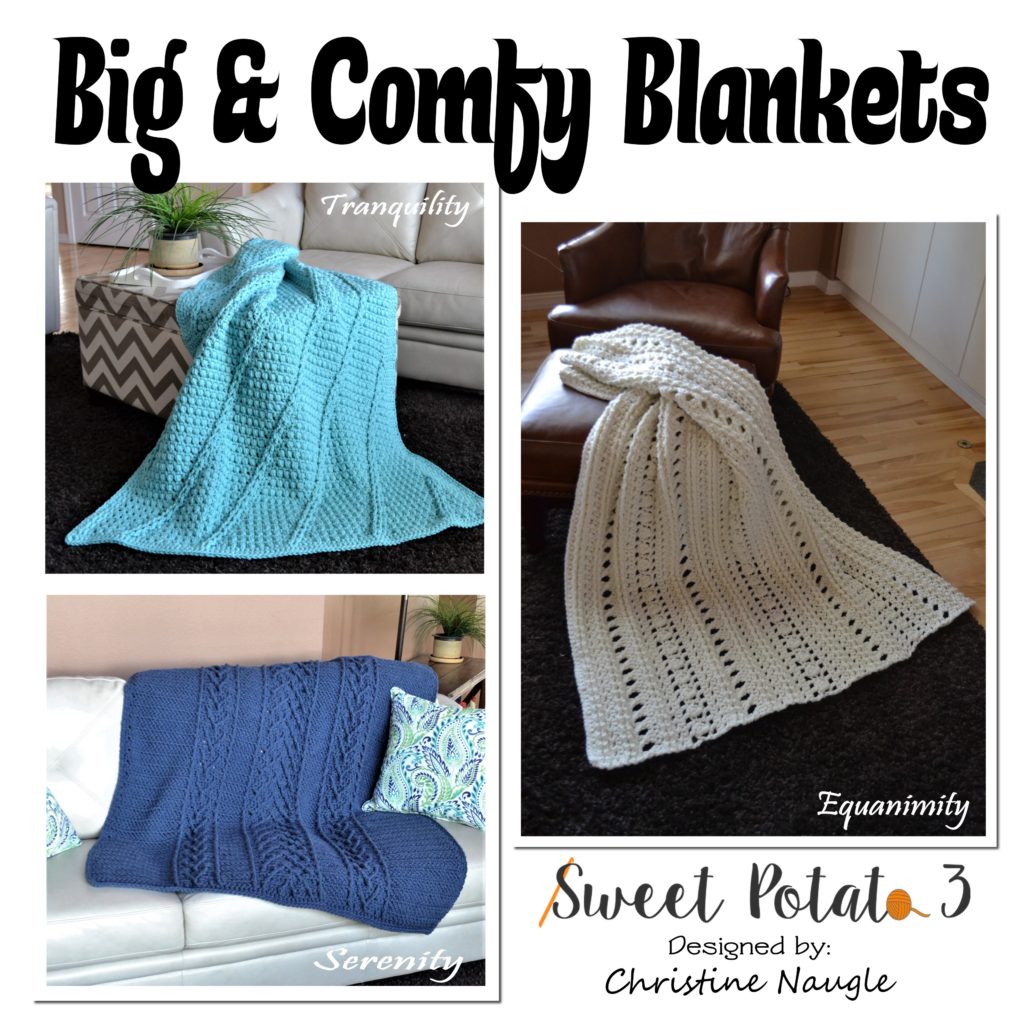 Where to Grab the Individual Patterns
The Tranquility Blanket
The Serenity Blanket
The Equanimity Blanket

Come join my interactive group for more crochet inspiration, crochet chats and all the latest, join HERE.
Other Blanket Patterns you May love