I have a Facebook group for my crochet enthusiasts, and I get many design ideas from it's members. When someone asks to join that group, I require them to ask a few fun questions first. One of those questions is, "what would you like to learn about crochet?" In over 10 years the top answer has always been, to learn new stitches, and more specifically, textured stitches. I went to work designing and now have a Stitch Sampler Blanket that teaches over 30 textured crochet stitches.
If you're not a member of my Facebook group, I would love to invite you to join. It is called, SP3 Crochet & Conversations, and it is all about crochet fun. It's easy to join, just click HERE, click "join" and then answer a few quick questions.
Crochet and texture
I have been crocheting for over 30 years and have found there are so many different ways to add texture to stitches. Texture has become a key feature in most of my crochet patterns, which is why this blanket was so much fun to design.
The sampler blanket is an ideal way to learn new stitches. Each stitch includes written instructions as well as a photo and video tutorial. By completing the stitch sampler blanket you will work square by square, perfecting your stitches as you complete your blanket.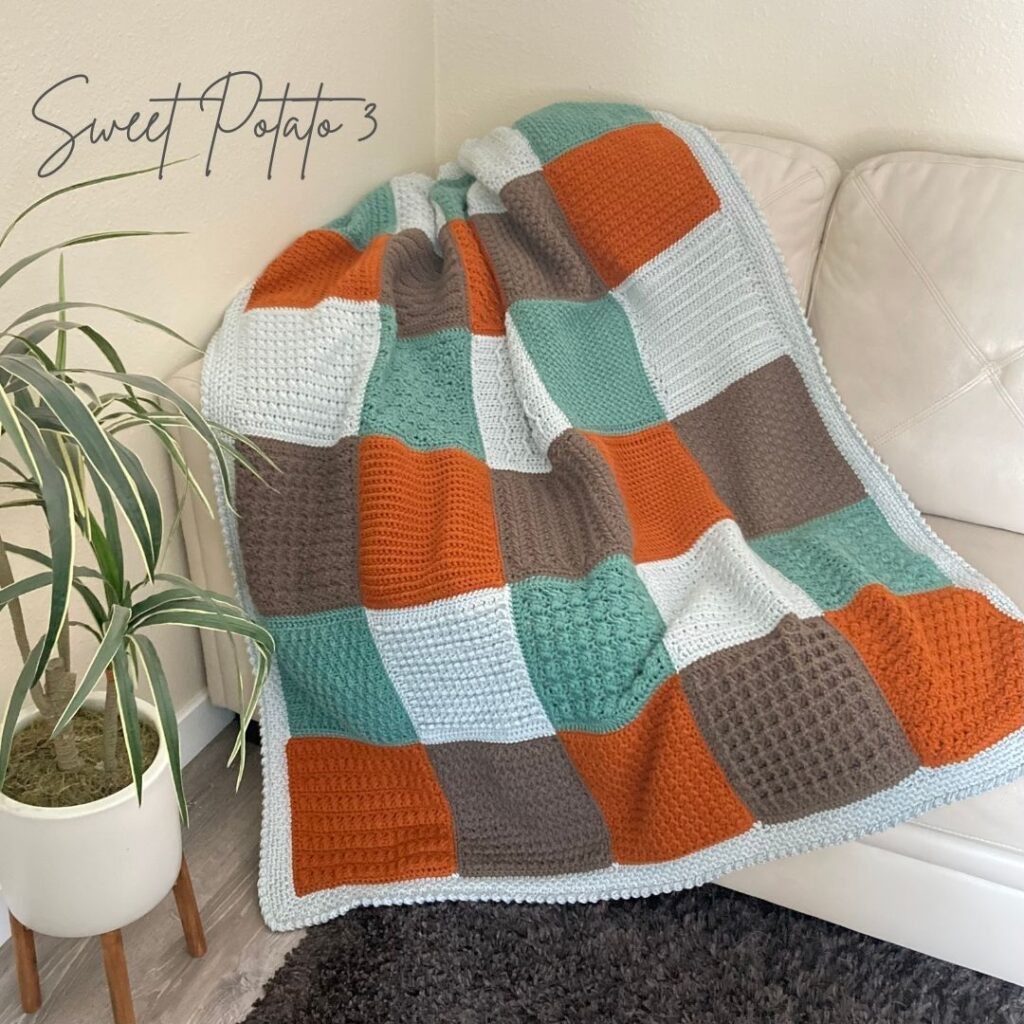 When your Stitch Sampler Blanket is completed, you will have mastered not only the 30 new stitches, but also seaming crochet pieces, working in row ends, foundation stitches, adjusting your gauge through hook sizes, blocking and so much more.
The Squares
Each square uses one type of a textured stitch. They were all carefully selected to give an equal amount of different types of stitches ranging from puffs, lined and subtle textures. Some squares will work up very quick and others will take a little bit longer but you will enjoy that each one is only 10″ X 10″.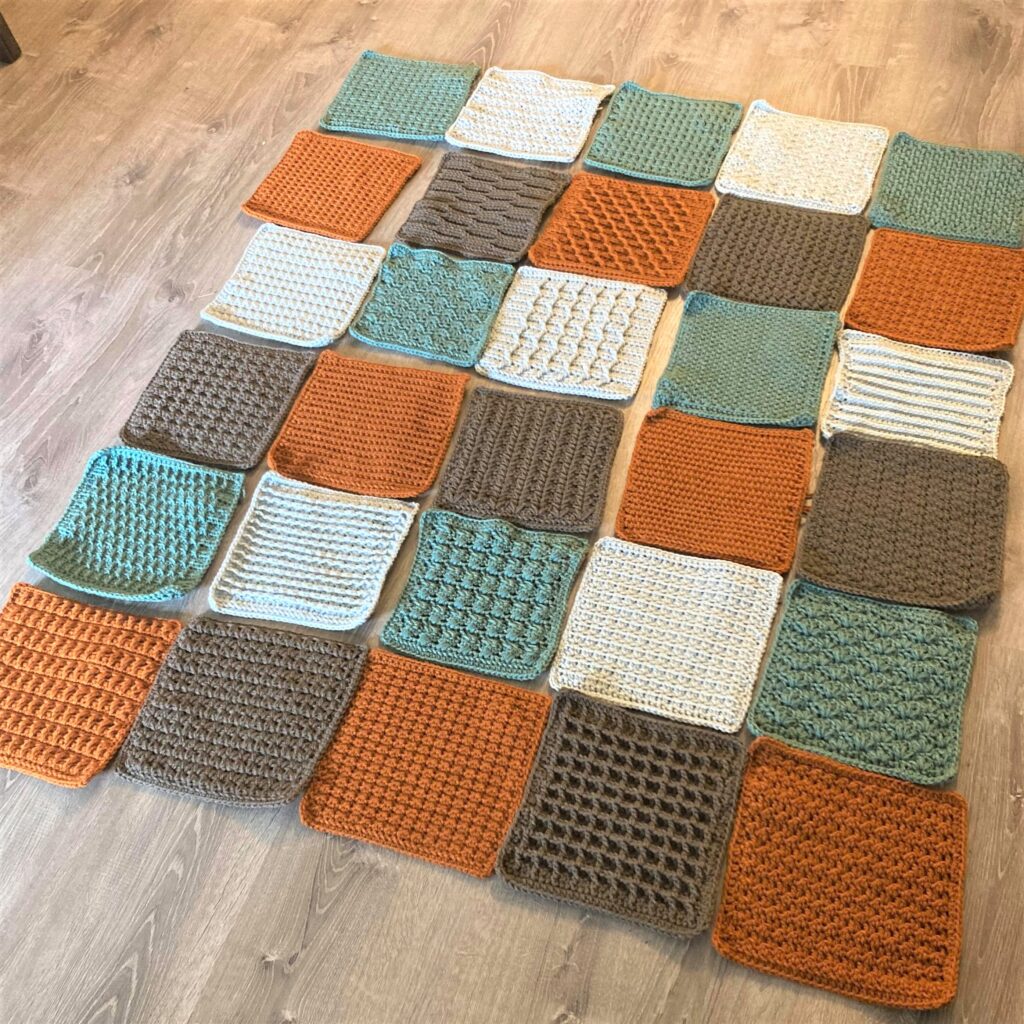 The blanket is made up of 30 squares total and a border for a finished size of about 54″ X 64″. However, you can easily customize the size of the blanket. For a smaller blanket just select the squares you want and make it smaller or adding more squares to make it larger.
Selecting Yarn for your blanket
Picking out your yarn for the CAL can either be the most exciting part or the most stressful. The blanket is designed to be made using a worsted (#4) medium weight yarn. I love the softness of Lion Brand Yarn and decided to use Vanna's Choice.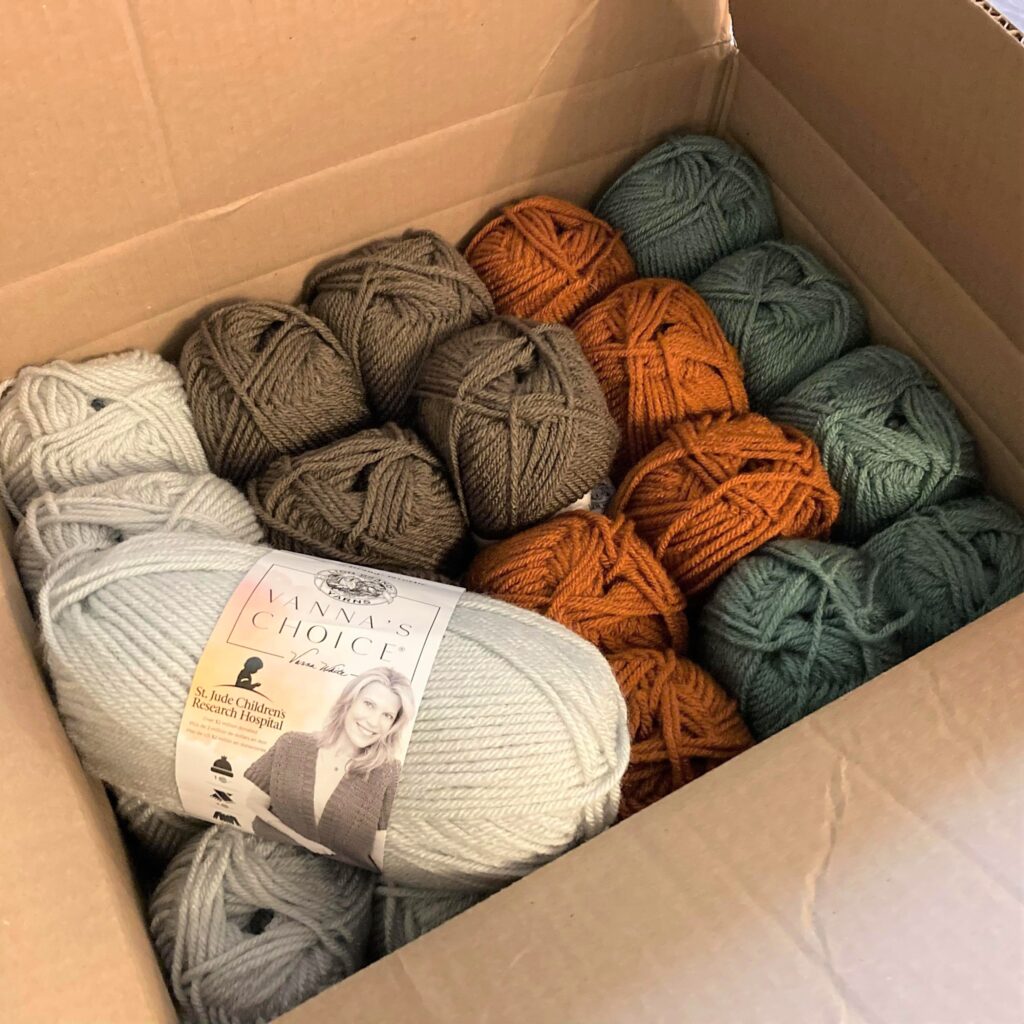 I decided to use 4 colors in a unique pattern, however, you can pick to use 1, 2, 3, 4, 5 or 30 colors. I put together a few color samples to help you visualize a few options. If you like any of these options, they are all included in the pattern with yarn amounts for the different options.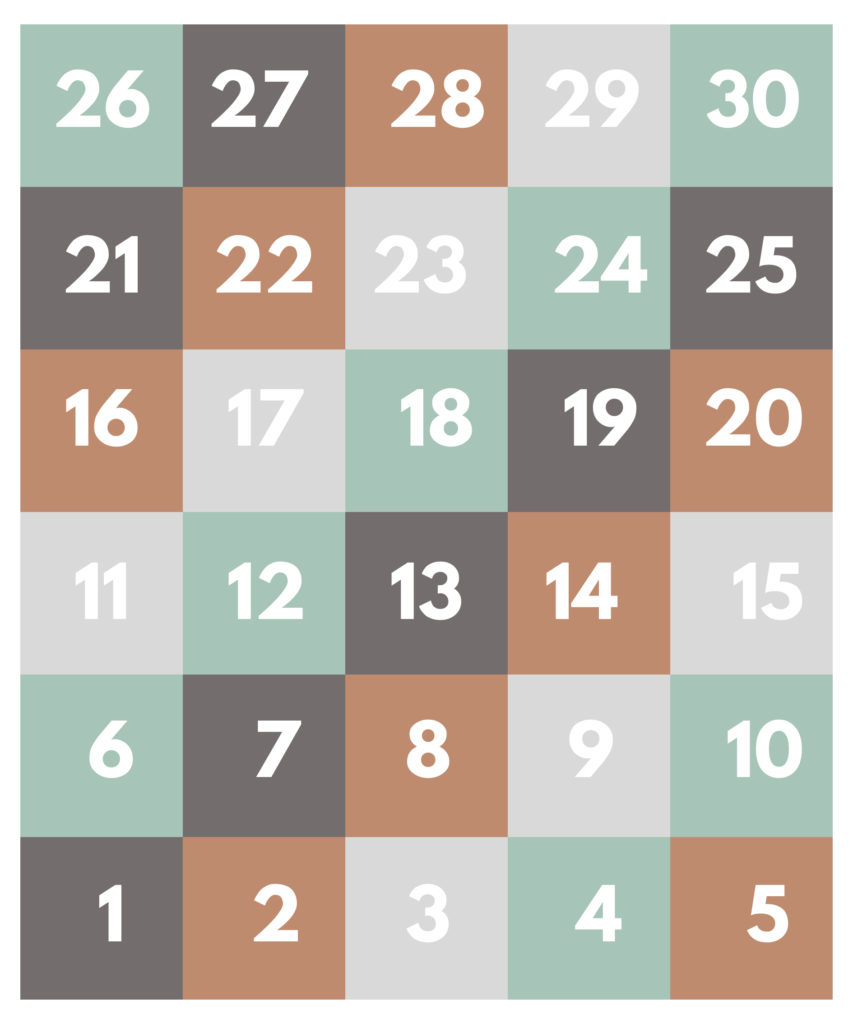 Crochet Hooks & Gauge
Included in the crochet pattern is a gauge check. This is very important for this specific blanket. But, not for the reasons you think. Typically, a gauge check is used so that your final crochet piece is a correct size. Blankets are not wearables, so the final size does not necessarily need to be exact.
For the Stitch Sampler Blanket, each square is crocheted with different stitches. Using different stitch combinations results in the height and width of stitches and rows to vary. All the squares will be stitched together to complete this blanket, so it is important that they are identical in size. To help with this you will need to adjust your hook for each square, so a gauge check needs to be completed.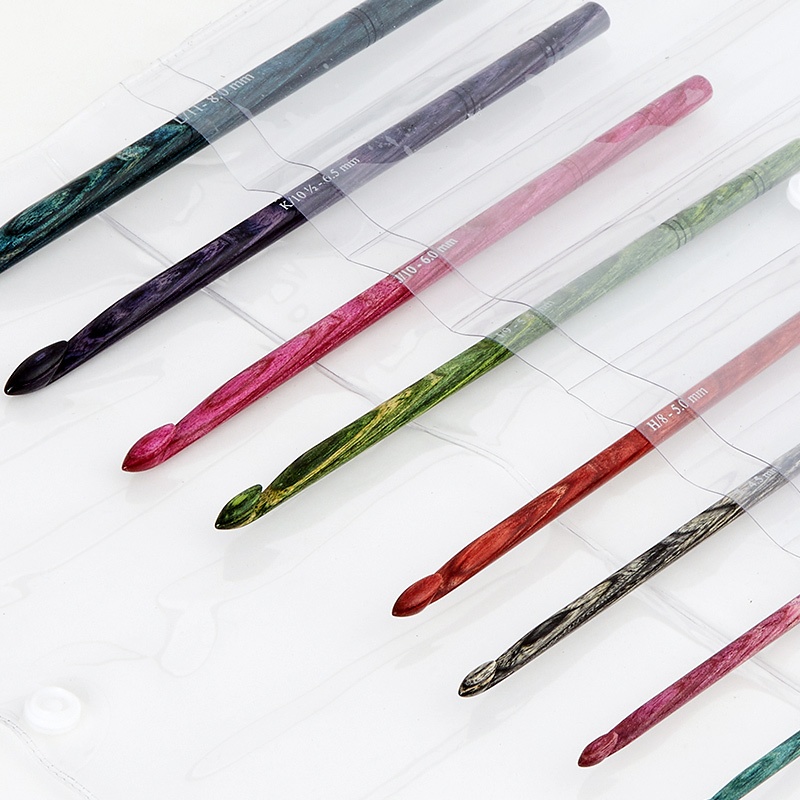 I loved using my Dreamz Symphonie Wooden crochet hooks from Knitters Pride for this project. When crocheting detailed stitches having a crochet hook with a pointer head can be helpful. Wooden crochet hooks are also softer on your hands than metal hooks which is why I am drawn to them. I have a review of why these hooks are my favorite wooden hooks to work with.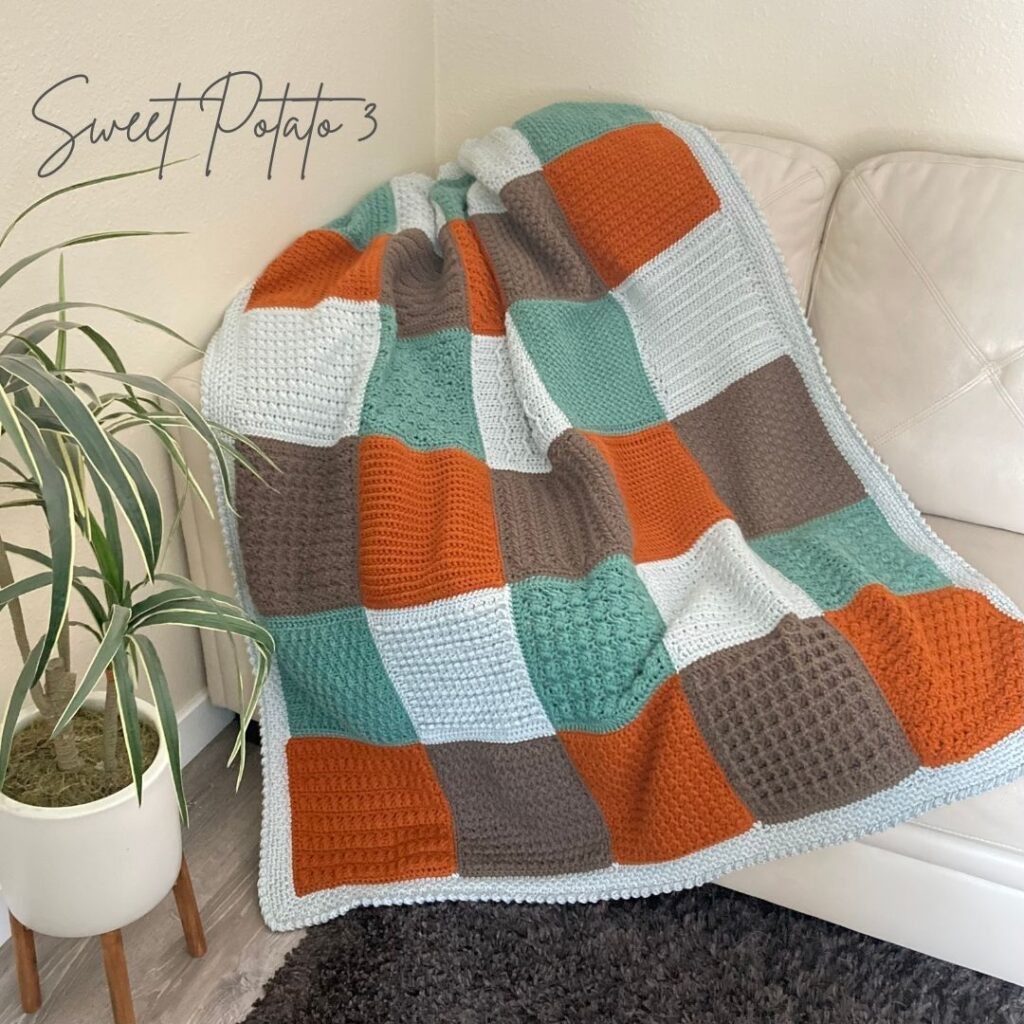 Materials Needed
Multiple Crochet Hook Sizes will be used including H (5.00 mm), I (5.50 mm), J (6.00 mm), & K (6.50 mm)
Worsted Weight Yarn (#4) – 2950 yards total – samples of design colors below
The blanket shown was made using Lion Brand Vanna's Choice, you can see their color selections by clicking HERE
Measuring Tape
Scissors
Yarn Needle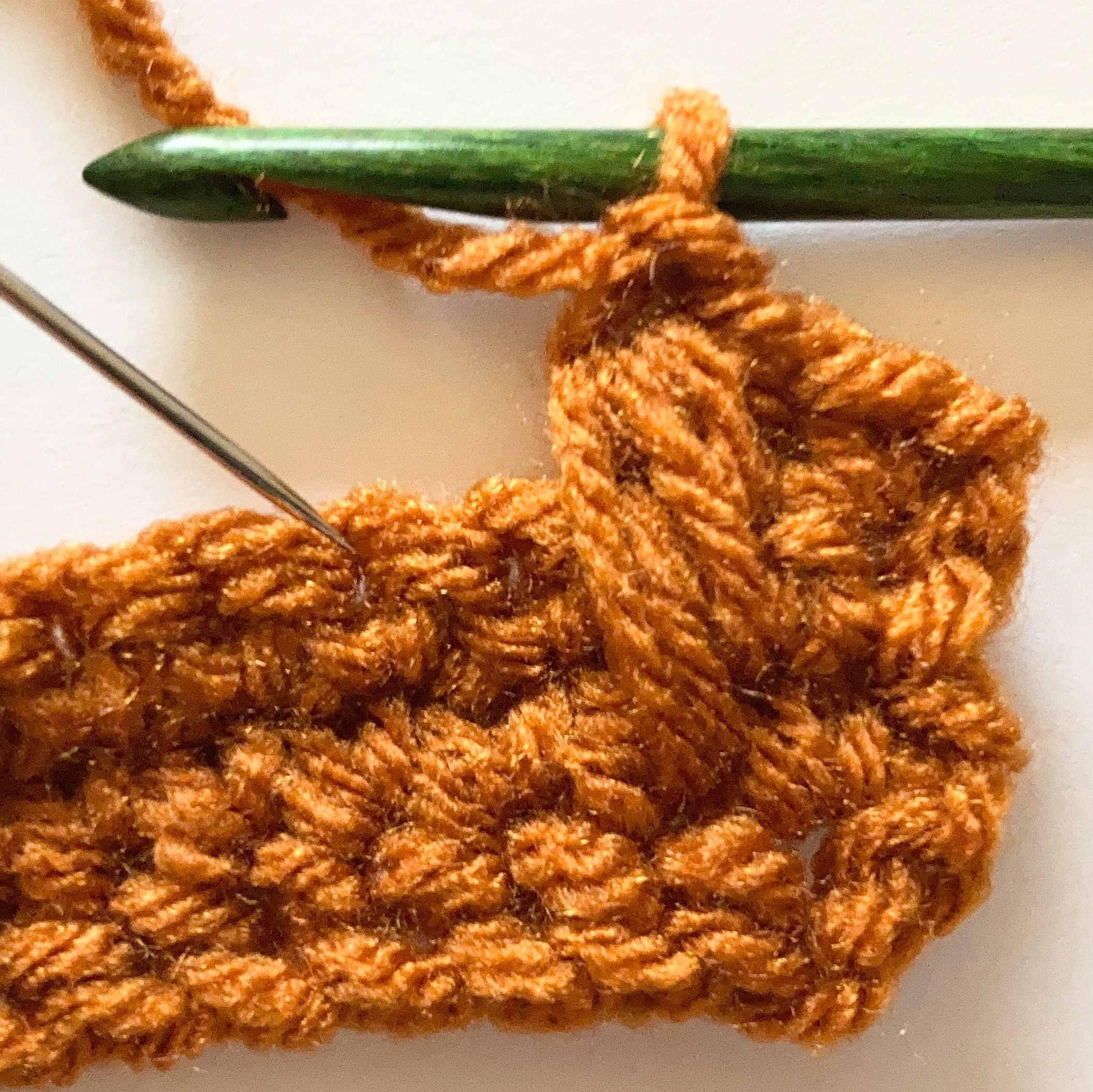 Where to Find the stitch sampler Blanket pattern
The blanket pattern is designed to teach you each textured stitch through written instructions, photo tutorials and YouTube videos. The pattern will walk you through all the details of the pattern including giving you multiple ways to customize the blanket. Choose between 3 different ways to join your squares and see how each option creates a different look, you can see the joining options HERE.
You can grab your own copy of the digital pattern in my pattern shops in the links below: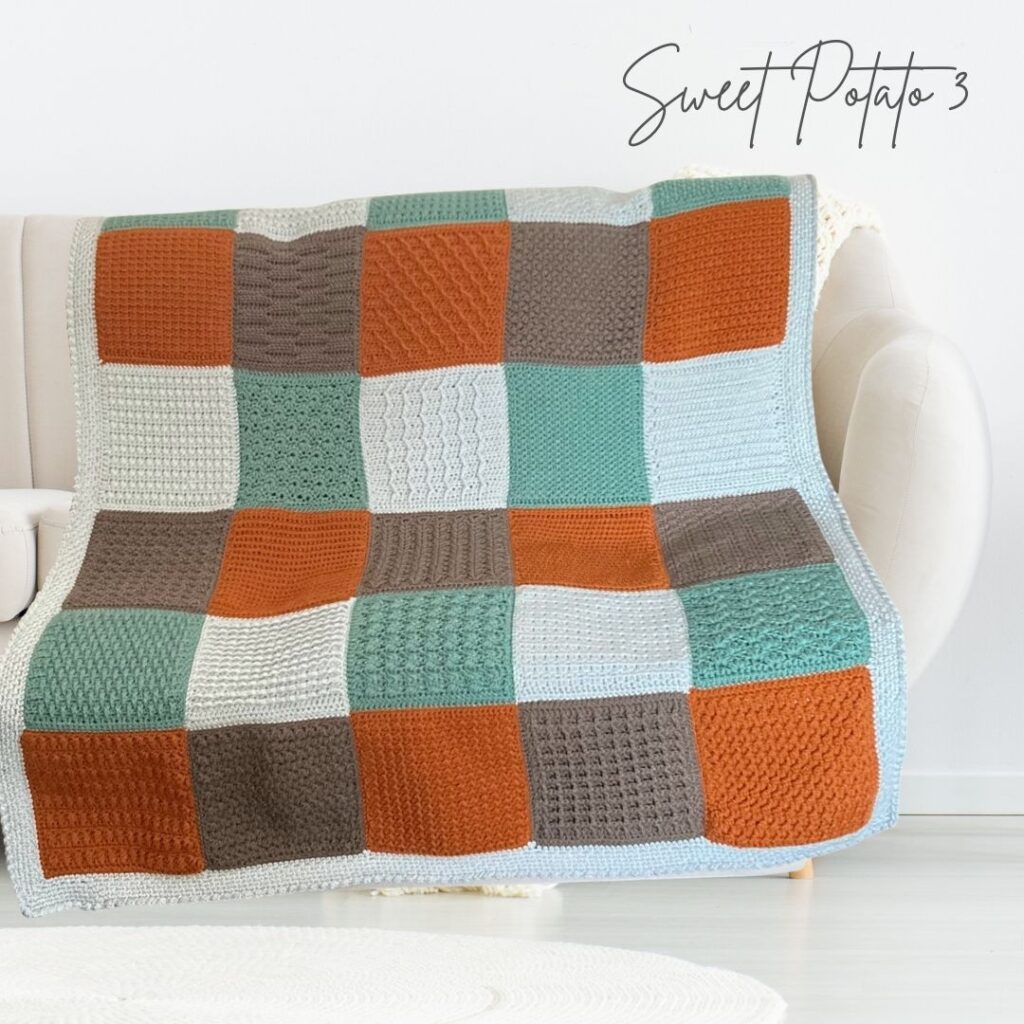 More Crochet Fun
If you found this article helpful and are interested in seeing more, sign up for my newsletter. All I need is an email address. I promise to not fill your inbox with spam, I will respect your time. Sign up by clicking HERE.
Follow Sweet Potato 3 on Facebook and on Instagram, both are @SweetPotato3Patterns.
However, if you would enjoy a more interactive group experience, you should join my Crochet & Conversations Facebook group, by clicking HERE. It is a ton of fun and I encourage everyone to share their projects, WIPS (works in progress) and inspirations. Plus, you get exclusive deals, are the first to see new releases, give input on designs and have opportunities to win patterns. Join now and get to know others who also enjoy the art of crochet.