Mom's are the best, they give so much of themselves for their children. They pray for, teach, guide, love and cherish their children all their lives. Growing up, I always felt blessed to have such an amazing mom and today, being a mom to 3 children, I strive to be like my Mom. Here is my Mom on Mother's Day, I believe in 1984 (I am the one of the right).
Mother's day is wonderful day where we get to tell our Moms, or the Mother figures in our lives, how much we appreciate them and all they do for us.
Celebrations of mothers and motherhood can be traced back to the ancient Greeks and Romans, who held festivals in honor of the mother goddesses Rhea and Cybele, but the clearest modern precedent for Mother's Day is the early Christian festival known as "Mothering Sunday."

History.com
Traditionally, we present our Mother's with gifts. As young children we always made something handmade. Whether it was a hand painted card, a paper plate crown with glitter or a bright and awkward big beaded necklace that they had to wear and show off (oh, the memories).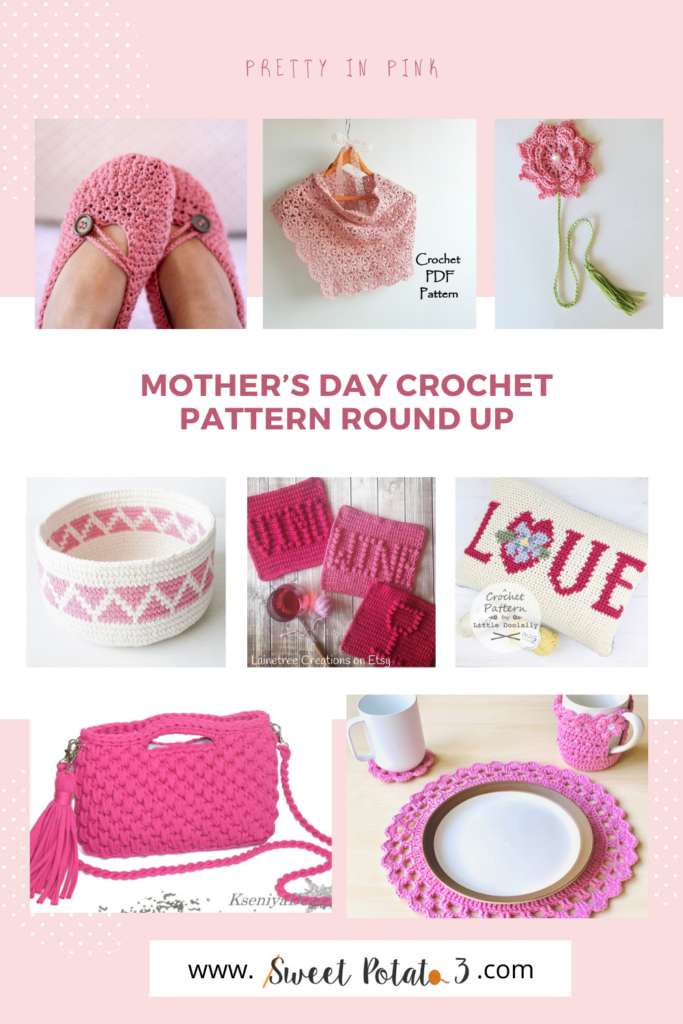 Bring Back Handmade for Mother's Day
This year, you can bring back the "handmade" part of the Mother's Day gift. Let us all shower our Mother's with one of these beautiful crochet patterns. Each one is unique, is a fairly quick project and can be customized to fit your Mother's personality perfectly.
Mother's Day Pretty In Pink Pattern Round Up
I would love to see any what you end up crocheting and gifting this year for Mother's Day. Join my facebook group (info is below) to share your creations and inspire others with your finished crochet pieces.
Etsy Mother's Day Gift Guide
To find more gifts on Etsy where you can support handmade business owners, check out the link below:
More Round Ups You Will Love
More Crochet Fun
Follow Sweet Potato 3 on Facebook to see more pattern releases, sales and crochet fun, just click HERE.
However, if you would enjoy a more interactive group experience, you need to join my Crochet & Conversations facebook group, click HERE. It is a ton of fun and I encourage everyone to share their projects, WIPS (works in progress) and inspirations. Plus you get exclusive deals, are the first to see new releases, give input on designs and have opportunities to win patterns. Join now and get to know others who also enjoy the art of crochet.