Over the past few years, I have been designing a variety of crochet blankets and loving the uniqueness of each one. This year I had a request for a cat themed blanket and as I was making it I kept thinking how cute it would be with a simple change of colors to make it adorable for Halloween. It was the first "Holiday" themed blanket. However, this made me feel guilty, if I design any holiday blanket it needs to be for the biggest and my favorite holiday, Christmas.
I started looking into ideas to make one for Christmas, I didn't want it to be the typical theme of Santa, snowflakes, or red and green. For my family, the "true meaning of Christmas" isn't all the gifts, food, gathering of family and friends (although we adore that part), but the birth of Jesus. With that in mind, I hope you love how the look of my first Christmas blanket design, the Adore Christmas Blanket.
The focus of the blanket is the bottom where the word, adore, is crocheted. Within those letters the baby Jesus in a manger is featured bringing to light the "true meaning of Christmas". The northern star is then featured in the upper corner as a finishing touch to this unique blanket design.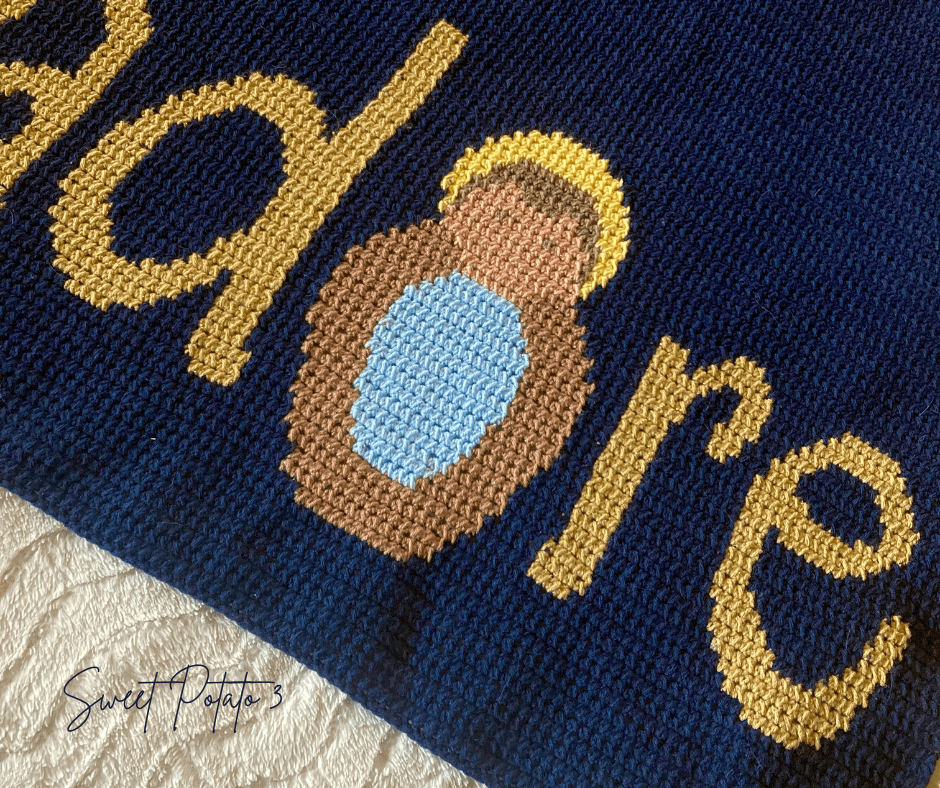 Sparkle, Glimmer, Glitter, oh my!
Once I had the design idea the more difficult part is finding the perfect yarn for the project to really make it stand out. I had used Mary Maxim Starlette yarn on the Geometric Arabesque blanket and the softness was amazing, so I started to look into that line of yarn for color options. Once on the Mary Maxim website, I noticed the Starlette yarn had a glitter option.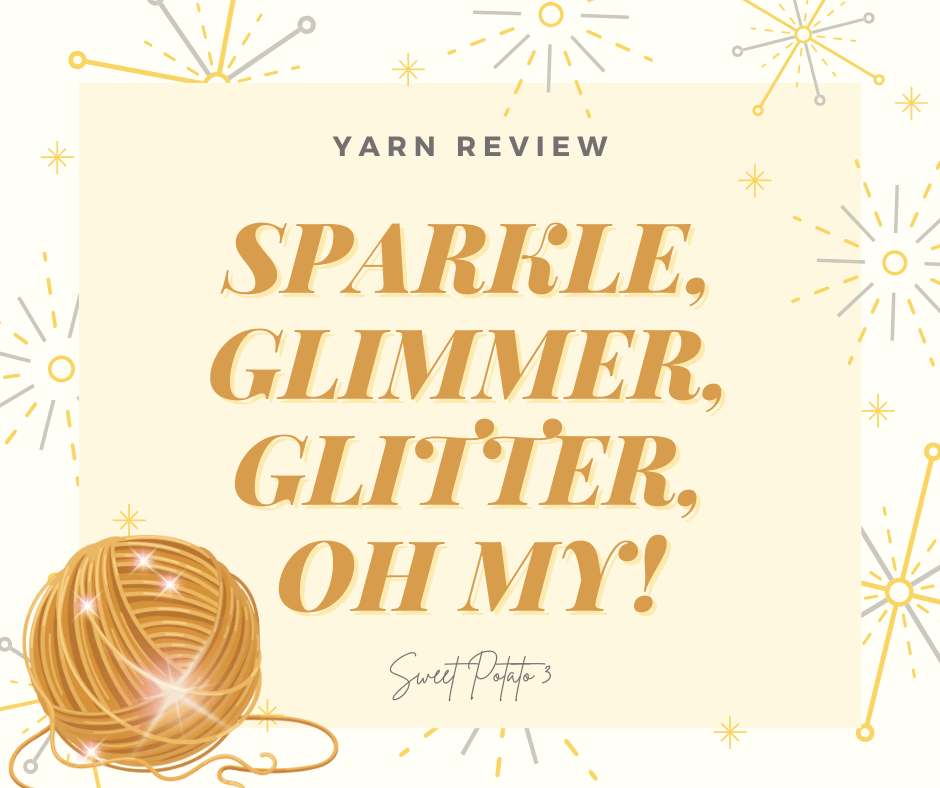 They didn't have all the colors I was hoping for but they had MORE lines of yarn with the same "sparkle, glitter & glimmer." I ordered it right up and was so happy with it when it arrived. It was NOT the scratchy yarn like it was 30 years ago. I have a full review about the yarn you can read in the button below:
Knotted Half Double Crochet Stitch
Have you made a graph blanket using single crochet or even the half double crochet and said, "that took forever, never again!". I don't blame you, which is exactly why my graph designs (since 2018) use the knotted half double crochet (khdc) stitch. It works up much quicker but allows for more detail (and less choppiness) than a traditional C2C graph design.
The stitch is the height of a regular half double crochet, maybe even slightly taller plus it is a thicker stitch which leaves a warm and cozy feeling that is ideal for blankets. It also creates seamless color changes that I enjoy working with. Did you just get nervous when I said, "color changes"? You're not the only one.
Since the stitch is new to so many crocheters and color change seems to be intimidating, I wanted to help you out. This summer I created a course that teaches you everything you need to know about working the khdc and working seamless color changes. Build your confidence to make blankets like the Adore Christmas blanket and my other 30+ designs.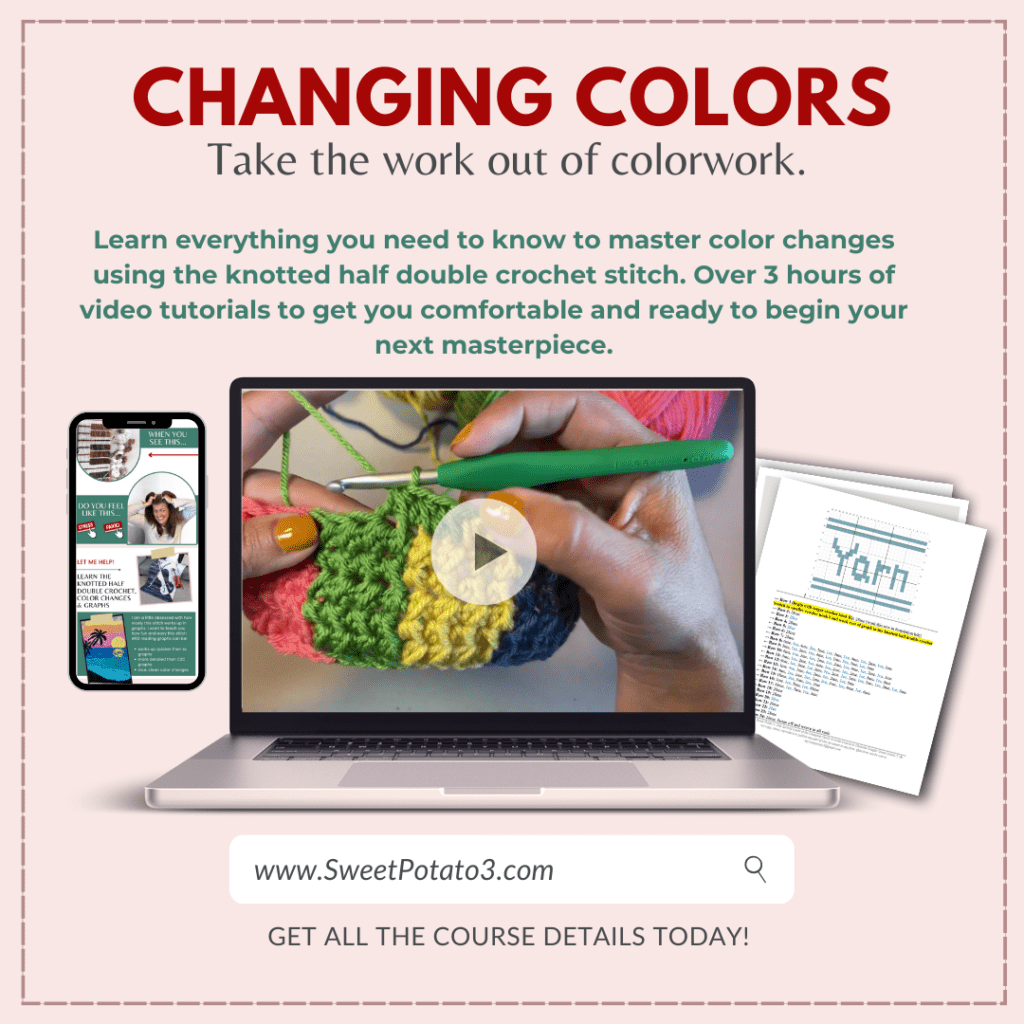 Adore Christmas blanket Materials Needed
To make the Adore Christmas Blanket there are a few items you will need. I have included those for you below along with the exact yarn I used. However, feel free to use the colors of yarn of your choice but I do have a favor to ask; if you use different yarn colors please send me a photo of your finished blanket, I would love to see how it turns out!
2600 yards of Worsted Weight Yarn-specific amounts listed below

2,270 yards for Background / Mary Maxim Starlette yarn in color: Navy
170 yards for Letters / Mary Maxim Starlette Sparkle yarn in color: Topaz
50 yards for Hay in Manger / Mary Maxim Glimmer yarn in color: Cappuccino
35 yards for Swaddle / Mary Maxim Starlette Sparkle yarn in color: Blue Ice
30 yards for Star Outline/Hallow / Mary Maximum Value yarn in color: Yellow
20 yards for Skin / Mary Maxim Glimmer yarn in color: Salmon
15 yards for Star Bursts / Mary Maxim Starlette yarn in color: Natural
10 yards for Hair / Mary Maximum Value yarn in color: Medium Brown

Size K/6.50mm crochet hook
Size I/5.50mm crochet hook or size needed to obtain gauge
Tapestry needle
Scissors
Measuring Tape to check gauge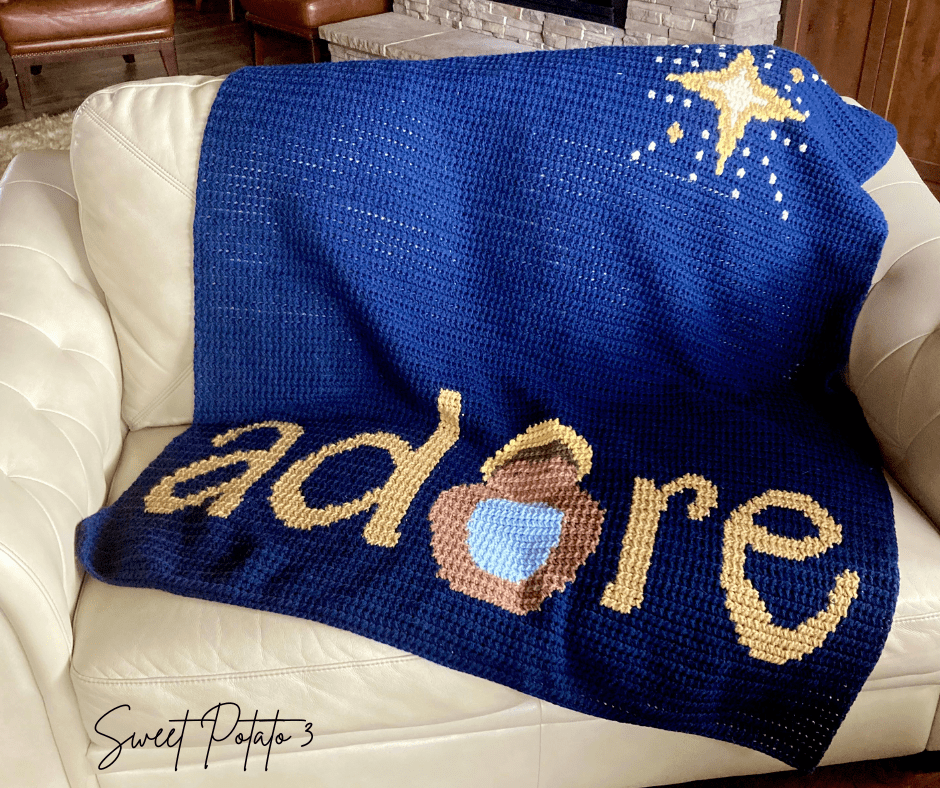 Where to get your copy of the Adore Christmas Blanket
You can find the Adore Blanket in all my pattern shops as well as on the Mary Maxim website.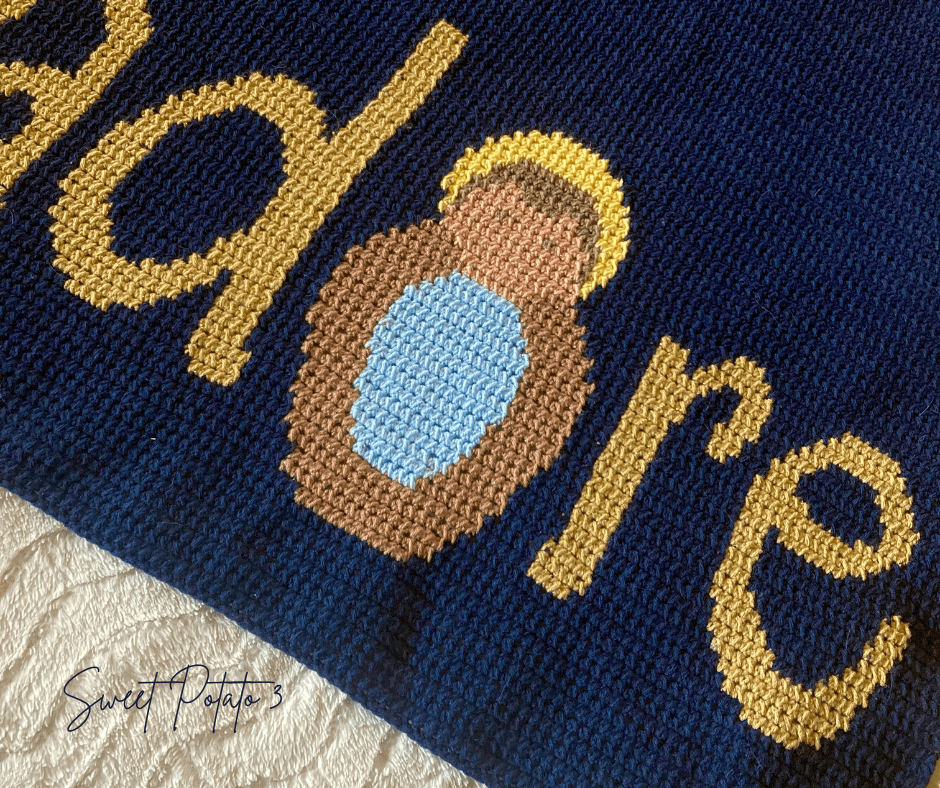 More Graph Designs You May Enjoy
If you love making blankets and working up color changing graphs, I have so many designs you should check out! If there is a design you have been looking for but have not had luck finding, send me a suggestion. Many of my designs come from my followers, which I love.
More Crochet Fun
Follow Sweet Potato 3 on Facebook to see more pattern releases, sales and crochet fun, just click HERE.
However, if you would enjoy a more interactive group experience, you need to join my Crochet & Conversations facebook group, click HERE. It is a ton of fun and I encourage everyone to share their projects, WIPS (works in progress) and inspirations. Plus you get exclusive deals, are the first to see new releases, give input on designs and have opportunities to win patterns. Join now and get to know others who also enjoy the art of crochet.