With so many crochet blanket patterns out there it is sometimes hard to decide what to make. I tend to lean towards designs that have something that "pops" out and grabs my attention. This could be in the colors or in the design texture or simply the way it looks and works up. My latest crochet design, the Arabesque Geometric blanket hopefully hits all those points.
Made in a traditional graph pattern this blanket has a striking appearance all while having a clean, no mess look to it. The bold color changes create a popular arabesque tile pattern that I am a little obsessed with right now.
A love for graph blankets
If you've been following me, you know I have fallen in love with graph blankets. I love how they can create a unique look just through the color changes. When you use bold colors that contrast the look is striking, clean and everyone is always impressed with how they turn out.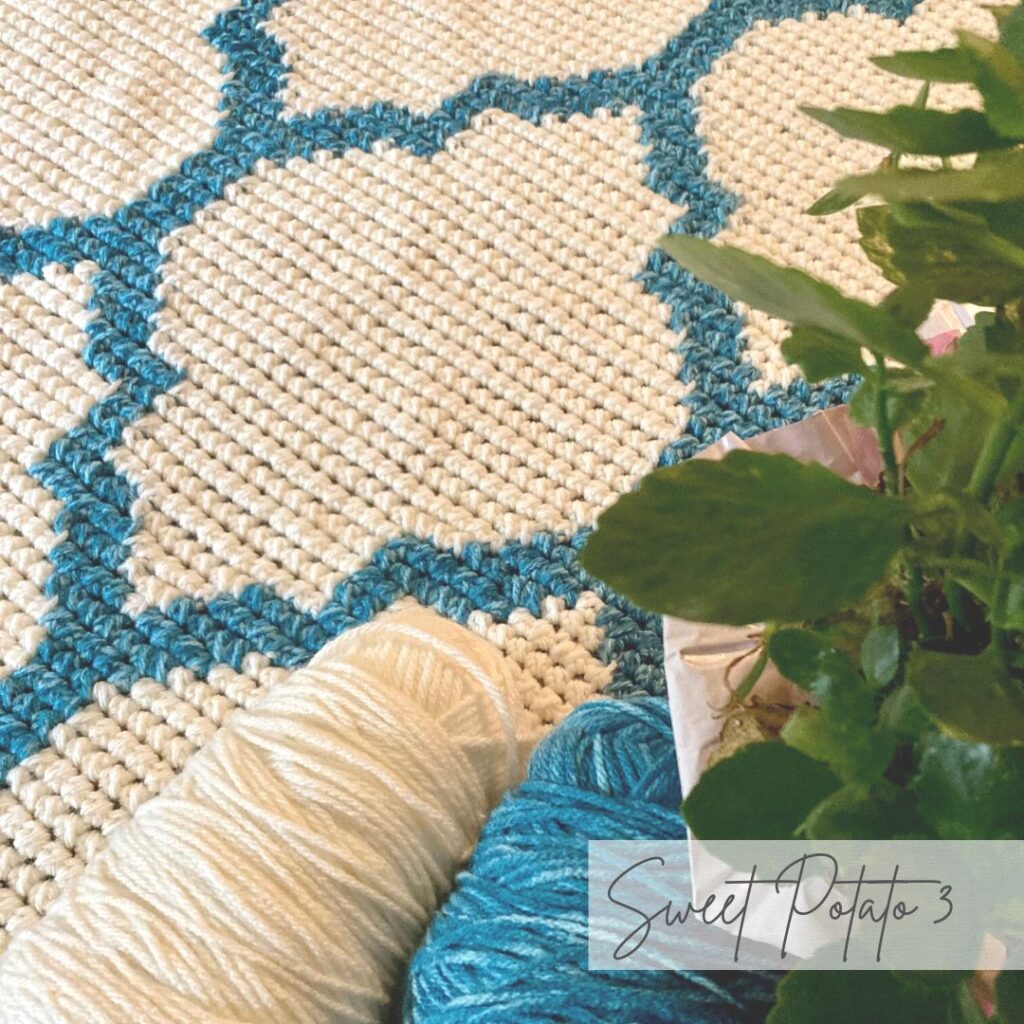 What I am not a fan of with graph blankets is that they are typically crocheted with single crochets and take forever. Or they are corner to corner (C2C) blankets, and although I love that they work up faster, they are blocky, and you cannot get very much detail in them.
However, I have found a stitch that I just love to use. It works up quick, creates a nice full stitch that makes these blankets so cozy! Plus, the stitch aligns directly on top of one another that results is clean lines and great angles within the patterns design.
About the Arabesque Blanket
The blanket has been designed to be a large throw. I love having a blanket that is big enough to wrap around my shoulders as if it were hugging me. Or, if I'm on the couch, I really want it to cover my toes and I want to be able to snuggle up with it.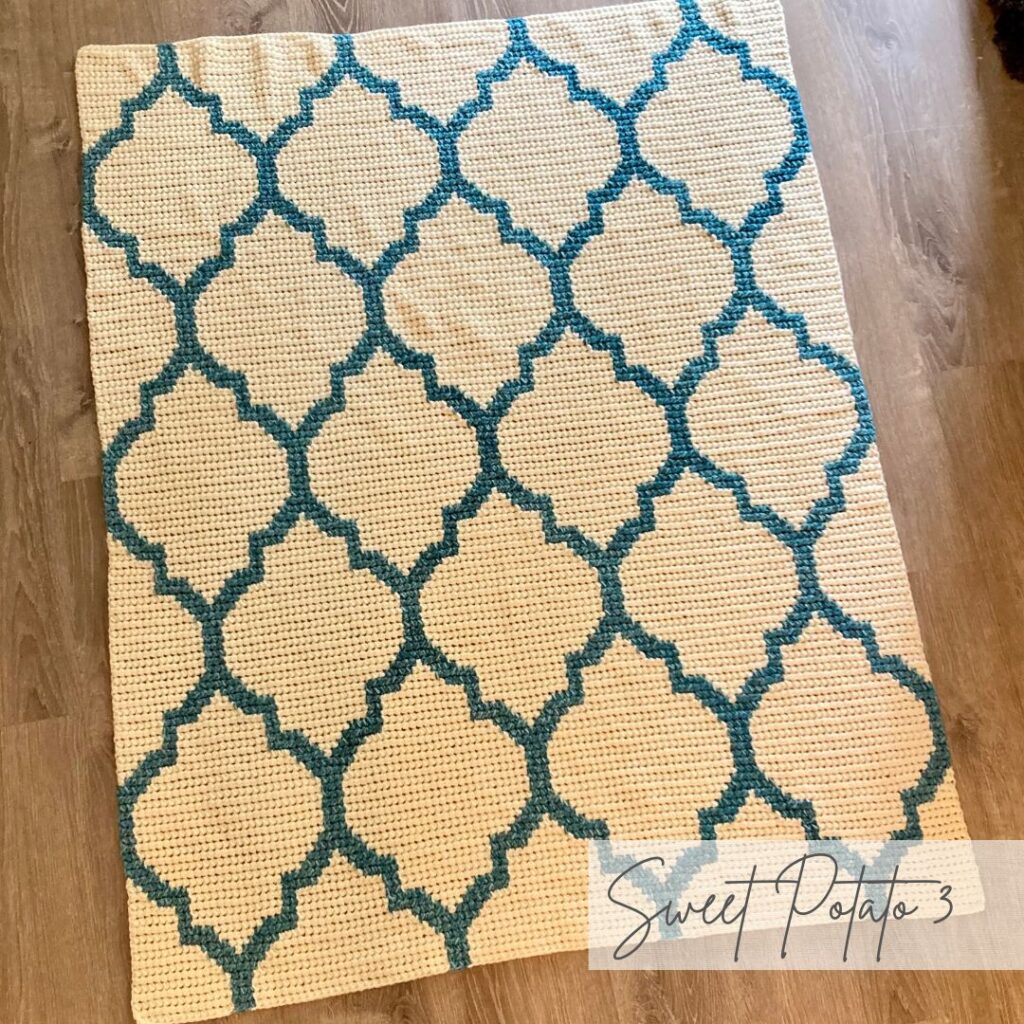 The finished blanket is 46 inches wide and 60 inches tall. This is a great size for nearly any adult. The pattern includes instructions that will allow you to adjust the size as well, so you can crochet a smaller or larger one with ease. Just know that the amount of yarn will also adjust.
Materials Needed
Crochet Hook size I (5.50 mm)
Crochet Hook size K (6.50 mm)
Worsted Weight Yarn (#4) – 2600 total yardage
---
Main Color (MC): Mary Maxim Starlette yarn – color: Cottonwood / 2240 yards or 13 skeins
Contrasting Color (CC): Mary Maxim Starlette yarn – color: Teal Heather / 360 yards or 2 skeins
---
Measuring Tape
Scissors
Yarn Needle
Optional: Bobbins (depending on technique used for color changes, you can also just use the full skeins of yarn)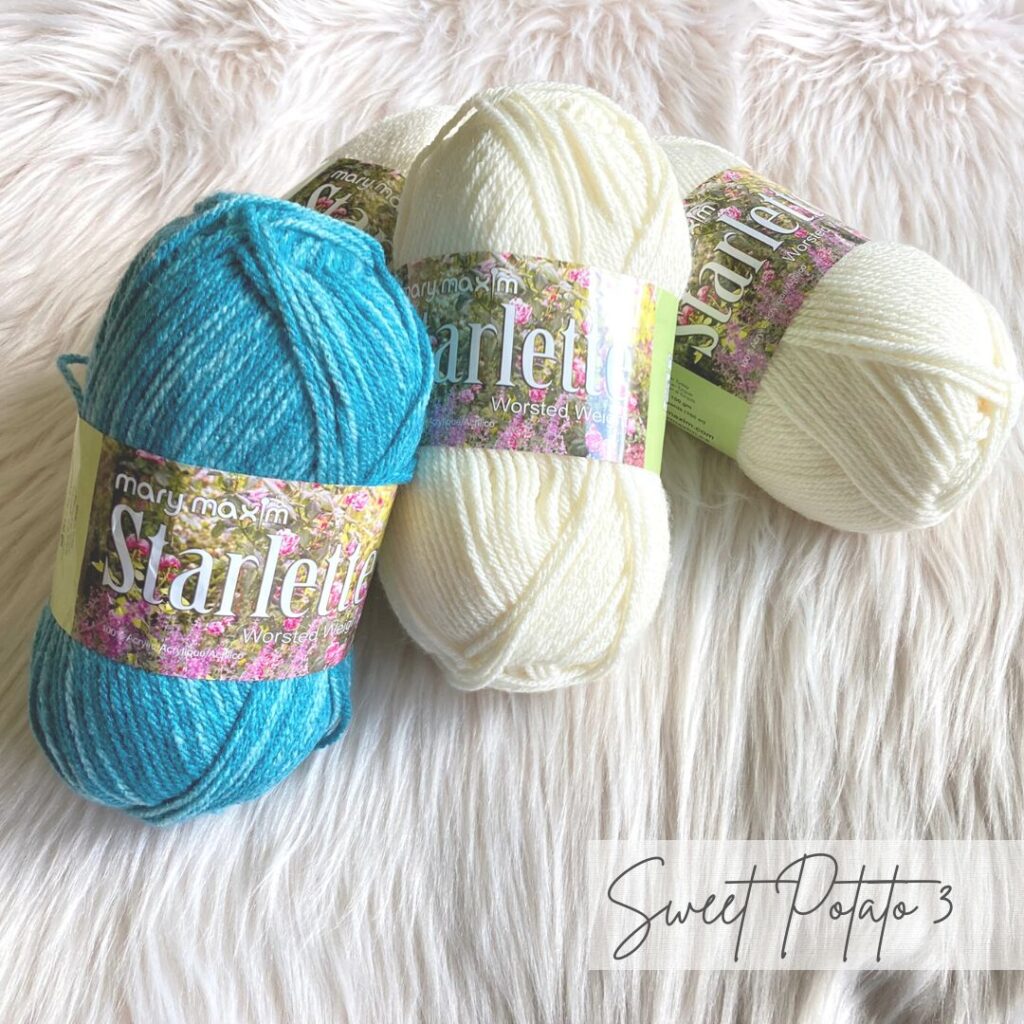 What You Get In the pattern
Included in the pattern are detailed instructions and photo tutorials for the following:
All the stitches
How to crochet color changes, hide yarn, and weave in the ends of your work.
A single graph as well as an enlarged graph for easier viewing (the large graph is the repeated section only).
A written format stating how many stitches in each color according to the rows.
Instructions on how you can adjust the pattern to make it larger or smaller. Please note that if you change the size of the blanket this will affect the amount of yarn needed to complete the blanket.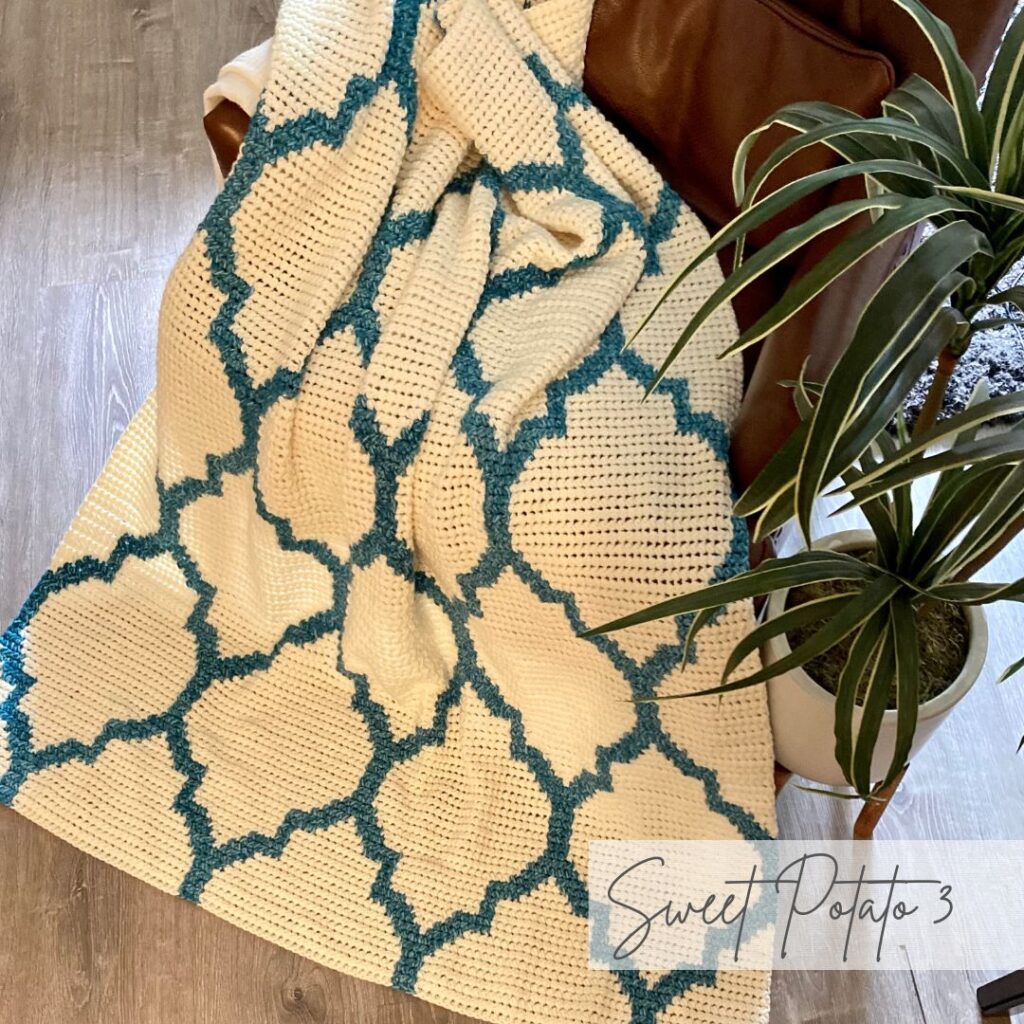 Tester Love – So Creative
As with all my patterns I have them tested for accuracy before they are released. I was beyond excited when one of my testers, Nicolee, made her blanket and immediately told me she had an idea and was already making another one. Her first blanket was lovely, but then she told me her idea… she was going to do a stash busting project.
Nicolee decided to do each tile with a different color. The result was outstanding and looked like a stain glass window. What do you think? Amazing, right?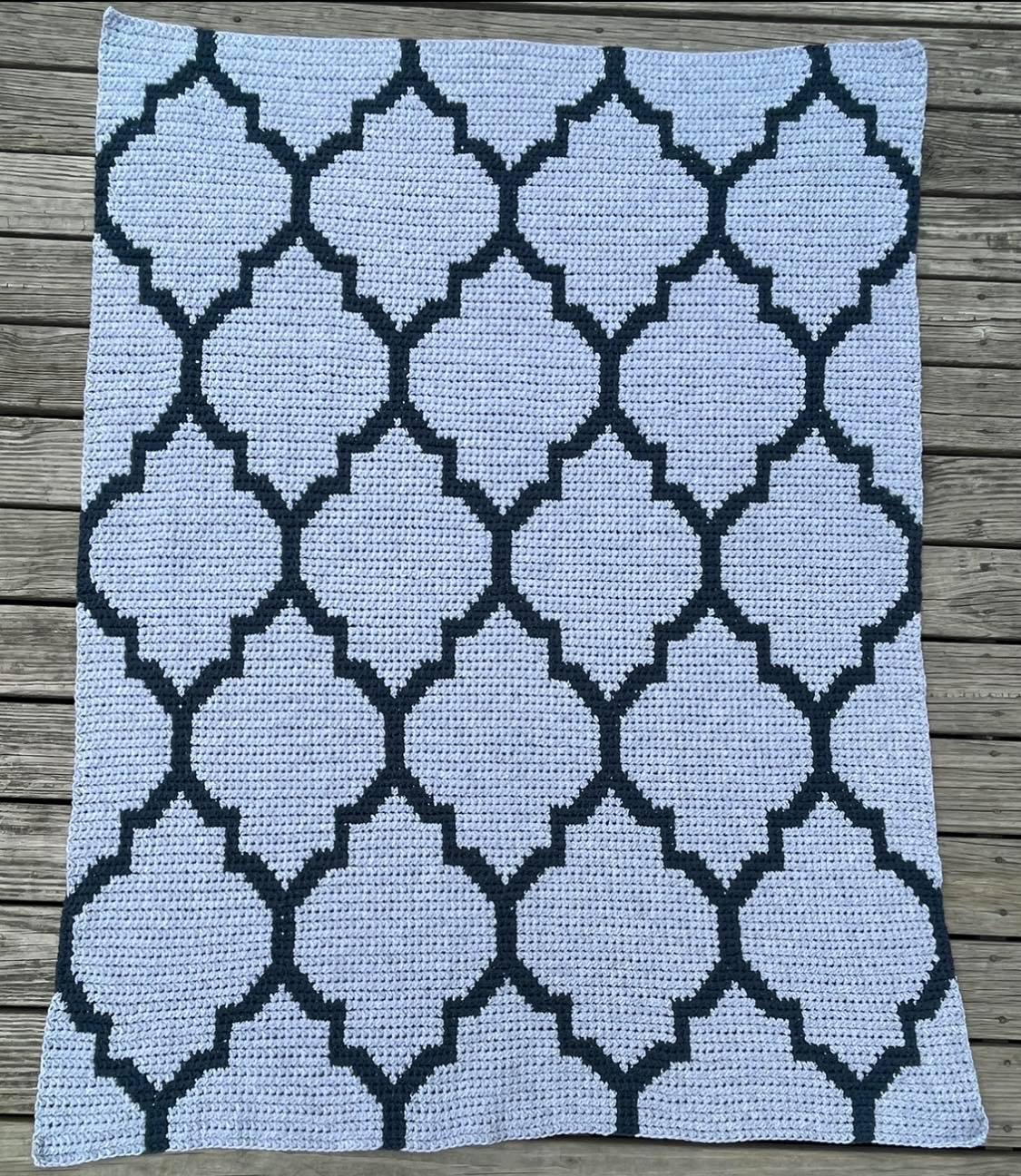 Where to get the Arabesque Geometric Blanket Pattern
More Blanket Patterns you may love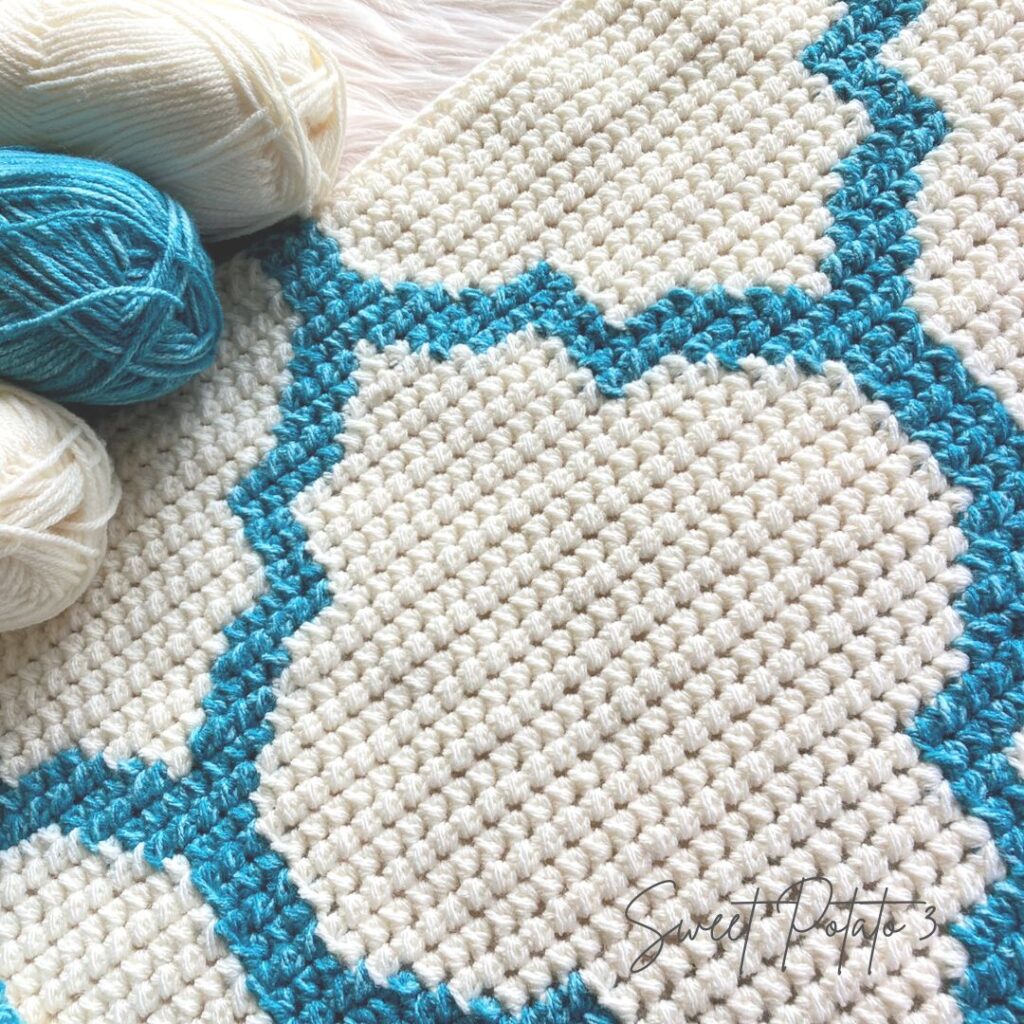 More Crochet Fun
Follow Sweet Potato 3 on Facebook to see more pattern releases, sales and crochet fun, just click HERE.
However, if you would enjoy a more interactive group experience, you need to join my Crochet & Conversations facebook group, click HERE. It is a ton of fun and I encourage everyone to share their projects, WIPS (works in progress) and inspirations. Plus you get exclusive deals, are the first to see new releases, give input on designs and have opportunities to win patterns. Join now and get to know others who also enjoy the art of crochet.