As warmer months are coming you may be looking for a nice lightweight summer wrap. I recently remade one of my designs in a gorgeous lightweight yarn and love how it turned out. The Deep Waters Prayer Shawl is great for when the weather is changing, and you just need something to help with the evening chill.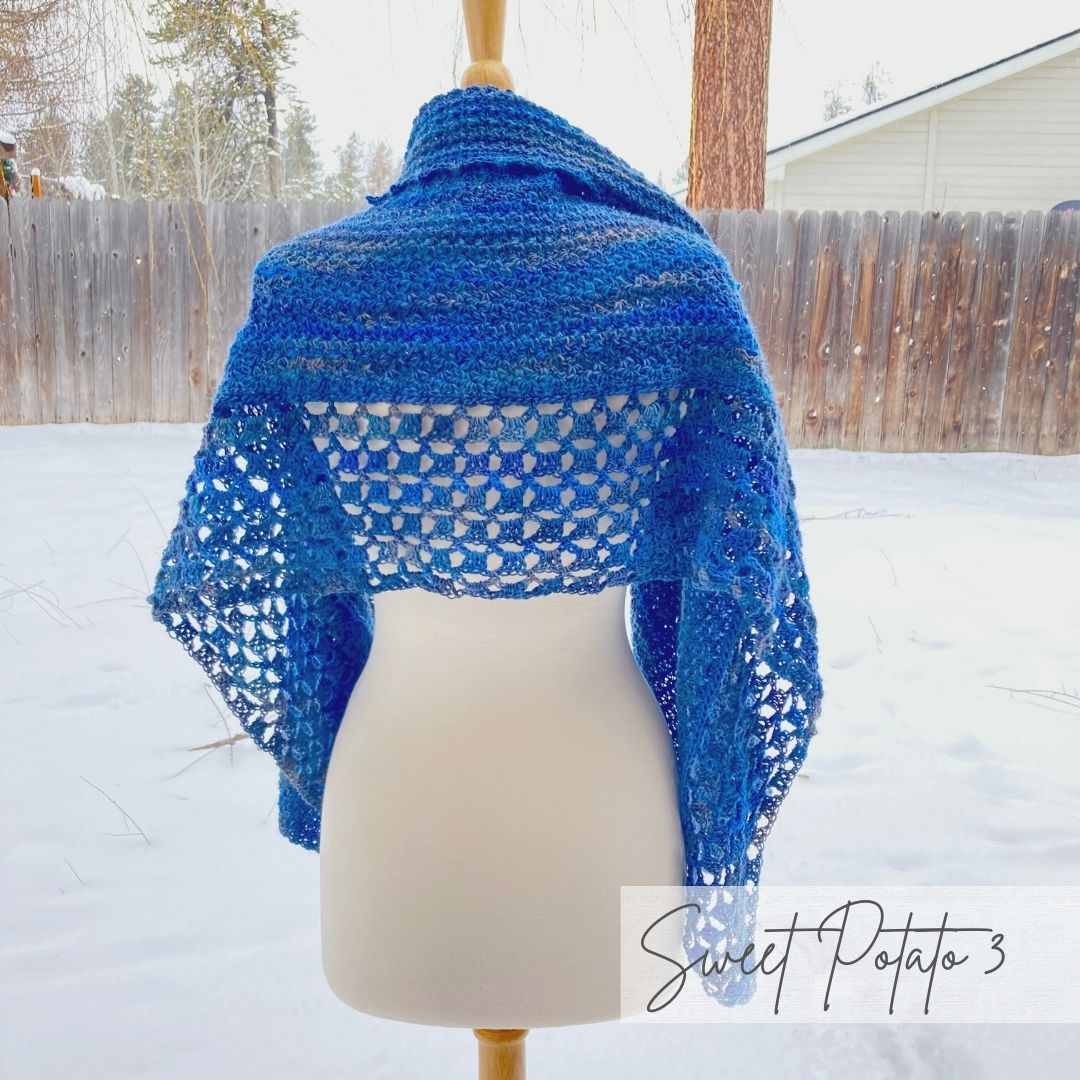 What is a Prayer Shawl?
You may be asking yourself, What is a Prayer Shawl. I found this beautiful description from the Lion Brand website:
Prayer shawl. Peace shawl. Comfort shawl. Mantle. Whatever name you give them, they serve the same purpose. These are a wearable hug crafted with love and intent from maker to recipient. Whether it be personal words, verse, song, prayer, mantra, or something else, it is these thoughts imbued in the shawl with each stitch that make them what they are.

Lion Brand Website ( http://www.lionbrand.com/blog/what-is-a-prayer-shawl/ )
I couldn't have explained it better myself. It's a "Wearable Hug" that has been crocheted, with thoughts and prayers, of the recipient through the entire process of making the shawl. For this design, I divided the stitches into sections that are easy repeats, this allows you to focus on saying prayers while you crochet instead of concentrating hard on the stitch repeats.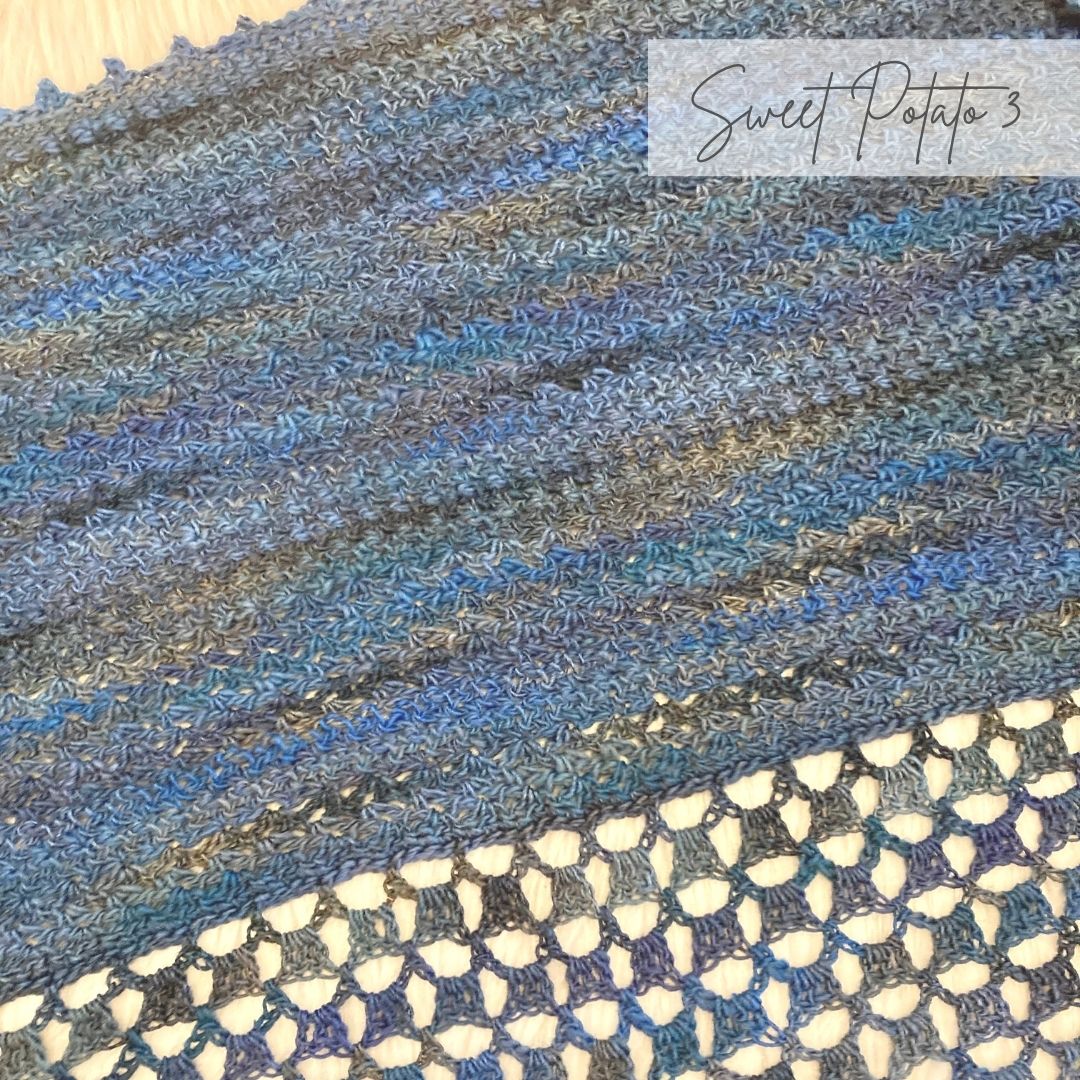 The design of the prayer shawl is to be appealing to the eye. In the sample shown above, you can see how nicely the wrap drapes around the body. The texture changes throughout the main body of the scarf with it changing to an open stitch for a lacier appearance along the lower section.
Check out this yarn
I was fortunate enough to receive some yarn from Hobbii, being new to their line of yarns I have found it a joy to work with and try out. When first looking through their yarn options, I was initially drawn to the Winter Glow yarn because of the subtle color changes throughout it. I also loved the deep blues with slight jewel tones thrown in.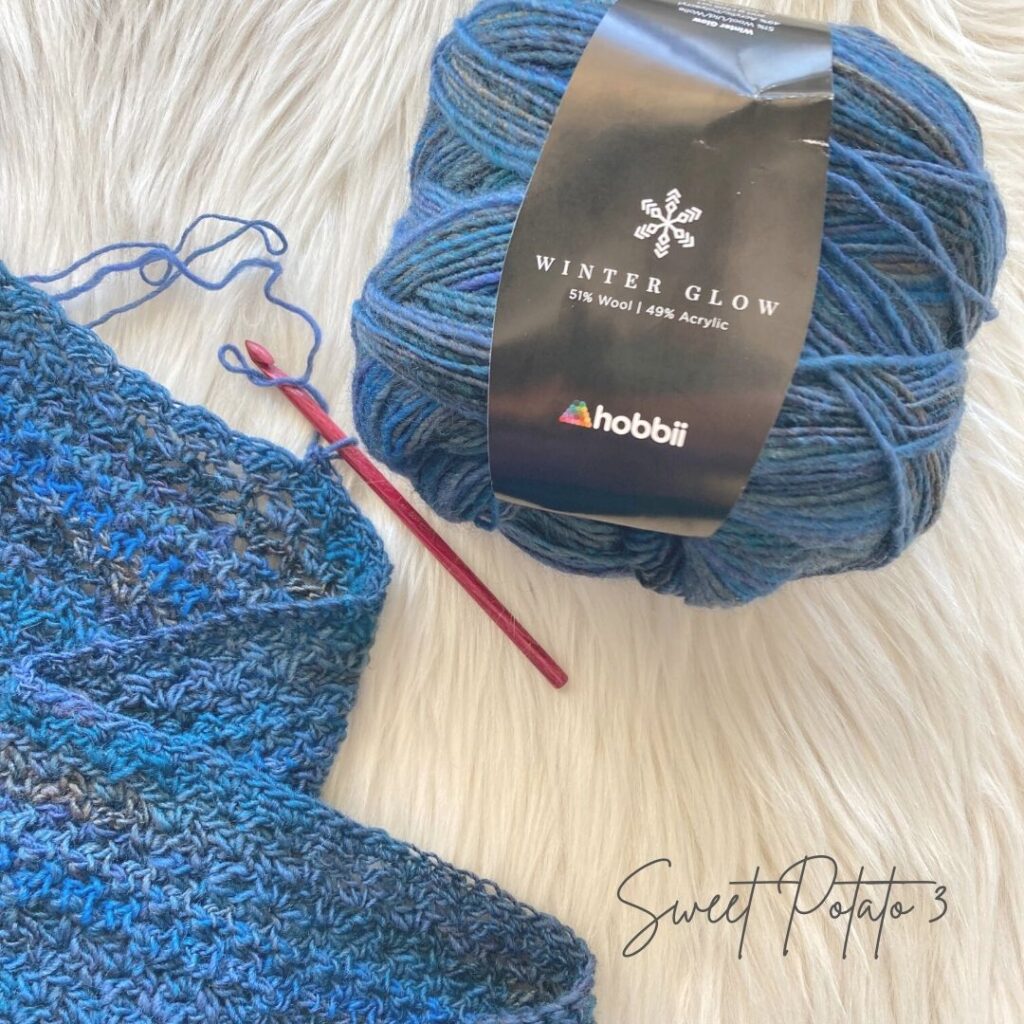 The Winter Glow yarn is a worsted weight yarn but is on the finer side, close to a DK weight. Because I worked the shawl in a hook that is slightly larger than recommended the stitches worked up lovely and created a lightweight feel to them. I would love for you to check out my YouTube review of the yarn. I show you color options and you can see in detail how the yarn looks, feels and works up.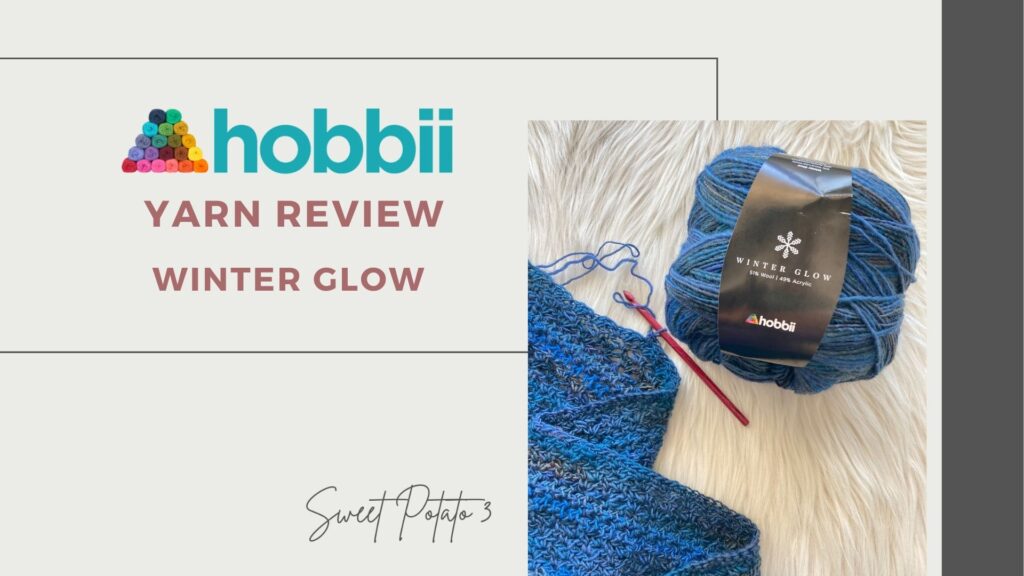 Deep Waters Prayer Shawl Information
The prayer shawl is just the right size to wrap around your neck for a lightweight and stylish accessory for an evening out. Or, you can simply drape it around your shoulders for a more casual affair. Either way it looks stunning. The shawl will be about 20″ wide and 60″ long.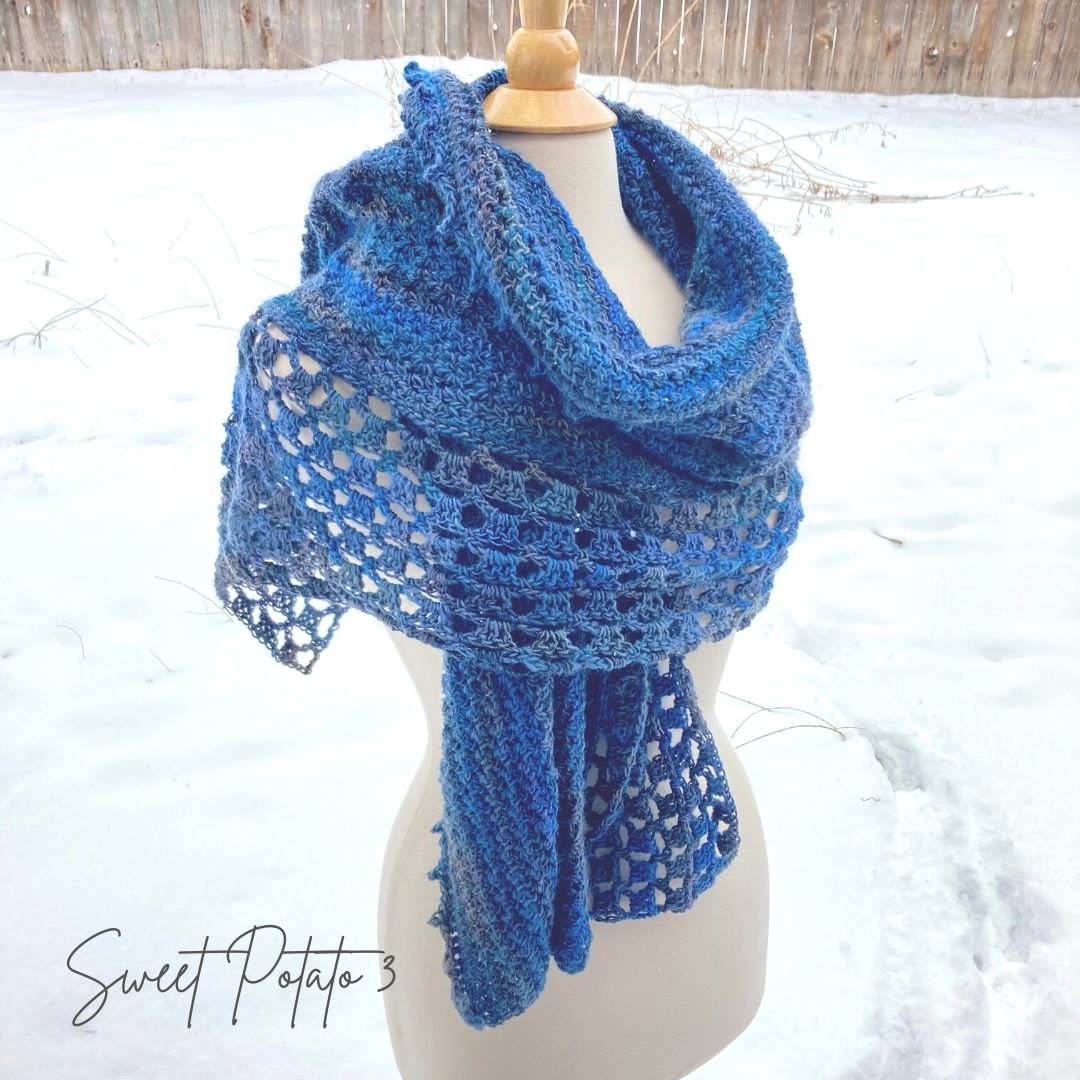 Materials Needed
Hook size J (6.00 mm)
About 1400 yards Light Worsted Weight Yarn (#4) – Sample made in: Hobbii Winter Glow
Measuring Tape
Scissors
Yarn Needle
My original Deep Waters Prayer Shawl was made using 3 colors of yarn, shown below. The shawl in the photos was made using a traditional worsted weight yarn which created a heavier, warm and cozy wrap that is ideal for colder temperatures. The color changes add a more defined pop of color than the solid color so you can change up the look for your own personal taste and need.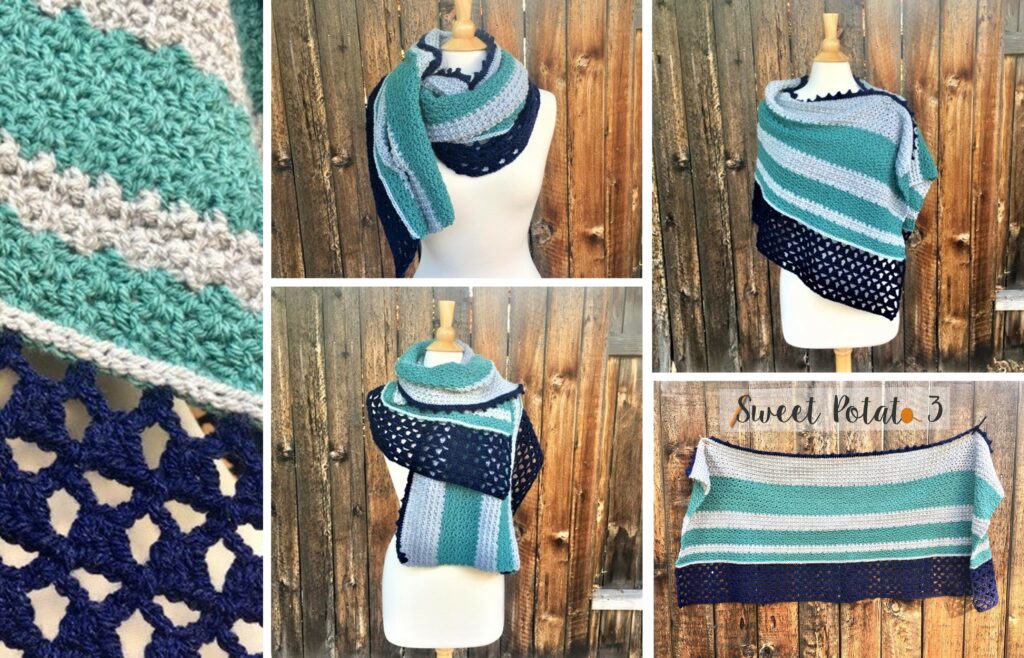 Get your copy of the Deep Waters Prayer Shawl
Other Wrap / Shawl patterns you may love
More Crochet Fun
If you found this article helpful and are interested in seeing more, sign up for my newsletter. All I need is an email address. I promise to not fill your inbox with spam, I will respect your time. Sign up by clicking HERE.
Follow Sweet Potato 3 on Facebook and on Instagram, both are @SweetPotato3Patterns.
However, if you would enjoy a more interactive group experience, you should join my Crochet & Conversations Facebook group, by clicking HERE. It is a ton of fun and I encourage everyone to share their projects, WIPS (works in progress) and inspirations. Plus, you get exclusive deals, are the first to see new releases, give input on designs and have opportunities to win patterns. Join now and get to know others who also enjoy the art of crochet.