Do you dread  it when a pattern says to sew on the crochet applique? It is so much work and can be difficult to get the applique on right. And to make matters worse, the back of your project can get all messed up.
Today I am excited to share with you how I sew on my appliques with an invisible seam. You won't be able to see any stitches on the front OR on the back of your crochet piece. The technique will leave your crochet work looking professional and you won't dread this task anymore.
Sew on the Applique – it looks great on both sides.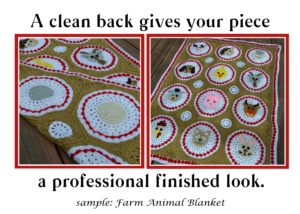 One of the most common questions I receive is how to sew on appliques. After years of my own trial and error, I knew I had to share with all of you a technique that I personally use. You will be surprised at how easy it is.
In the video tutorial, I used worsted weight yarn. However, this technique will work on any yarn weight, or any combination of yarn weights. It may take a little practice, but before long you will feel like a pro.
Was this tutorial helpful? I would love to have you subscribe to me on YouTube, you will be notified each time I release a new video. Click HERE to subscribe.
The sample used in the tutorial above is my Farm Animal Blanket. Find more information on this fun blanket design by clicking HERE.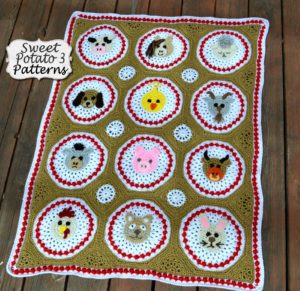 Patterns that you can use this sewing technique on are:
Sleep Tight Teddy Bear Blanket and Lovey can be found HERE.
All Boy Applique Set (think Planes, Trains & Automobiles), these can be sewn onto hats or any blanket pattern. Find the appliques by clicking this LINK HERE.
Forest Friends Blanket, Pillow & Wall Hanging pattern can be found in the LINK.