Need a handmade gift for the hunter in your life? How About the Shotgun Shell Pillow?
Check out the fun Neck Roll Pillow Cover designed to look just like a shotgun. It's a great accessory for any Hunting Enthusiast out there. 
It is all in the details of the Shotgun Shell Pillow
The crochet pattern is made using a bulky yarn so it works up quick. But take a close look at the stitches used and what they really look like. The pillow includes the details of the primer and brass on one end, and the crimping closure on the other end.
I love seeing how changes stitches and simple techniques such as stitch placement can really make a pattern pop with detail. 
Where to get your Copy of the Shotgun Shell Pattern 
Grab your copy of the Shotgun Shell Pillow Cover Pattern on any of these sites below:
Now, I have to share the perfect gift to go along with the shotgun shell pillow cover
or a great stocking stuffer idea…
Have you heard of Balmshot?
It is a fabulous lip balm that anyone, especially a hunter of any type will love.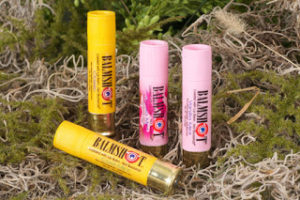 We use this all the time and it is great because it has sun protection and is smooth on your lips. I personally like the Vanilla Mint, but the boys in our family like the plain Classic and Cool Mint.
Other Pillow Crochet Patterns you may Love
Other Hunting Related Crochet Patterns you may Love
More Crochet Fun
Follow Sweet Potato 3 on Facebook to see more pattern releases, sales and crochet fun, just click HERE.
However, if you would enjoy a more interactive group experience, you need to join my Crochet & Conversations facebook group, click HERE. It is a ton of fun and I encourage everyone to share their projects, WIPS (works in progress) and inspirations. Plus you get exclusive deals, are the first to see new releases, give input on designs and have opportunities to win patterns. Join now and get to know others who also enjoy the art of crochet.