Thinking of snow? Thinking of a snowman crochet sets? I know this popular tune from a classic wintertime song keep running through my head…
Let it Snow, Let it Snow, Let it Snow
The Snowman crochet hat and stuffy crochet pattern remind me of one of my family's favorite winter memories together. As soon as we see snow flurries, my kids are at the window waiting for enough to accumulate to build a snowman!
The Snowman Hat has been a popular winter hat for the last few years. It comes in sizes for newborn up through child (usually about age 12), so these can be made for so many kiddos.
The popularity has grown so much for matching stuffies and hats over the last few years so I had to design a cute little snowman to go with the hat.  I love how cute the set coordinates together, simply adorable!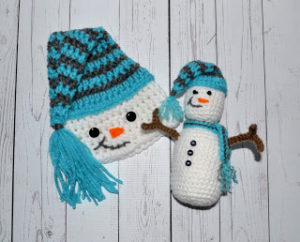 Snowman Crochet Hats are Cute for Everyday Wear Too!
The snowman hat is really just a pixie hat so can be used for your everyday warm hat. It's just a little cuter, wink wink!
Where to get the Snowman Crochet Patterns
Other Winter Crochet Patterns You Might Like
More Crochet Fun
Follow Sweet Potato 3 on Facebook to see more pattern releases, sales and crochet fun, just click HERE.
However, if you would enjoy a more interactive group experience, you need to join my Crochet & Conversations facebook group, click HERE. It is a ton of fun and I encourage everyone to share their projects, WIPS (works in progress) and inspirations. Plus you get exclusive deals, are the first to see new releases, give input on designs and have opportunities to win patterns. Join now and get to know others who also enjoy the art of crochet.