Crochet allows for endless creativity when using graphs and color changes. You have the ability to crochet beautiful, unique and personalized pieces. One of my latest projects is the diamond plaid crochet blanket. This pattern combines the elegance of diamonds with the charm of plaid, resulting in a visually appealing and cozy blanket.
The Diamond Plaid Design
Plaid patterns are deeply rooted in tradition and history, often associated with a sense of nostalgia for simpler times. The familiar crisscross of lines in various colors can evoke memories of cozy family gatherings, holidays, or the warmth of a rustic cabin. These nostalgic connections make plaid a go-to choice for those seeking a traditional and comforting ambiance.
As much as I love traditional plaid, as with all my designs, I had to change it up a little bit. So, instead of traditional squares and just rotated them a quarter turn to create the same plaid design but in a diamond shape. It just gives it a unique look that I hope you love as much as I do.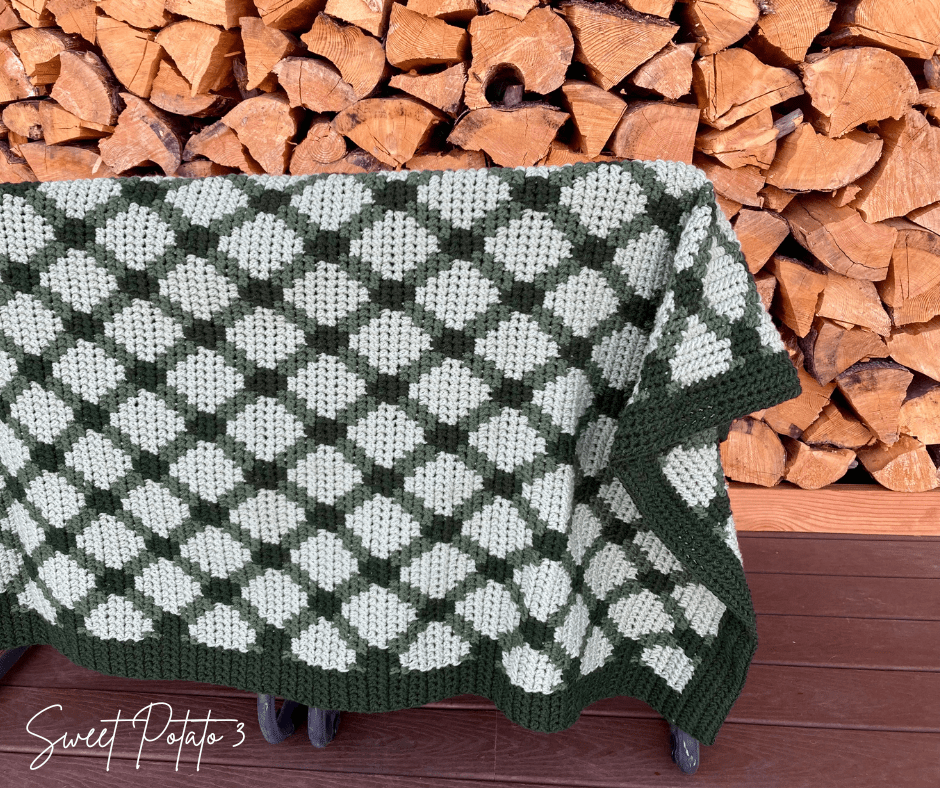 Materials Needed for your Diamond Plaid Blanket:
2600 yards Worsted Weight Yarn in three (3) shades of one color (green-light/med/dark)

1,200 yards of Light Color (inside of diamonds) / sample used Mary Maxim Value (color: light green)
650 yards of Medium Color (diagonal lines) / sample used Mary Maxim Value (color: medium green)
750 yards of Dark Color (border & center of plaid outline) / sample used Mary Maxim Value (color: dark green)
Size K/6.50mm crochet hook

Size I/5.50mm crochet hook or size needed to obtain gauge
Tapestry needle
Scissors
Measuring Tape to check gauge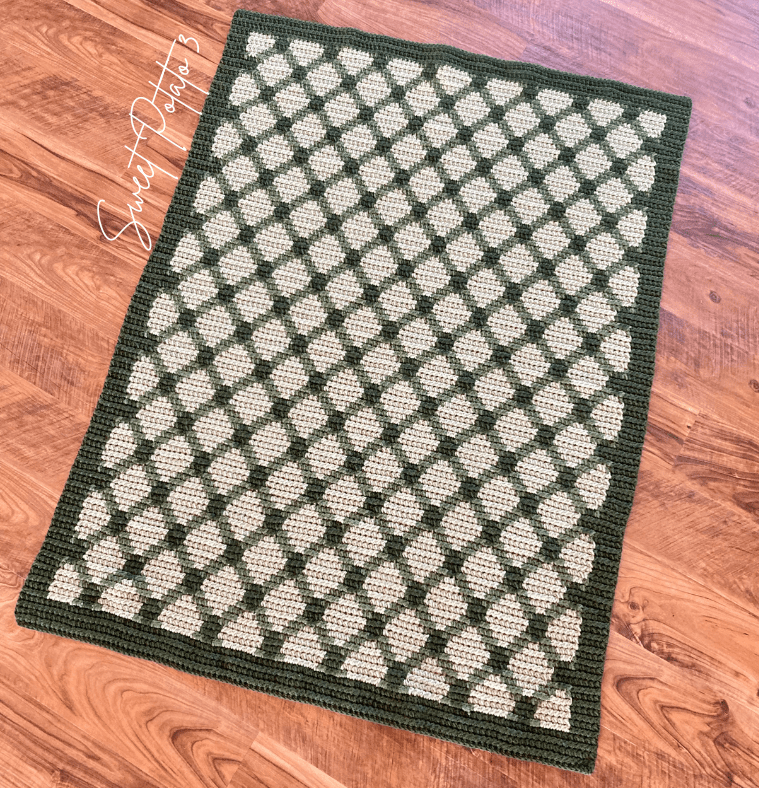 Make it your own
After completing the diamond plaid pattern, you'll have a beautiful crochet blanket showcasing a blend of shades of green (or other color) in a unique plaid design. Feel free to experiment with different color combinations to acheive a different look. I love the Mary Maxim Value yarns because they are already batched with 3 shades of one color.

Crocheting the diamond plaid blanket is a rewarding project that combines color changing technique and graphs, resulting in a cozy and stylish addition to your home. Enjoy the process and relish in the satisfaction of completing a stunning piece for your home.
Where to get your copy of the pattern
Feel like you need extra assistance to make this design?
I'm here to help you out! I have so many designs that use this unique stitch and color changes. The pattern does include many photo tutorials on the techniques used, but if you feel like you need a little more help, I encourage you to check out my Changing Colors online course.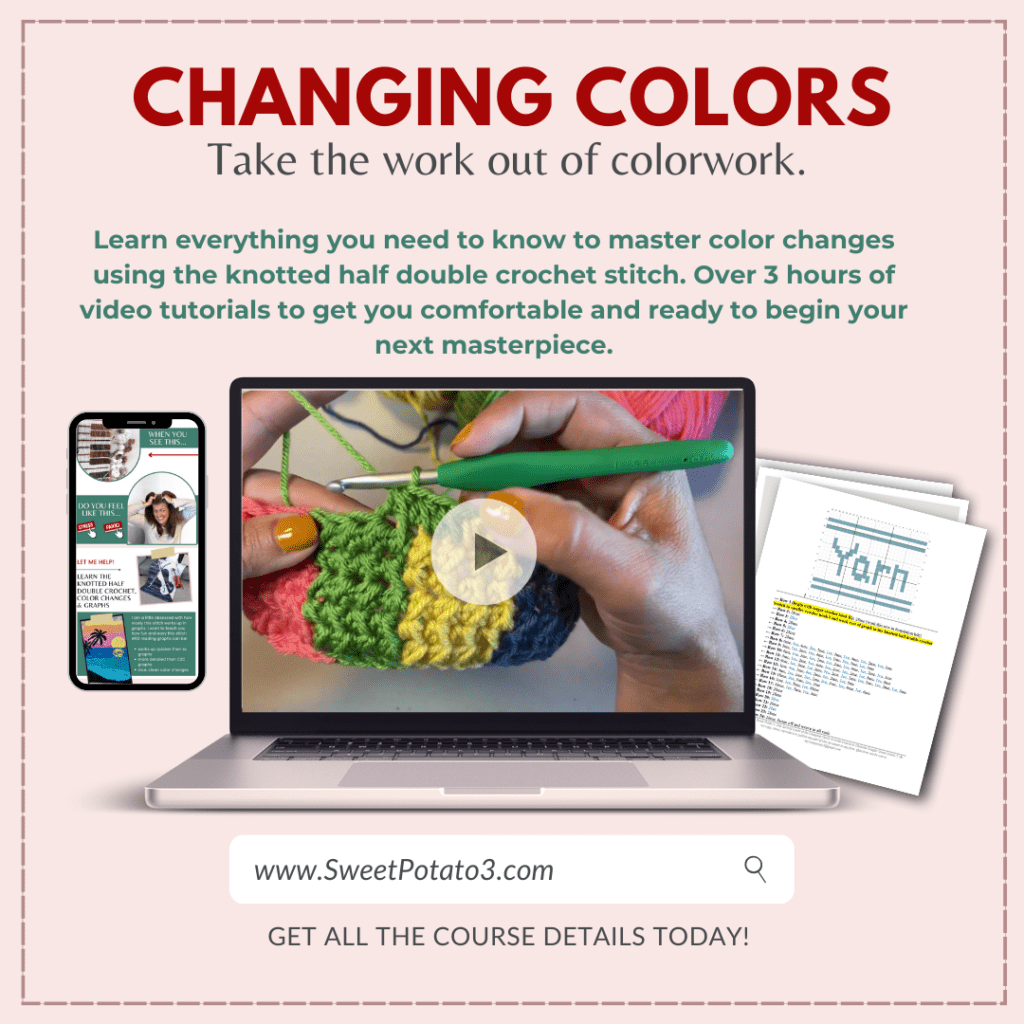 I will instruct you through over 3 hours of learning all the ins and outs of color changes to make it look amazing and professional. Included are 3 small practice projects to hone your skills. If this sounds fun to you, check the link for so many more details.
---
Other Color Changing Blanket you may love
More Crochet Fun
Follow Sweet Potato 3 on Facebook to see more pattern releases, sales and crochet fun, just click HERE.
However, if you would enjoy a more interactive group experience, you need to join my Crochet & Conversations facebook group, click HERE. It is a ton of fun and I encourage everyone to share their projects, WIPS (works in progress) and inspirations. Plus you get exclusive deals, are the first to see new releases, give input on designs and have opportunities to win patterns. Join now and get to know others who also enjoy the art of crochet.