Releasing a new pattern is always a nervous moment because I question whether others will love it as much as I do. As I release the Fish On Blanket today, I am pretty confident this one will be loved by many. I poured so much energy and love into this design that I made for my hubby. 
The Fish On Blanket was designed as a new matching afghan to the entire Wildlife Cables Afghan Book. The striking silhouettes of the animals with an intricate border make designs appeal to many. Anyone who love the great outdoors and wants that "warmth of home" or a "weekend at the cabin" feel will think this blanket is a show stopper.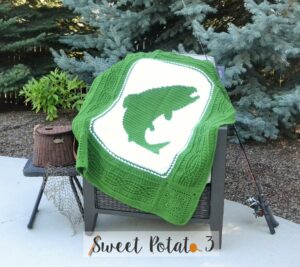 The design of the blanket features a detailed and intricate frame that has twisting cables and an eye catching pattern. Likewise, the corner piece has a touch of whimsical charm. It is designed in a circle pattern that features a little more elegant look of maybe a wildflower. Well, that is kind of what I think of as I sit streamside watching my husband fish.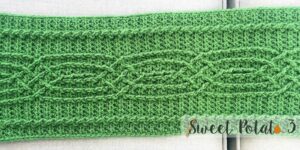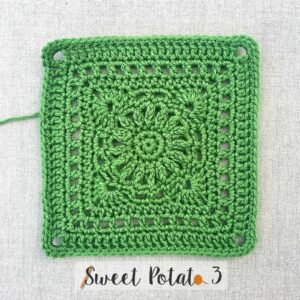 About the Pattern
I used Premier Yarn in Christmas Green and White for the Fish On Blanket. I really liked working in this yarn, it gave the blanket a little more of a plush feel than the other wildlife blankets. The bright, but not too bright, color of the Christmas Green was just what I was hoping for and it paired perfectly with the stark white contrast of the silhouette background.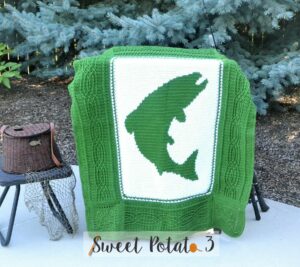 The main silhouette panel has multiple formats for you to choose from. A chart, or graph, is included to help create the fish silhouette. At the end of the pattern the graph has been enlarged so you can print it off on 4 pages and tape together for a larger format you can follow.
However, If you are not familiar with crocheting from a graph, a supplement has been added to the pattern. The supplement is a written form of the graph and is explained in detail, but essentially, it states how many stitches in each color to work. This piece of the pattern can also be a good way to double check your work.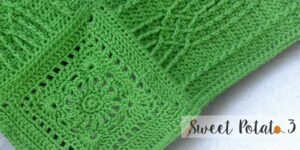 Where to get the pattern
Find the Deerly Beloved blanket in all of my pattern shops below:
You will enjoy crocheting this masterpiece and seeing it come to life. As you work all the pieces and sew them together each step is a new rewarding experience.
More Patterns You May Love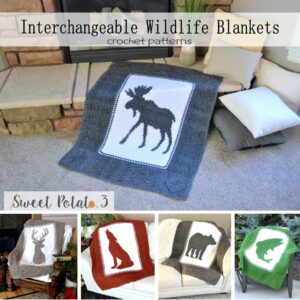 More Crochet Fun
Follow Sweet Potato 3 on Facebook to see more pattern releases, sales and crochet fun, just click HERE.
However, if you would enjoy a more interactive group experience, you need to join my Crochet & Conversations facebook group, click HERE. It is a ton of fun and I encourage everyone to share their projects, WIPS (works in progress) and inspirations. Plus you get exclusive deals, are the first to see new releases, give input on designs and have opportunities to win patterns. Join now and get to know others who also enjoy the art of crochet.