The Wandering Moose Blanket is a new individual pattern that coordinates with the rest of the blanket designs in the Interchangeable Wildlife Blanket ebook. These blanket patterns all feature a striking animal silhouette that is framed with a beautiful crochet cable texture in a frame (border) of the blanket.
The Wandering Moose blanket was inspired by a moose that Wandered across our fire pit while visiting some friends cabin in the woods. Anyone who love the great outdoors and wants that "warmth of home" or a "weekend at the cabin" feel will fall in love with this design.
The design of the blanket panels features a unique cable that vaguely resembles hoof prints. However, you may need to use your imagination there, but they are still fun and catch your attention.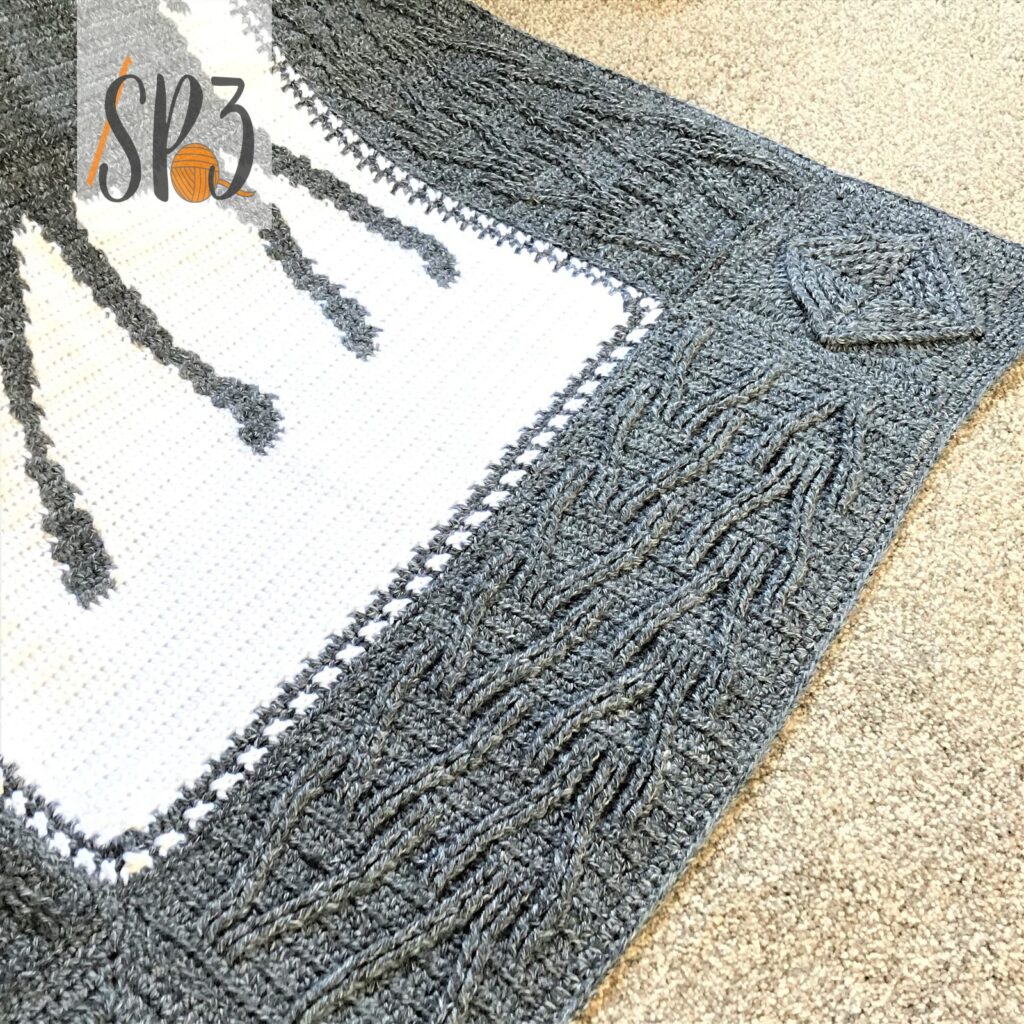 The corner pieces of this blanket feature a bold rhombus, or diamond, shape that makes the corners pop!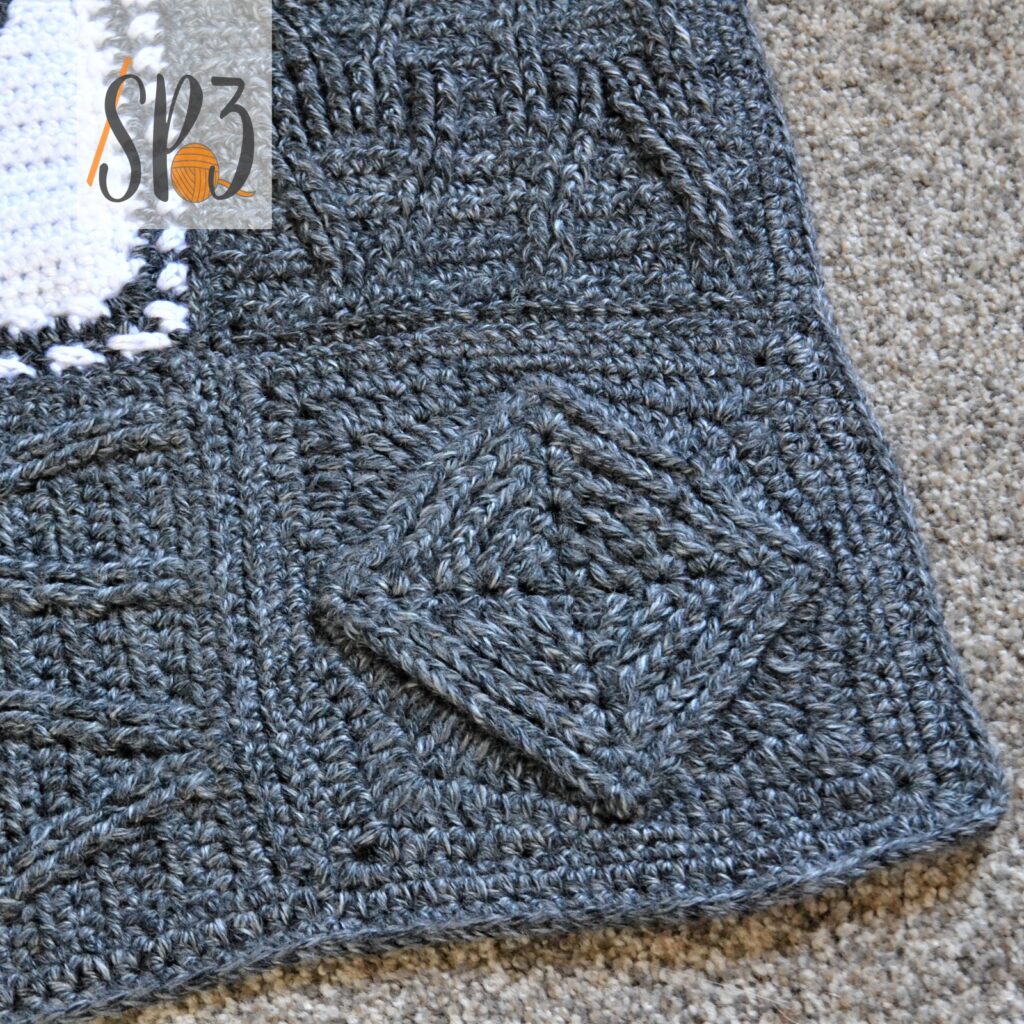 About the Pattern
I used Lion Brand Heartland yarn for the beautiful charcoal grey. I love working with this line of yarn. It is soft, works up nicely, makes your stitches stand out and washes up well. For the white background color it is essential that you either use the same brand and weight of yarn, or use a yarn that has the same WIP (wraps per inch). I used Caron Simply Soft for the background resulting in 2 different yarns that worked well together.
The main silhouette panel has multiple formats in the pattern for you to choose from. A chart, or graph, is used to crochet the bear silhouette. At the end of the pattern, there is an included enlarged graph, simply print off all 4 pages and tape them together.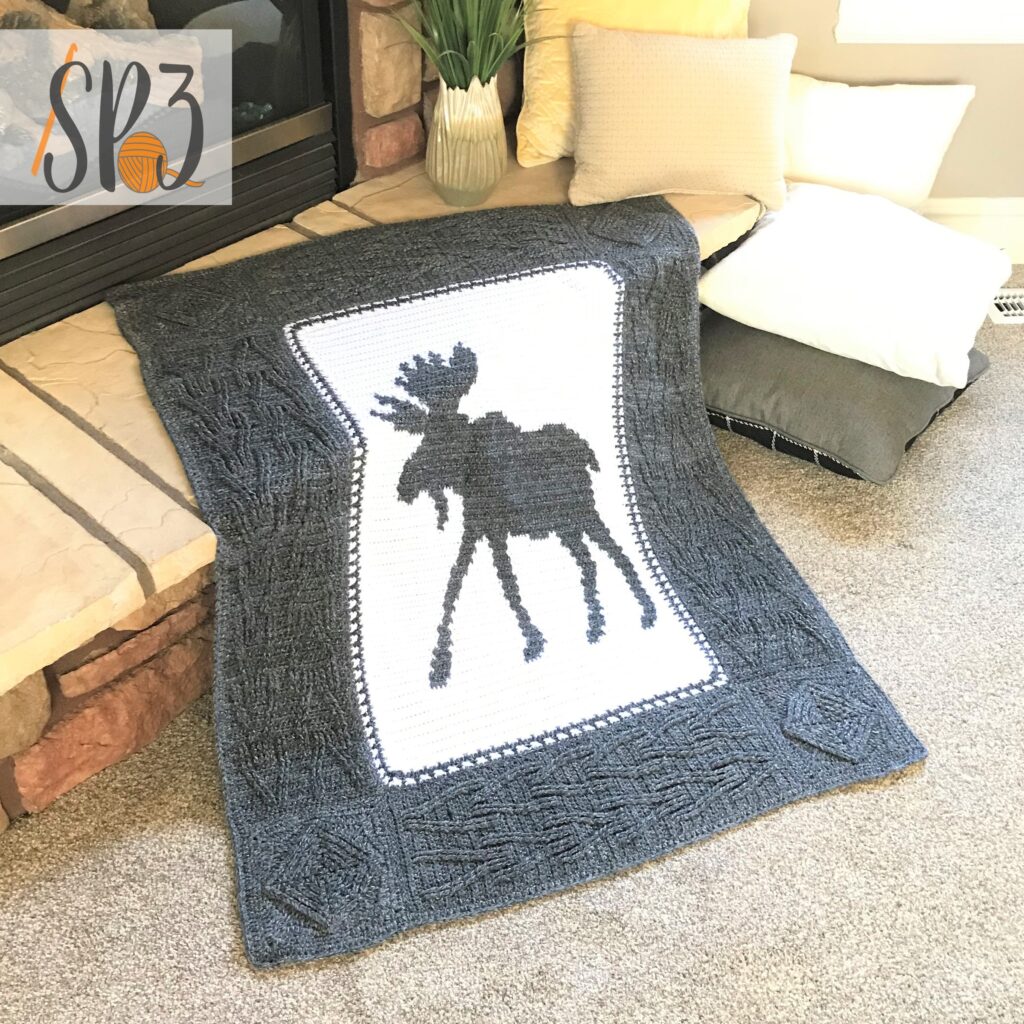 If you are unfamiliar with crocheting from a graph then your in luck. A supplement has been added to the pattern to assist you along the way. The supplement is a written form of the graph and is explained in a little more detail. Essentially, it states how many stitches to complete in each color. This supplement can also be used as a way to double check the accuracy of your work.
Where to get the pattern
Find the Wandering Moose Blanket in all of my pattern shops below:
You will enjoy crocheting this masterpiece and seeing it come to life. As you work all the pieces and sew them together each step is a new rewarding experience.
More Patterns You May Love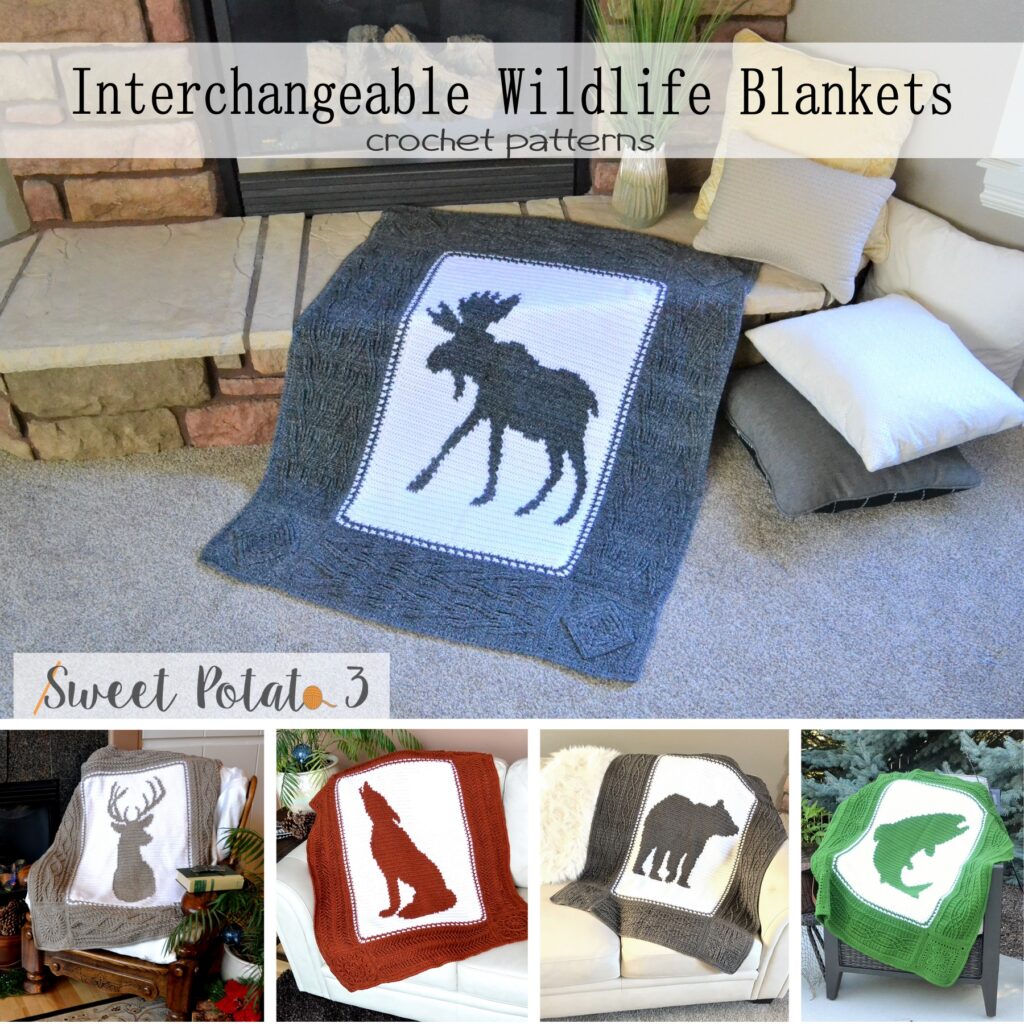 More Crochet Fun
Follow Sweet Potato 3 on Facebook to see more pattern releases, sales and crochet fun, just click HERE.
However, if you would enjoy a more interactive group experience, you need to join my Crochet & Conversations facebook group, click HERE. It is a ton of fun and I encourage everyone to share their projects, WIPS (works in progress) and inspirations. Plus you get exclusive deals, are the first to see new releases, give input on designs and have opportunities to win patterns. Join now and get to know others who also enjoy the art of crochet.