Crochet blankets are a popular item to crochet. Crocheting a special blanket for a new arrival in a family, or for a close friend, can become an heirloom that will be treasured for years. I still have the blanket my Great Grandmother crocheted for me when I was born and will keep it forever.
This was the thoughts behind my latest baby blanket pattern as I designed a classic look that could become a family keepsake. I am so excited to share the Timeless Treasures baby blanket crochet pattern.
Tested for Accuracy
Each pattern I release has been tested by fellow crocheters for accuracy and to help clarify anything that may be confusing. I have a group that does an outstanding job. When I put out a "testing call" for this design, I was very excited to get a few questions like:
"Can I make it in a single solid color?"

"Can I use more than two colors?"

SP3 pattern testers
My response was an enthusiastic, "most definitely!". I love when I can share what a pattern will look like with different colors or ways to give it an entirely different look. Check out how gorgeous their blankets turned out. You may find inspiration through these pictures.
Solid 1 color yarn used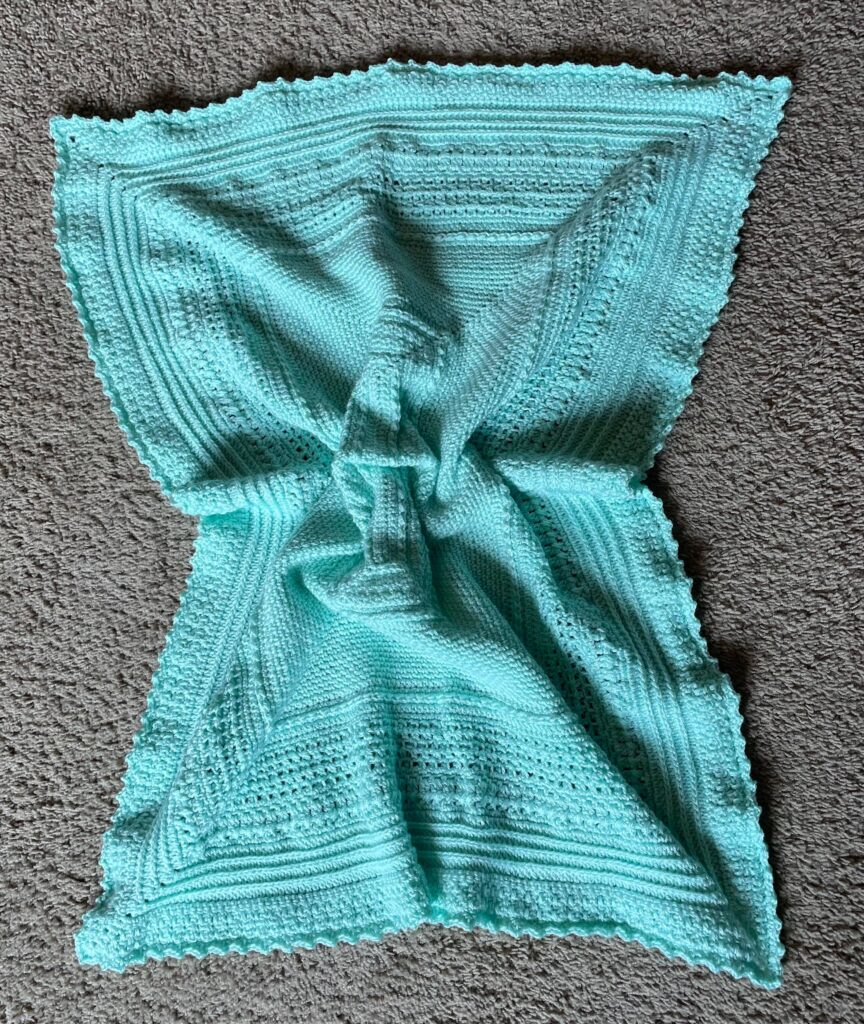 2 Colors used as shown in pattern/original design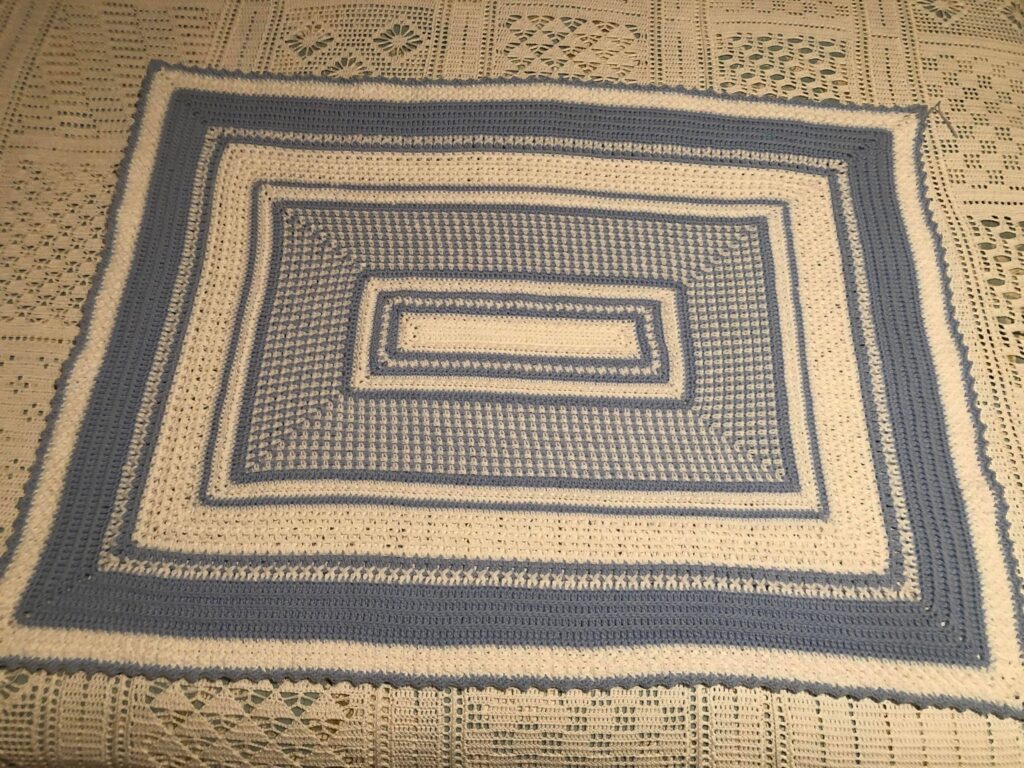 Multi-Color Sample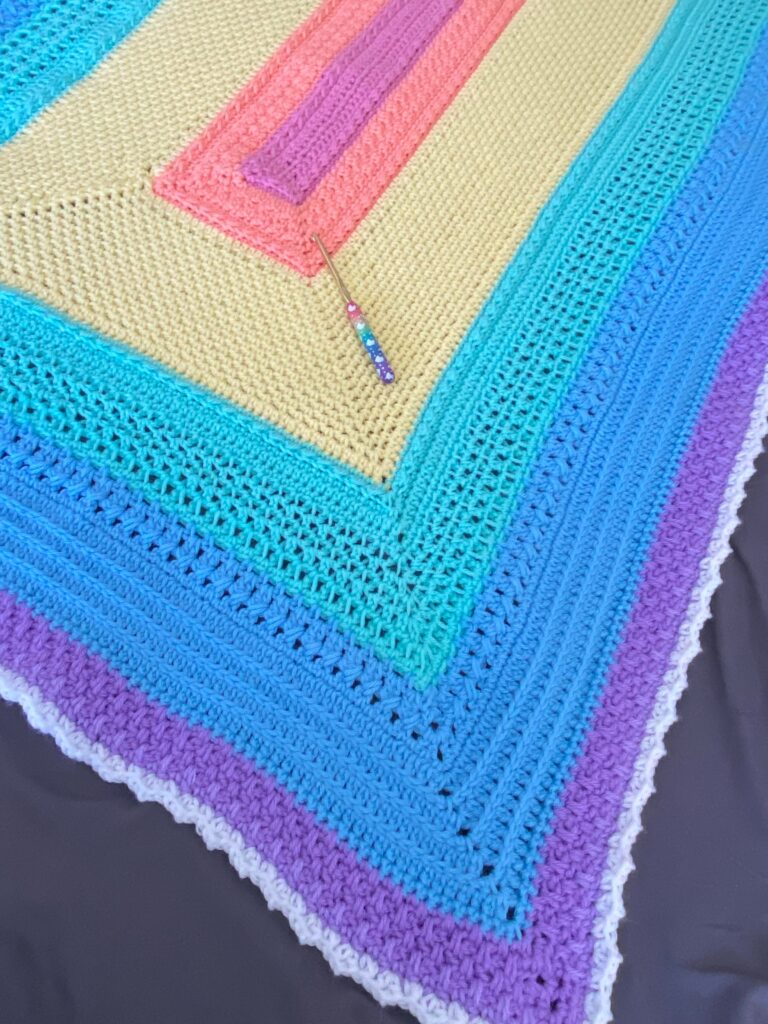 Materials Needed
For this blanket, I have the materials listed for the original design of using 2 colors of yarn.
Crochet Hook Size G (4.50 mm), H (5.00 mm), & I (5.50 mm)
Approximately 1200 yards total of 2 colors of light Worsted Weight Yarn (#4)

Sample made in Mary Maxim Baby Value
Color 1 (C1): 600 Yards / color – White
Color 2 (C2): 600 yards / color – Yellow

Stitch Markers
Yarn Needle
Scissors
Measuring Tape
Blocking Boards & Blocking Pins (optional but I recommend especially if you give the blanket as a gift)
Crochet Along
This pattern will be released as a crochet along. A crochet along is an opportunity to work on a crochet project with a group, in this case in an online setting. Sections of the crochet pattern are released one at a time during a specified timeframe with allows everyone to be working at about the same pace.
If you haven't tried a Crochet Along, also known as a CAL, I encourage you to give it a try. A CAL is also a great way to stay motivated on a bigger project because there is incentive to finish a "section" before the next one is released.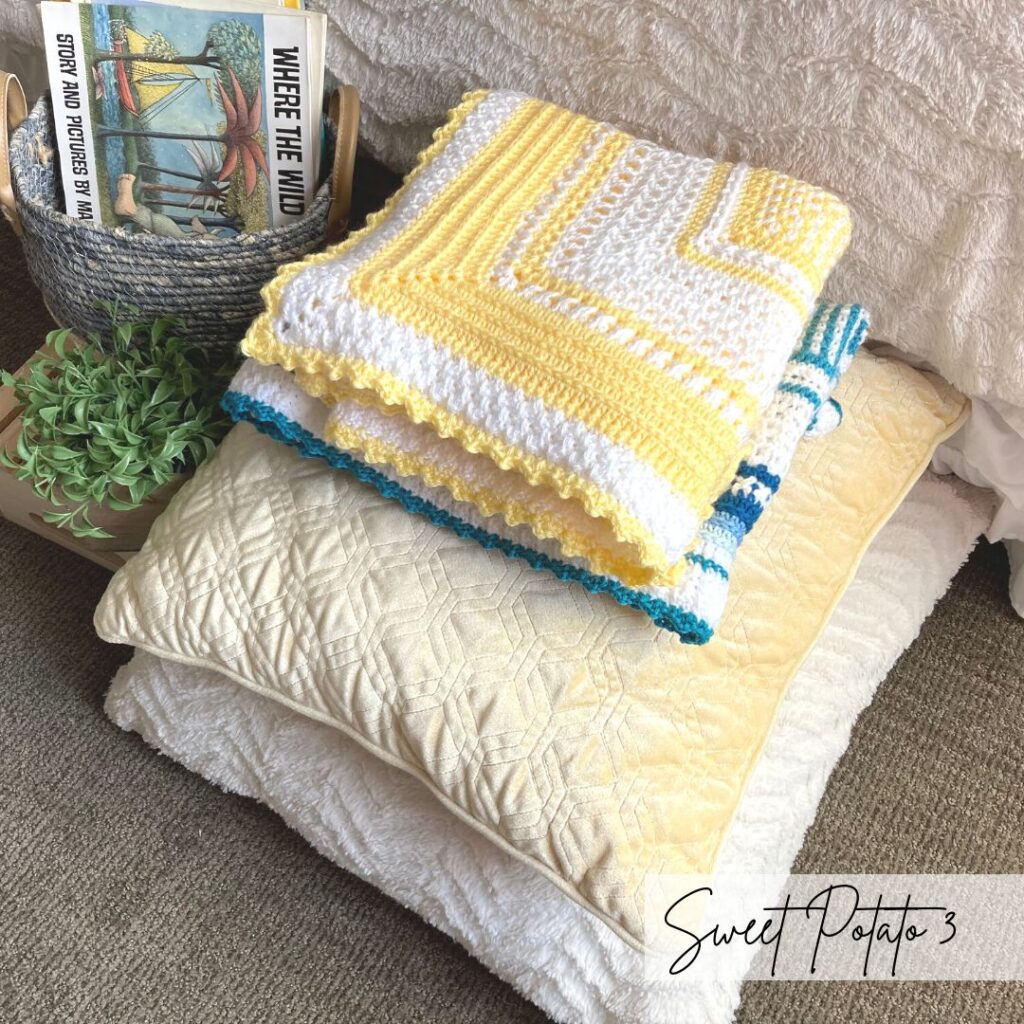 CAL Schedule for the Baby Blanket
The CAL will be available to purchase on March 15, 2023. Upon purchase you will receive the same info that is in this blog post including the Materials list and the schedule. From the time you join/purchase the CAL until the beginning on April 3, I will be contacting you and helping you get into my FB group specific to the CAL.
You will have about 2 weeks to order or purchase your yarn, test your gauge and get to know others in the group. The fun crocheting part will begin on April 3. Each day there is a scheduled release you will go to the FB group and download that section of the pattern.
The Crochet Along will run for 4 weeks and breaks down as follows:
Week 1
April 3 – Monday – Release R1-2
April 4 – Tuesday – Release R3-5
April 5 – Wednesday – Release R6-10
April 7 – Friday – Release R11-13
Week 2
April 10 – Monday – Release R14-32
April 14 – Friday – Release R33-35
Week 3
April 17 – Monday – Release R36
April 18 – Tuesday – Release R37-43
April 20 – Thursday – Release R44-45
April 21 – Friday – Release R46-55
Week 4
April 24 – Monday – check in (last section takes a little while so I'm giving a little extra time)
April 26 – Wednesday – Release R56-60
April 28 – Friday – Release R61& show off final projects.
---
How to join the Crochet Along
To join the crochet along, you will need to purchase the pattern through either Etsy or Ravelry. When you purchase the pattern, you are giving me permission to collect your email address and send you an invite to join the FB group to participate in. If you are not on FB, please send me a message after your purchase and I will add you to a list to send the pattern releases too.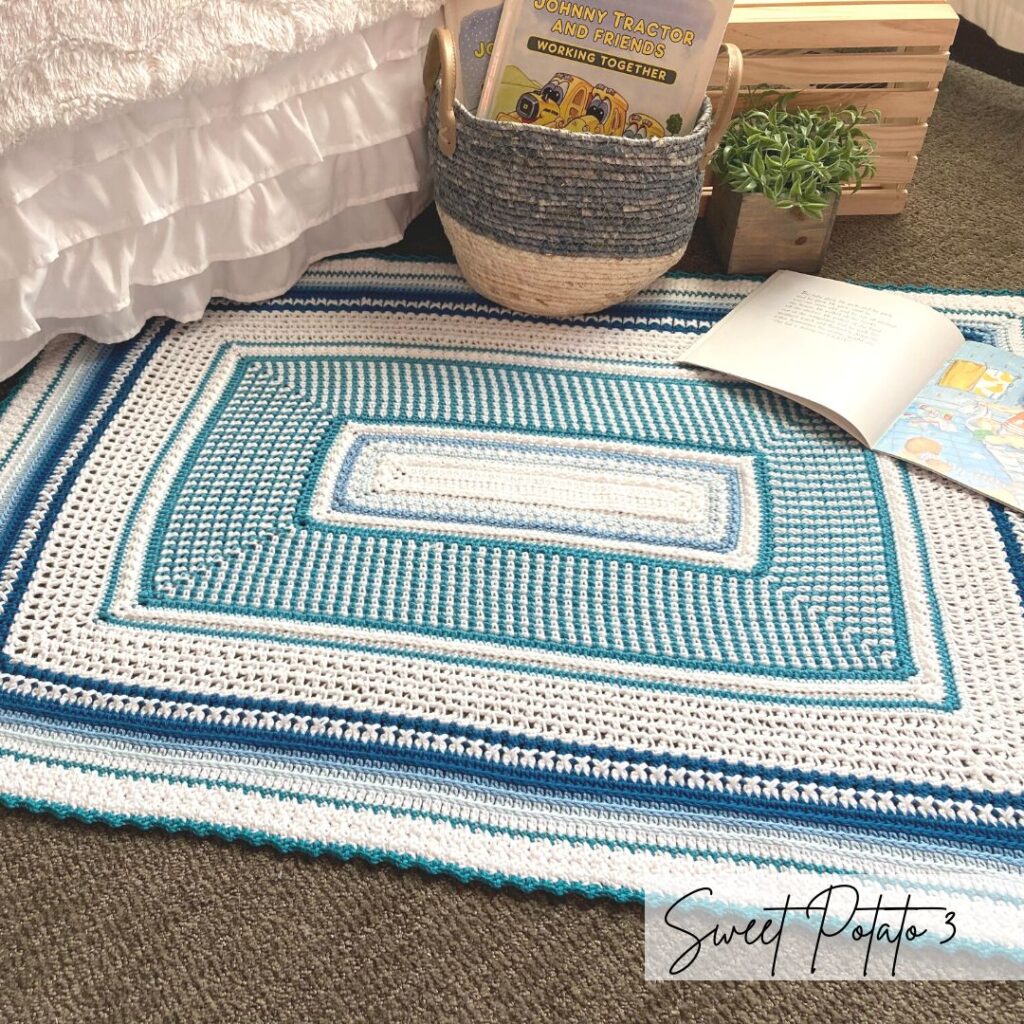 ---
Other Blanket Patterns You may love
More Crochet Fun
Follow Sweet Potato 3 on Facebook to see more pattern releases, sales and crochet fun, just click HERE.
Want a more interactive group experience, you need to join my Crochet & Conversations facebook group. To join the group, click HERE. It is a ton of fun and I encourage everyone to share their projects, WIPS (works in progress) and inspirations. Plus get exclusive deals, be the first to see new releases, give input on designs and have opportunities to win patterns. Join now and get to know others who also enjoy the art of crochet.