As Thursday begins I am sitting here thinking of everything I am thankful for. This week it is so easy to pinpoint. I am so thankful for each and everyone of you. You have all helped make this years Cancer Challenge hat drive more successful than ever. YOU are all amazing!
Last year Sincerely Pam joined the Cancer Challenge. It was such an honor as she dedicated her hat to her Uncle who had just been diagnosed with pancreatic cancer. This year, it is so wonderful to hear that Pam's Uncle just celebrated 1 year of being cancer FREE!!!!
Sincerely Pam is going to continue to sponsor a day in the Cancer Challenge in honor of her Uncle. This year she is sharing this darling Taylor Newsboy hat with all of us. This is so cute, simple and full of character.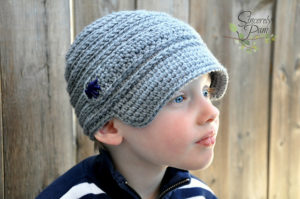 The Taylor Newsboy hat pattern includes sizing from baby up to adult. Grab this pattern in exchange for your pledge.

To get the Taylor Newsboy Hat pattern, you need to input code "2017CancerChallenge". The code is only available for a limited time and will expire at midnight on Friday October, 6, 2017. Remember that by downloading the pattern you are pledging to make at least one hat for someone going through cancer or has survived their battle.
The collaboration of all these amazing designers is what makes this challenge a success. I would love it if you could take a minute to go to Sincerely Pam's facebook page and tell her thank you for sponsoring a day in the Cancer Challenge.
I have adored Sincerely Pam's designs, they are just plain classy, check out some of my favs and then visit her ravelry shop and see more:
Need More Information
For all the details on the 2017 Cancer Challenge, just click here. You can learn more about why this challenge was started, what yarn to use, where to donate and so much more.